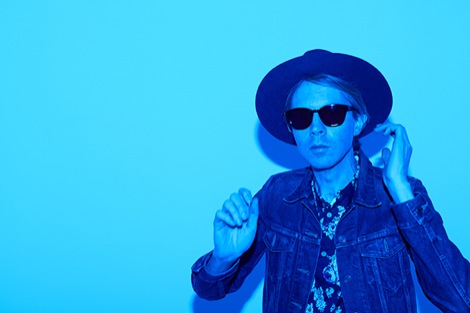 Hot off the back of releasing his critically acclaimed twelfth studio album Morning Phase, Beck is to headline Festival No.6 in September. With that in mind, us losers at Getintothis decided it was time to test the appetite for debate when it comes to Mr. Hansen's best tunes.

Beck is riding high on the best reviews of his career.
New record Morning Phase, his twelfth, has been declared as a proper return to form for the songwriter and anticipation is rising for his return to the UK stage, ahead of his headlining appearance at Festival No. 6, in Portmerion, this September.
Beck's big slot will be that rarest of beasts: a festival headlining gig that's hard to predict. Will we get the funky slacker of Mellow Gold? Perhaps the Prince-esque frontman from Midnite Vultures will show up? Maybe his current record's similarities with previous career high, Sea Change, will bring Beck the troubadour back with an acoustic guitar. And there's always a chance we'll see the return of those puppets too… isn't there?
Whatever happens, those at Festival No. 6 are guaranteed a great gig. As the following set of songs will show, Beck Hansen is one of the strongest songwriters of the last 20 years. And he won't let you down.
1. Devil's Haircut from Odelay (1996)
What a riff. Distorted, funky and catchy as hell. Based on (but not sampled from) I Can Only Give You Everything, by Van Morrison's Them, the guitar figure that opens and dominates this Odelay-era single soundtracked many a first stumble onto the dance floor at the indie disco. With drums sampled from Them's (again) cover of James Brown's Out Of Sight, this belter moves and grooves like a bastard and introduced many teenagers to the delights of crate digging. I always loved the fact that a song with the lyric "rotten oasis" was remixed by Noel Gallagher for a B-side too.
)
2. Loser from Mellow Gold (1994)
The song that brought Beck his major label deal began life as a looped guitar riff. So far, so Beck. It was produced by Tom Rothrock – who would go on to work with Badly Drawn Boy on the About A Boy soundtrack – and developed the eclectic performer's obsession with folk, blues and hip hop. The raps weren't great, so Beck decided to sing the chorus. As far as MTV was concerned, that was his best decision yet. Geffen came calling soon after and the rest is history. But have another listen now – it's a recording that sets the scene for The Beta Band, Radiohead's Kid A and the aforementioned Badly Drawn Boy. A game changer.

3. Blue Moon from Morning Phase (2014)
The best song (so far!) of 2014 opens up like something Bob Dylan left off John Wesley Harding. Then our hero delivers his greatest vocal yet: "I'm so tired of being alone." The melody breaks your heart, the urgent (yet muted) drums keep the blood flowing and the song veers down a lonely road of acoustic guitar, tom fills and echoed vocals. The majority of Morning Phase tugs at the heart strings, but Blue Moon is the standout track. Especially with that perfectly Beck-esque left turn of a middle eight, where what sounds like John Martyn's guitar enters the picture. The work of an absolute craftsman.
)
4. Sexx Laws from Midnite Vultures (1999)
"I-I-I-I wanna' define, the logic of our sex laws," screams the chorus of Beck's last single of the Millennium… surely it can't just be a coincidence that, in 1999, Beck partied like Prince? Whatever. Midnite Vultures hasn't aged well (have you listened to Get Real Paid recently?), but it's first 45 remains a belter. Blaring horns, an incessant Stax beat and that country break down, complete with banjo and, erm, funky clavinet. "Brief encounters in Mercedes Benz', wearing Hepatitis contact lens'". You're not telling me you don't remember singing along? Tune. Oh, and see who you can spot (apart from Jack Black) in the crazy video.
)
5. The New Pollution from Odelay (1996)
Break-beats, another wonderful blues riff on the guitar and that lazy drawl of a delivery took Beck into the mainstream in the late 90s. This was the tune that brought festival crowds in, alongside the hipsters. The video – like most of Beck's – was nominated for a plethora of awards and those saxophone and organ solos set the scene for the millions watching to remember the music. Forgot how good this was? Try watching while sitting still. Oh', and didn't Ryan Adams have that sax riff right off for New York, New York?

6. Lost Cause from Sea Change (2002)
Sea Change, produced by Nigel Godrich and released in 2002, saw Beck grow up. He streamlined his music, focussed on melody and found a modern day croon that hit where it hurts. The acoustic guitars on Lost Cause were typical of the record and the abstract noise was mixed just low enough to not detract from the story being sung. "I'm tired of fighting for a lost cause," the perfect chorus runs. Vulnerability from Beck? The times they were a-changin'.

7. Tropicalia from Mutations (1998)
A UK only single and one of the stand outs of 1998's Mutations. As the title suggests, the track is heavy on the percussion and rides a bossa nova beat. The horns are muted, alongside subdued spoken vocals, but the tune shake, rattle and rolls. Of course, this being Beck, the funny noises enter the picture before the end, but, alongside a delicious trumpet outro, they just serve to add to the cocktail. An underrated gem.

8. E-Pro from Guero (2005)
The opening track of 2005's Guero bounces in on a Beastie Boys sample and rides a hip hop vibe throughout. Sure, the electric guitar is industrial – but the mix suggests, say, Eminem as opposed to the usual lo-fi attempt to sound like Lightning Hopkins. Guero was an unusual record, as Beck and The Dust Brothers tried to update the former's sound. The album was hit and miss. But, as the soundtrack to Rock Band 2 will attest, E-Pro was all hit.

9. Think I'm In Love from The Information (2006)
Nigel Godrich's production was the talking point of Beck's tenth studio album, The Information. Here, on Think I'm In Love, the music is sparse and soundtrack-esque, until a typically brilliant middle eight turns things around musically and the electronic beat carries us home. Hip hop? Perhaps not – but there's a definite hint of the modern production techniques that were about to be used by everyone from Madonna to Beyonce. Beck comes to Pro Tools? You decide.

10. Where It's At from Odelay (1996)
That Fender Rhodes piano intro. The hip hop beat. The Hammond B3 organ in the background – it's like Booker T has joined Run DMC. The rap – "bottles and cans and just clap your hands" – was sung out in indie discos everywhere and hands holding cheap vodka and lager punched the sky, shouting something about "two turntables and a microphone." Us? We'll never forget Beck's support slot at Haigh Hall for The Verve's big homecoming in 1998. It was wet, cold and muddy. And then the Fender Rhodes kicked in, Beck started break dancing and a little corner of Mr Hansen's America lit up a field in Wigan.

Further reading on Getintothis:
Top 10: Primal Scream.
Top 10: All Tomorrow's Parties Festival.
Top 10: Bruce Springsteen
Top 10: Neil Young
Top 10: Michael Head
Getintothis reviews Festival No. 6 2013
Getintothis picture gallery from Festival No. 6 2013
Festival No. 6 runs 5-7 September 2014 feat Beck, London Grammar, Bonobo, Neneh Cherry with Rocketnumbernine, Steve Mason, Martha & the Vandellas, Jimi Goodwin, Temples, James Holden, Los Campesinos!, John Wizzards, Cherry Ghost, Alexis Taylor, East India Youth, Radiophonic Workshop, The Rails, All We Are, Arthur Beatrice, Childhood, Telegram, The Brythoniaid Welsh Male Voice Choir – for more details visit here.
Comments
comments