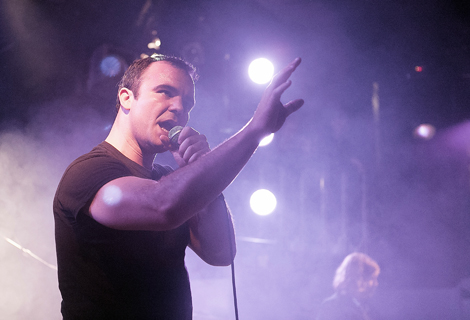 Future Islands don't just seize the moment, they wring it death, Getintothis' Jamie Bowman revels in their explosive extraordinary power pop.

The grin on the 'can't believe his luck' promoter's face said it all: this was one of those gigs when the stars are seemingly aligned.
A hot and sultry night, a heaving venue and a band, who after several years in the wilderness, sense this is very much their time.
On paper Future Islands really shouldn't work: a US synth pop band from a one-horse town, their rise to the top has been based on traditional principles like incessant touring and the accompanying stage craft such dedication inspires.
If that all sounds a bit old fashioned and worthy than one viewing of frontman Samuel T Herring will wipe the cynicism from your face. Herring is quite simply a star – a force of nature whose tendency to dance like Bruce Springsteen in the Dancing in the Dark video has turned him and his band into internet sensations following a performance of the already classic Seasons on the Letterman Show so extraordinary it provoked the usually taciturn host to exalt "I'll take all of what you've got!"
Part southern preacher, part ageing soul balladeer, Herring's between song banter is almost beyond parody as he nostalgically recalls the band's previous visit to Liverpool in 2009 (at Korova) before urging the awestruck audience to "hold on tight to the ones you love". And then there's the voice: one minute a soaring, anthemic croon, the next a deep, terrifying growl more reminiscent of Finnish Eurovision winners Lordi.
But somehow it all works wonderfully well. Far from being couched in the kind of irony we Brits are addicted to, Herring's performance comes across as honest, heartfelt and passionate – whether he's gesturing to the balcony like a Shakespearean ham, gripping the hands of the adoring fans stage-side or beating his chest, he means it and it's impossible not to respond to such heart-on-sleeve enthusiasm.


Future Islands live at the Kazimier
That this addictive humanity is coupled with the kind of music so tainted with the 80s and its 'me-decade' sensibility is just one of the many tricks Future Islands play here tonight.
Their delicate synth pop shimmer recalls such gossamer moments as the Lotus Eaters' First Picture of You or Fiction Factory's Feels Like Heaven and in the beautiful A Dream of You and Me they've written the kind of song New Order have been trying to since 1993.
At times its almost as if they're providing a soundtrack to a long lost John Hughes film in front of your eyes.
Unsurprisingly it's Seasons which provokes the loudest cheers as Herring bounces across the stage before punching the air as the song's captivating chorus explodes into life.
By the end Future Islands have scored an overwhelming victory over cynicism. The pop charts are surely next.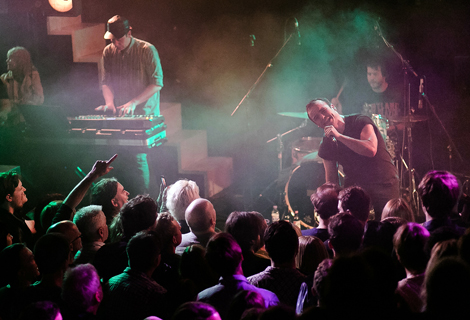 Future Islands in fierce form at the Kazimier

Pictures by Getintothis' Tom Adam.
Further reading on Getintothis
Getintothis' albums of 2014 so far: Half term report from Liverpool's writers on the block.
Liverpool bands line up for Brazil World Cup 2014.
Forest Swords: From Norse sacrifices to Smooth FM and making the follow up to Engravings.
Twilight Sad to play cult debut album in full in Liverpool.
LIMF 2014: By The Sea, Baltic Fleet & more set for Getintothis & Bido Lito! stage in Sefton Park.
LightNight Liverpool 2014: Cathedral, Black-E, FACT, St Luke's Church – picture gallery.
Comments
comments