From beat boxing to soundscaping guitars, this week holds plenty of talent to go and see as Getintothis' Craig MacDonald discovers. 
With this week's acts and venues being as varied and wild as the outside elements, there is no excuse not to go and embrace the deep well of musical talent that we welcome to our city this week.
Kicking things off with an almighty clatter are the riotous upstarts Lisbon. Hailing from Whitley Bay, the alt-pop four piece head into town to play Studio 2 on January 19. With songs like the insatiable Native gaining them a raft of new fans on the festival circuit last year and with comparisons to Foals, the group are geared up to grab 2016 firmly by the horns. Support on the night can be found in the youthful exuberance of Glastonbury Emerging Talent winner Declan McKenna who is already gaining notoriety for his sweet hooked sounds.
From the creaking of doors, to the sound of your latest vape blast, beat-boxing behemoth Beardyman aims to twist and turn sounds created on the night into a full long player when he takes to the stage at the Epstein Theatre on January 21 as part of his One Album Per Hour tour.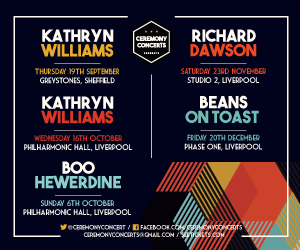 Find out what other shows our coming up with our Gig Guide
Also playing on January 21 and following the release of their acclaimed second album Stay The Night, Stay The Morning Too last year, Silent Sleep frontman Chris McIntosh plays an intimate solo show in the secluded, grand surroundings of Oh Me Oh My. In a stripped back night of song, this is sure to be an early treat for the new year.
The evolving sounds of Daughter make a much welcomed return to Liverpool when they play the O2 Academy on January 22. With new album Not To Disappear set for release this month, the slow-core folk trio will be at their emotive best as they tackle themes of loneliness and maturity. With support coming from the hotly tipped PIXX we fully expect them to surpass the closed confines of the venue.
Finally, the 2015 GIT Award One to Watch winner Louis Berry plays a rescheduled date at the Arts Club on January 23 following an incredible year for the 23 year old. Expect the likes of .45 and Rebel to be smashed out to a thirsty crowd as the Scouse songsmith blasts out his rasping vocals with full force in a hometown show as part of his headline UK tour.
Comments
comments