With another year of nothing, Getintothis' Shaun Ponsonby attempts to find something interesting to say about this year's BRITS. 
Well, here we go! Despite popular demand, the BRIT Awards returns to promote the idea that all British music (and television, for that matter) is bland with the second biggest night for British music, behind Eurovision. The two have a lot in common as every year British music loses embarrassingly largely due to a politically charged voting system.
Anthony and Declan return to waffle in between items, whilst being thoroughly ignored by the audience and merely tolerated by the viewers. I think they might have been more annoying than they were last year, but still less so than James Corden, whose current success in America confirms my atheism.
It all started with a sketch where they insisted everyone had upped their game, followed by a bizarre opening in which what appeared to be dancers from a Roman-themed gay club danced about for no reason to some generic dance music. It fell flat because the audience clearly didn't give a shit. I think it was their attempt to be arty. Ant and/or Dec then read off a suitably unimpressive list of names in an attempt to keep us watching, which ironically almost made me switch over.
Like all awards show, the BRITS is split into three easy to define sections, so for the greatest ease, let's break them down, Slop-style.
The Awards
As soon as the BRITS nominations were announced there was controversy, what with a woman who has been dead for half a decade being nominated instead of actual living women for Best British Female. Thankfully, Amy Winehouse didn't win the posthumous award, because she lazily failed to send an "I'm sorry I couldn't be there" message in absentia (and, lest we forget, has NO NEW MATERIAL TO BE HONOURED). Instead it went to Adele. Obviously. Who else was it going to be? Judging by the other nominations – Winehouse and Florence + The Machine (who aren't even a fucking solo artist) in particular – they wanted to just give it to Adele, but had to go through the formality of having nominations.
So, up she went to the podium, dressed like some sort of weird, medieval wench, and did a speech that supported Ke$ha without being interrupted by Blur. She went back up to collect the award for Best British Single from Suki Waterhouse and Simon LeBon, and all three appeared to be completely squiffy.
Adele looked even drunker when she walked up to collect the Global Success Award. I don't see the point of this award. Surely anyone winning it is already going to be up at the podium several times throughout the night. Brilliantly, the time delay on the broadcast failed to mute her swearing, and the one word the muted audio didn't actually censor was a giant "FUCKING", which kind of isolated it in a barrage of silence, thereby drawing more attention to it.
It's no surprise that James Bay won some shit. Last year he won the Critics' Choice Award, so they had to make sure they didn't look (even) stupid(er) by heaping him with praise. He ain't bad, to be fair. Still a bit dull though.
Looking at the nominations for Best International Male, I was muttering to myself that Kendrick Lamar and Father John Misty are the only people nominated who even deserve awards, but knew deep down inside that Justin Bieber would win. He would have to, wouldn't he? He showed up to perform and we live in a Godless world. Although, here's an interesting piece of trivia; there were three Canadians (Bieber, Drake and The Weeknd) out of the five in the nominations – that must be some kind of record.
I liked his pretentious bollocks of a speech though; "This just goes to show life is a journey. Everybody has their own journey, everybody has their ups and downs…you guys are awesome, thank you". I can confirm I let out a genuine LOL.
Incidentally, the look on Father John Misty's face when Bieber's name was called was priceless. I'm not even sure he was there.  I mean…he was there, but was he really there? Was he really? Really, was he? It was the face of a man who was there out of contractual obligation, fully aware he's in a trapped in a world of corporate tedium.
Of all the awards, Best International Female had the best nominations; Bjork, Courtney Barnett, Lana Del Ray amongst them. Incredibly, the award went to Bjork, which was a pleasant surprise, and led to a delightfully kooky speech.
The award for Best Video was voted for by people on twitter in a transparent attempt to get the show trending. One Direction were always going to win, because their fans don't have a life outside of disproportionately heaping praise on a handful of pretty corporate puppets.
Also, why did nobody seem to know where the camera was when they walked up to the podium? It isn't difficult to figure out, is it? THE PODIUM IS RIGHT THERE!!!! WHY COULDN'T YOU FIGURE IT OUT????
Sack the stage manager. Or sign artists who can figure simple things out.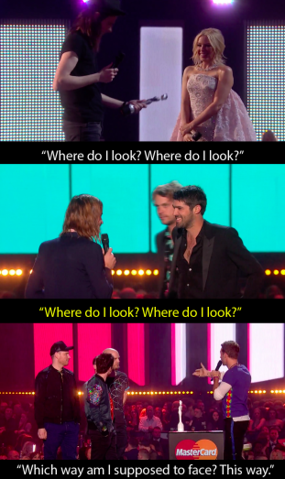 Awkward Segues
This is always the real highlight, isn't it? They can bang on about "amazing performances" or "deserved winners" all they want. But horribly stifled banter is arguably the most entertaining thing on the planet. That and cats doing cute things on YouTube (apparently…I don't know, I'm allergic so have a strange aversion to them).
Anthony and Declan did a bit with a flamethrower, continuing with the inane "we're upping our game" theme that started with the opening sketch. Part of me hoped it would go horribly wrong and end this vapid nonsense.
The interviews are irritating. It seems to be even more arbitrary than the rest of it, like the stage isn't set for the next performances and they're desperate to fill the time. Obligatory banter with Nick Grimshaw plugged his radio show, which they had to do because he is haemorrhaging listeners.
Last week I complained at length about how boring all today's pop stars were at the Grammys. I would like to re-iterate that now. Liam Payne and Andrew Ridgley from One Direction barely had a personality between them when they got up, bless 'em.
Trophy designer Pam Hogg – played tonight by Cyndi Lauper – and her crew seemed intent on generally fucking about, which was a real relief for a while. One of her pals seemed to be dressed as Cher would have been if her If I Could Turn Back Time video was a dominatrix porn film, and our hosts seemed to think she was Jessie J or something, judging by the comment of "not you, a different pop star". There seemed to be some commotion behind Ant and/or Dec during one of the links as people tried to sit them down, and we didn't see them again. Shame, because they were a welcome distraction from the shallow, self-important conceit.
I think it's written into Simon Cowell's ITV contract that he has to interrupt these things. His fleeting appearance saw him jokingly banter with Ant & Dec because he was standing up right next to the camera as they were trying to present. I am going to take a wild stab at him planning this carefully to ensure that he gets his fat fucking face on our massive HD screens, being as he is a smug, narcissistic twat.
Finally – the fact that Lianne LaHavas presented tonight but wasn't nominated when a dead woman was says a lot about the BRITS. I'm not going to get into the #BritsSoWhite debate here, as it would be at odds with the general silliness of the rest of what I'm saying…but…you know…
Performances
Last year, Take That performed a new song no-one can remember that I said sounded like their continued efforts to be Coldplay. This year, the BRITS decided to go the whole hog and actually get Coldplay. So, with a song that could only be written by a man who called his child "Apple", they performed a boring anti-opening that relied on gimmicks and featured more bum notes than Adele's Grammy performances.
The continued success of Justin Bieber makes my skin crawl. I'm convinced that one day future generations will be taught in schools about how this is the moment the world finally lost its collective mind, leading to the inevitable downfall of the human race. His performance of Love Yourself (which could be his anthem) started with James Bay on guitar next to a campfire, which brought back memories of Samantha Fox introducing the Four Tops only for Boy George to walk out. He was as flat as Chris Martin, and followed it up with Sorry, which sounded like an apology for his awful vocals.  At one point he took the microphone away from his mouth halfway through a line, making his guide vocal loud and clear. He received undeserved applause. "Loved that!" Ant and/or Dec lied.
The next commercial break had an advert featuring Bieber performing Love Yourself again, as if to say "hey! If you thought that was good, wait until you hear the rest of his album". To which I replied "get to fuck!"
I actually quite enjoyed Jess Glynne more than I expected. The secret lovechild of Diana Ross and Mick Hucknall did a little medley that was danceable but didn't seem over-staged like the rest. Although I noticed she didn't even attempt the high note.
Rihanna was as awful as ever with her performance of Work. I was surprised she showed up at all, given that she appears to be pulling out of a lot of performances recently. It was disappointing that she didn't cancel this one actually, as it reminded me of the infamous Britney Spears performance on MTV when she looked like she didn't even know who she was. Drake came on and was just as bad, leaving the whole performance in a bizarre mire of pure out of tune trite that almost made me long Ant & Dec to jump onstage and burst into Let's Get Ready to Rumble.
The Weeknd was flat as well. I started to wonder if everyone was singing flat on purpose so that Adele would sound better after her woeful vocals at the Grammys last week. At the start of When We Were Young it became abundantly clear that this wasn't the case, at least not on the low notes.  She attempted to pull out a great performance via the process of tedium. For the life of me, I can't quite figure out why 10 million people tried to get tickets to her arena tour. Essentially, you are going to watch a woman wearing black from afar standing on stage doing nothing, except saying in a broad cockney accent "you lot remind me of when I were young, down there" to a half arsed cheer . I can understand people wanting to see her in a small theatre…but an arena? The internet broke with people trying to get tickets to see this? Nice that she changed out of that medieval dress into a re-imagining of one of Torvill and Dean's outfits, though.
Lady GaGa's Grammy tribute to David Bowie received mixed reviews, and I was expecting equal dismay tonight judging by press reports. But I was pleasantly surprised. It started with an impassioned speech from Annie Lennox, which seemed to briefly silence the room (though a close up on a Direction in the middle trying to look like he understands words like "iconoclast" reminded me that I was watching ITV). Gary Oldman then said a few words before introducing Bowie's last touring band, who he had for around a decade, including the likes of Earl Slick with whom Bowie had worked since the mid-70s, playing an instrumental medley of some of Bowie's most celebrated work whilst iconic images of him played on the screens. Lorde then took to the stage and performed Life on Mars? with them , and was clearly overcome with emotion throughout. I am unashamed to say I wiped away a tear. It's just a shame more people in the room haven't actually learned anything from him artistically.
The tribute affected everyone, except Ticketmaster, who bizarrely took the opportunity to honour Elton John.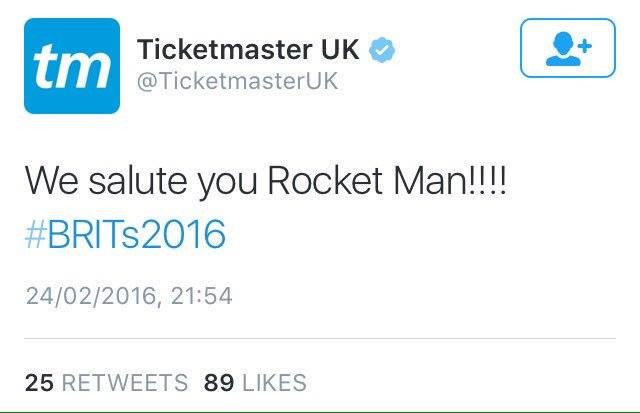 Jerry's Final Thoughts
Did we learn anything tonight?
No. It's just a bunch of stuff that happened.
Actually, I tell a lie; we learned that the music industry is now designed in such a way that a young artist with the originality, influence and brilliance of David Bowie is unlikely to reach the level of prime time television ever again.
In the words of David Byrne, the BRITS were "same as it ever was". Overall, the show was just interminably long. Was it longer than usual? It felt like it was.
"It was an unforgettable night," Ant & Dec bullshitted at the end. I beg to differ. When the traditional "best bits" VT closed out the broadcast, I couldn't remember half of the clips. Thank Lemmy I'd been writing this piece throughout so that I could refresh my memory on my own thoughts.
So…whatever, eh? Join us next year when I am going to predict they will hold the BRIT Awards 2012 again so they can continue to dump awards over Adele.
Say what you want about it, though; it's a fabulous networking opportunity.
Comments
comments