Getintothis' Matthew Wood marches through the misty gloom stalked spookily by some post-rockers, and gets deep and philosophical with one of hip hop's most outstanding bass guitarists.
Single of the Week
Warhaus – Memory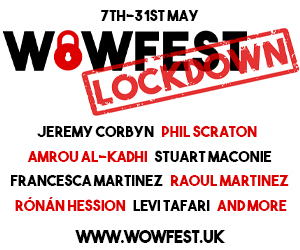 Maarten Devoldere of Belgian pop outfit Balthazar produces a rare beauty here; flirting with legends Bob Dylan and Leonard Cohen for a smokey, fuzz-riddled tune that is wonderfully rough around the edges.
Simple, spoken words are firmly trodden into the clapping beat, recalling Tim Presley's work as White Fence and once the chorus hits we are soothed by a female vocal as the track reaches its zenith.
Every once in a while a musician will take the perfect pinch of influence from the past and sprinkle it throughout their work, and that's exactly what we have here. There's even a shimmering sitar solo that sends us hurtling through kaleidoscopic fields for a real reminiscent finish.

D R O H N E (Feat Nadine Carina) – I.C.U.
With the ability to flood us with ambient darkness that simultaneously haunts and cleanses, DROHNE return with the graceful vocal of Nadine Carina pervading their gloom, and to marvellous effect.
Sinister clangs meet the beat of a heart as Carina's voice falls like early morning dew that crystallises upon the eerie backdrop.
Building with accentuated pounds and neatly glossed atmospherics, the track brinks on the cool chill that Sigur Ros have sent over Icelandic glaciers and mountains; we'll start with the Mersey eh?
Few Bits – Sweet Warrior
Dreamy, sophisticated pop from Antwerp incoming!  You can almost picture Karolien Van Ransbeeck sweeping down on horseback sent from heaven onto an enchanted landscape as Sweet Warrior progresses.
A mystical, folk element charges the track while Ransbeeck's vocal soars elegantly over the quirky setting for a whimsical finish, one that would arrive hand in hand with the likes of dream-pop legends Beach House.
Conjuring up mythical imagery, trotting along and glimmering like shining armour, this one is as poetic, evocative and down right catchy.

Thundercat – Bus In These Streets
Ay yo! For any of you Flying Lotus fans out there, or anyone that was blown away by that Kendrick Lamar album, you know the one, something about Butterflies was it? And then there was that Kamasi Washington chap, Thundercat had his paw in that pie too, obviously.
Stephen Bruner aka Thundercat, while holding his own as an incredible bassist, has released a twinkling dose of contemporary, tongue in cheek RnB; his first since 2015's EP The Beyond/ Where The Giants Roam. 
Thundercat's smooth vocal and muffled snare beat is drenched in mellow 80's synths for a sweet, buoyant track that recalls Unknown Mortal Orchestra and Toro Y Moi. He muses on the ways of the modern world, where Tweeting, phone screens and instant contact have become vital functions.
'Where would we be if we couldn't tweet our thoughts?' – Thundercat (Musician, Philosopher.)

Broken DC – Chimes
A Getintothis exclusive here! Southern post-rock trio, Broken DC plod eerily like wounded beings from beyond the grave with their sinister riffs and bludgeoning bass lines.
Chimes scuttles to life like creatures over rickety floorboards before a dark drone causes the lights the fall and a chilling mist of vocal pervades the track, reminiscent of doom and gloom rockers OM.
Marching to a heavy, gloomy finale, this isn't one to wander through the graveyard home to, unless you fancy getting a sprint on at this point.

Kero Kero Bonito – Graduation
As whacky, wild and entirely relevant as usual, Kero Kero Bonito returns with a bouncy blast of cheese that revels in the joys of graduation, as vocalist Sarah Midori Perry is over the moon that she's got a hat to throw at the end of it all.
Charged with irony, and sounding like something from the Disney Channel in the 90's, it's certainly an interesting listen with a couple of 'drops' for you to get jiggy, if that tickles your fancy.

Oh Well, Goodbye – Clandestine
A cracking dose of sinister pop from Oh Well, Goodbye ahead of the release of their EP Swoon, out in September on Bleeding Gold Records. 
With one foot firmly in the 80's, the Liverpool quartet splice the dreary, revolutionary post-punk of the likes of Joy Division with the more twinkling riffs of modern day alternative rock for a neatly balanced sound chocked full of energy.
With a tour to support their EP release, you can catch the lads down at Maguires Pizza Bar on September 16.
The Lucid Dream – I'm A Star In My Own Right
A Liverpool International Festival of Psychedelia favourite, The Lucid Dream are a wonderfully experimental band that have found a mighty fine balance of effects without sounding like a muddled mash up of pedal treading.
Opening in Connah Mockasin-esque fashion, this track eventually morphs into a mind-warping blend of bendy bass riffs with clatters and clanks from the unknown, resounding amongst a vocal with its own psychedelic swagger.
Their latest record Compulsion Songs is out September 23 on Holy Are You Recordings, for those of you lucky lot with Psych Fest tickets, hold tight for their show, it's proven to be quite a ride.
Factory – Dynamite
Runcorn rockers Factory channel some serious Madchester vibes with this finely executed throwback that boasts a baggy beat worth bragging about.
A slick solo interchange steals the show, cut from the same cloth as a John Squire effort, it's a powerful, passion charged track that revels in the sounds of the 90's.
Pop this one on next time you march through town and you'll probably resemble Richard Ashcroft from the Bittersweet Symphony video.
Acadian Driftwood – Mantra
Bold, blistering blues from another promising Liverpool act, Acadian Driftwood will gather momentum on the scene I assure you.
Mantra packs a punch and doesn't take long to smack you in the teeth with a wave of raw vocal, heartfelt ooh's and a crashing beat riddled with tight fills to boot.
Their sound is mature if rudimentary at present, but that solo leaves a sweet taste on the tip of your tongue as the track reaches its end; this is just the beginning for Acadian Driftwood, but make way for a royal onslaught of bluesy rock.
Comments
comments