With music providing the perfect escape for the struggles of life, Getintothis' Craig MacDonald looks at this weeks sonic sanctuaries. 
No matter who you are, all of us can relate that life can sometimes throw the odd curve ball or two, whether it be good or bad.
Thankfully, music provides an escape for many of us to take a break from the rigmarole of this crazy world and all that it sends our way. With plenty of talent form all corners of the musical soundscapes heading our way this week, there are plenty of opportunities to find your own musical Narnia.
As you will see, we also have our regular playlist for you to begin your adventures, so why not give it a shuffle and pick your own sanctuary this week.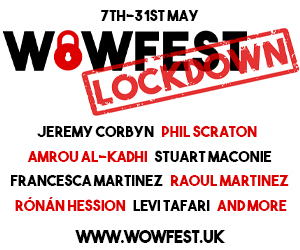 Estrons: Studio 2, February 15 
If you like your music with a bit of venom to it, then rockers Estrons are just the tickets for you this week, with a date down Parr Street lined up.
The Welsh upstarts are being tipped by many in the know to make a big splash this year, so expect them not to be playing these size venues for long. Support at this one come from Husky Loops, 18 Months and Law of the Land.
Seafoam Green: Leaf, February 16
Following the release of his much heralded debut album Topanga Mansion, this week Seafoam Green heads up an enchanting night of song at Leaf, with Limerance and Kyle Lee on the bill too.
With his craftsmanship able to paint a full pallet of soundscapes, this will be the perfect mid week gen for those who like to see a true songwriter at work.
Karl Blau: Leaf, February 17
American troubadour supremo Karl Blau, finally makes his long awaited Liverpool bow, with the songwriter set to appear at Leaf this week.
The Anacortes man has been heralded by critics and fans alike for his take on blues soaked indie and we expect this to be in many people's calendars.
Sound City Emerging Talent #1: District, February 17
Following the release of this years tenth anniversary line up, Sound City are going back to their roots by bringing a series of events over the coming weeks showcasing the best talent around, in venues across town.
The first in the series will see The Wicked Whispers, Red Rum Club, Cut Glass Kings and Shrinking Minds head to District for a tour de force of musical freshness.
MiC Lowry: O2 Academy, February 18
If there was one group that 2016 was kind to, it has to be MiC Lowry, with the GIT Award nominees seemingly not able to put a foot wrong.
Having helped Justin Bieber wow stadiums around the globe, they are set to return home this week for what is likely to be a sell out date.
Elevant: EBGBs, February 18
Fresh from their travels to the big smoke and recording fresh tunes at Abbey Road Studios, Elevant are geared up to take this year firmly by the horns.
With Coquin Migale and Gravves also joining the bill, this is going to be a heavy one down in the depths of EBGBS.
Sex Swing: Edge Hill University, February 18
Ok, we know this may not be in Liverpool, but it does boast a collection of some of the finest musicians from Liverpool right now, so we will take it.
Fresh from releasing one of the best albums of last year Sex Swing head up the best night of music Ormskirk has seen for a long while, with Agathe Max and Cavalier Song on supporting duties too.
If you have morphed into Bono and still cant find what your looking for, our Getintothis Gigbites will help:
Kieran Hartford and Stan Griffith play 24 Kitchen Street on February 15
Black Pulp play EBGBS on February 17
Death and the Penguin play 81 Renshaw Street on February 17
UKAEA play Drop the Dumbulls on February 18
Abstract Orchestra plus GE-OLOGY play 24 Kitchen Street on February 18
Upcoming events to keep an eye on
Louie Vega: Constellations, February 24
The funky heads behind Liverpool Disco Festival are promising a colossal lineup for their celebration of 30 years of the Southport Weekender and to get us in the mood, they have just announced a special date in the Baltic by Grammy Nominee an electo icon, Louie Vega, who bring his infamous Flashback party to town. If this doesn't get your body moving, nothing will.
Dylan Golden Aycock: March 11, Bold Street Coffee
Next month will see Bold Street Coffee welcome two maestros from the much overlooked world of solo guitar, when Dylan Golden Aycock and Jon Collin head to our shores. With Aycock being praised for his experimental workings that span the soundscapes of his native America, the emotional strength of Collin's own craftsmanship makes this an unmissable treat for many.
Comments
comments