It's hard to hold a candle in the cold November rain, but Getintothis' David Hall provides your light at the end of a drizzly tunnel once again.
It's the week of promises paid off coming up. Yep, just like that child's long dreamed of Christmas list becoming reality on the morning of December 25, we've made a list, checked it twice, and somebody somewhere has obviously decided that the people of Merseyside have been very good girls and boys.
Those gigs that have been teased for months finally come to fruition this week. You've seen the posters, the previews, the thousands of social media posts. Now the talking stops and you can actually go and see these acts in the flesh.
In the meantime, there's a lot more to tempt and tantalise you, should you be short on attention span and more inclined to impulsively rock up to a gig and presume there's a ticket on the night.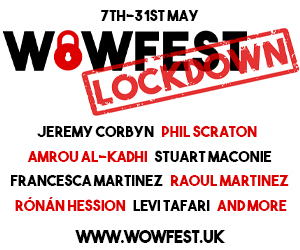 Just take care that you don't get stung, as several of this week's offerings sold out months ago, to the people who have their shit together and can remember their ticketing website passwords, you embarrassment.
Mac DeMarco: Liverpool University Guild of Students, Tuesday November 21
Indie tastemaker Mac DeMarco brings his sunny and charming new album This Old Dog to Liverpool, for a no doubt dark drizzly night.
In a gig that has already received a venue upgrade – original tickets still honoured – the atmosphere is bound to be electric for the eclectically-influenced Canadian adoptive Brooklynite.
Algiers: The Magnet, Thursday November 23
Bastions of transatlantic art rock Algiers bring their thrillingly inventive latest work to a cosy basement night on Merseyside. Perhaps that description doesn't quite do them justice, so you'll have to attend The Magnet for the scoop.
There's not many bands who sound quite like Algiers, and now you can find out just why that's completely in their favour.
Win Algiers tickets to Liverpool Magnet show featuring Bonnacons of Doom
Jaws: The Magnet, Friday November 24
Grungey brummy power trio Jaws surface in a busy time for The Magnet this week, with a basement gig to match their punk attitude.
The gig has already sold out months ago, so it's bound to be a riotous, packed-out and perhaps slightly sweaty affair.
In the meantime, you can check out a Q&A Getintothis' Mark Rowley shared with Jaws drummer Eddy Geach.
Merseygrime 2: North Shore Troubadour, Friday November 24
Representing the exciting grassroots genre of grime, talent busts out of Merseyside's bedrooms and Soundcloud pages and onto the stage of the North Shore Troubadour, in a not-to-be-missed free event straight through to 4 in the morning.
It features sets from some of the hottest up and coming grime artists from the Liverpool scene, including Grime Of The Earth, Niggy Raw, Gully Pactzz, Local2Global, Spyder Uchiha, and Gravz.
Creamfields Steel Yard: Clarence Dock, Saturday November 25
Welcoming artists from across the globe and featuring sets from Martin Garrix, Steve Angello, Sigma, Sigala and Justin Mylo, the quintessentially scouse clubbing brand Cream makes their annual pilgrimage to Liverpool's docklands.
Always a feast for the eyes, ears and mind, find beauty in the winter wilderness of dead industry with Creamfields festival's seasonal sister event. Stay tuned to your usual Facebook haunts also for news on afterparties long into the night.
Robert Plant: Olympia, Saturday November 25
Former Led Zeppelin titan and all around bloke you've probably heard of Robert 'same haircut for 50 years' Plant brings his latest album Carry Fire and his latest live project The Sensational Space Shifters to bear on the Olympia.
Expect new material, reworkings of Led Zep classics, some of his solo greatest hits and Seth Lakeman in support.
Blick Bassy: Philharmonic Music Room, Saturday November 25
In conjunction with Mellowtone and in collaboration with Africa Oye's 25th anniversary celebrations, the marvellous Philharmonic Music Room welcomes Cameroon's Blick Bassy this week.
Jazz fusion from Paris by way of Brazil, Bassy's work has been featured in Apple iPhone adverts, and he brings his latest album Akö to Merseyside as part of an exclusive clutch of UK dates.
Win a pair of tickets to see Blick Bassy in Liverpool with Getintothis.
The best week just got better, with plenty to fill the gaps in Getintothis' Gigbites:
Back To Africa Roots Tour – Randy Valentine, J Boog, Sevana, Black-Am-I: District, Friday November 24
Jake Bugg: Philharmonic Hall, Saturday November 25
Alison Moyet: Philharmonic Hall, Monday November 20
Little Mix: Echo Arena, Monday November 20
The Virginmarys: Shipping Forecast, Tuesday November 21
Nelly: Liverpool University Guild of Students, Friday November 24
Sœur: Shipping Forecast, Friday November 24
Echobelly: Arts Club, Sunday November 26
Henry Priestman, Les Glover: 81 Renshaw, Sunday November 26
Hunter & The Bear: Parr Street Studios, Sunday November 26
SleepTalking, Parachute for Gordo: Maguire's Pizza Bar, Sunday November 26
Upcoming gigs to keep an eye on:
The Tea Street Band: North Shore Troubadour, Saturday December 9
Ferreting themselves into an unusually cosy venue, Scouse legends The Tea Street Band present a seasonal shindig at the tiny North Shore Troubadour in Liverpool's northern docklands this year.
A Christmas party to trump your office affair, the local psych rave scene royalty present a night to remember – or one that gets blacked out of your memory instantly – with special guests promised and tickets priced at just a tenner. It's bound to sell out fast, so even if you're remotely interested, we'd advise securing one immediately.
Comments
comments