With citywide creative collaboration on the agenda, Getintothis' Will Whitby outlines the intentions, ideas and benefits that the Liverpool City Region Music Board will bring.
"Leave the nostalgia caveat at the door" opened Sound City+'s Future Music City discussion at the British Music Experience with Metro Mayor Steve Rotheram. The focus of the event was on how the Liverpool City Region Music Board (LCRMB) can best support the creative community on Merseyside to exploit the potentially booming music economy which is ready to explode.
In a region of six boroughs and a population of in excess of 1.5 million people alongside an internationally celebrated music history, it is a travesty that some areas of Merseyside can consider themselves with some justification to be relatively culturally deprived.
Wirral, for example, has over 300,000 people and not one dedicated music venue of note. The aim of the LCRMB will be to work with organisations such as Wirral New Music Collective, Skeleton Key Records and the gang creating a boss scene at Eggy Records to help promote, develop and engineer successful cultural initiatives throughout the boroughs for the benefit of musicians, fans and those working within cultural industries.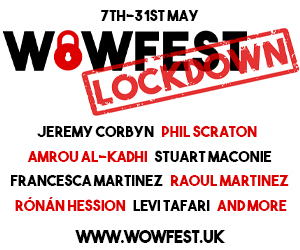 Metro Mayor Rotheram admitted openly to some recent council failings to the Liverpool cultural community as creatives have felt ignored, pressured and damaged by a previous, at times, testing council. "We can't just collect titles like [UNESCO Music City], we have to use them" he remarked, demonstrating the Board's main objective is to look forward into the future and not to rely on Liverpool's past successes and stereotypes and, instead, to build on its reputation.
Since the panel back in May, Kevin McManus has been appointed as head of UNESCO Music City. McManus will play a crucial role liaising with the creative communities, the Music Board and those with the power, infrastructure and resources to make changes.
A City Region Board will bring infrastructure and a port of authority for the Scouse creative community. Creating a board for a change, equality and celebration, the LCRMB must be as diverse as Liverpool itself. For this to work it is imperative that there is representation from every tier, every scene, every area and every demographic. It must question those in power of music policy and force change for the good of Liverpool's creative community.
Drawing evidence from Bido Lito's Liverpool – Music City? report, the Liverpool music community shares a collective desire for change and they too feel the potential for Liverpool is limited only by the ambitions we set for ourselves. The LCRMB will collaborate to promote music to both residents and tourists alike, capitalising on the potential for music events big and small.
By endeavouring to supply more practice and music spaces, it will provide benefits for artists and musicians looking to develop their careers as well as supporting an established infrastructure within the music business for when they want to go global. 48% of people asked in the Bido Lito report said that we need a strategic network of communication between council and community and it is to be hoped that the LCRMB will be the catalyst that effects change in the Liverpool music landscape.
Amongst the Sound City+ panel was the charismatic, Amy Lamé, the Sadiq Khan-titled 'Night Czar' of London. Working with the London creative community, Lamé was tasked to save London's night-time economy and music venues. The London Music Board helped save the iconic Fabric nightclub and helped eliminate the dreaded Form 696.
#NoMoreKnives – how Merseyside must unite to beat knife crime
London might have eight times the population of Merseyside but the two share similar music struggles. Rising rents and selfish developers were closing its venues, diminishing council budgets were damaging its infrastructure and relationships between council and communities were becoming frayed – sound familiar?
The city of Austin in Texas is considered a trailblazer in the conversation of music cities and in August 1991 declared a slogan onto the city of 'Austin: Live Music Capital Of The World'. The Austin Music Office is a division of the Austin Tourism Board and is in place to 'bolster local music and economic development'.
Running in tandem with the government-run, Austin Music Commission, its job is to: 'act as a liaison between the City Manager, City Council, and local music businesses to help achieve mutual goals and build on existing private sector-initiated music ventures' – the exact provisional role of the Liverpool Music Board.
The Austin government saw an opportunity in the early 90s to develop a successful music economy and now Austin sustains a $1billion music economy. Austin Music Office helps in a number of ways to assist the regional live music community offering genuine personalised creative assistance in booking live music both in conventional venues and more adventurous locations.
The Austin Music Office helped to create Austin City Limits music festival which in 2017 pumped $255million into the local economy. Austin shows what a city can do when local government and creative communities work together to reach the same common goal of making their city the best music city in the world.
There is no reason why Liverpool cannot attain or exceed these similar goals.
Liverpool city region has a valuable and large music economy but one that can further increase with direction from a music board and city-wide collaboration as UK Music's report shows:
The total direct and indirect spending by music tourists to the City Region in 2016 was £135 million
The total live music audience in the Liverpool City Region in 2016 was 937,000
Festivals in the City Region area in 2016 generated £23.3 million and drew a total audience of 237,000.
2,360 people work in Liverpool's music industry and each one of those individuals will have an opinion on how Liverpool's music industry should conduct itself.
Ten Streets and budget deficits – how culture will power Liverpool's success
A key aim should be to attract more music industry jobs away from the seismic pull of London, with the capital further increasing its grip as the hub of the UK music industry. London holds 47.7% of the jobs in the entire UK creative industry – with creative salaries being 22.2% higher in London compared to the rest of the UK.
Since 2010, Liverpool City Council's budget has been cut by £420million or 68% with a further £90 million of cuts coming in the upcoming three years. The City Region Music Board is an initiative launched with Liverpool's City Region Authority thus meaning that Liverpool City Council will be one of the board's largest partners.
Liverpool City Council has no statutory obligation to divert funding to cultural events but within its 2017-18 budget, it allocated 2.2% of the budget at £9.6 million to culture – dwarfing Manchester City Council's 2017-18 cultural spend of just 1.2% of their budget at £6.6 million.
Liverpool City Council's cultural department, Culture Liverpool, uses this funding to help maintain a relatively healthy and optimistic cultural sector helping small organisations but also producing rafts of mega-events such as the Giants and LIMF – the Giants visit to Liverpool in the summer of 2014 brought in over £71million to the city.
Culture has always played a key part in Liverpool's story, forming an integral part of its identity and establishing its role in the modern world.
A review of the purpose of Culture Liverpool has been considered with the possibility of moving away from its role as promotor and creator of cultural activities towards a more traditional council role of an enabler or facilitator of culture. Changing their role will permit Culture Liverpool to more effectively fund cultural events and minimise the the red tape burden currently faced by musical communities and initiatives wanting to hold an event.
Consideration must be given to the dwindling pot of available money for cultural activities and the impact of Culture Liverpool. Producing large-scale events such as the Giants, Tall Ships and LIMF helps promote Liverpool on a national and international stage as well as bringing additional financial and social benefits. An added benefit of Culture Liverpool being a council-run organisation lies in its responsibility and obligation to first and foremost consider the impact on the city and its residents – this could be different should it be funding private organisations with other intentions and strategic objectives.
Ten Streets creativity district plan takes a massive step forward
Embedding the key ideas of the 'Agent of Change Principle' within the city is a key aim of the Music Board. This principle means that developers must consider the community and area around their site when developing property close to places where music is played and created. Liverpool's live music scene is key to the local music economy, with a 44% output compared to an average of 23% elsewhere within the UK. Consequently, it must remain imperative for the Liverpool City Region Music Board to protect it.
Although it could be thought that venues will always come and go, adopting the 'Agent of Change Principle' will allow for venues to run their own course and not shut down before their time is up.
The Board must ensure that its aims and objectives remain realistic and the Agent of Change seems as good a place as any to start. It must be in place to support Liverpool's music scene effectively and not just display themselves as a bunch of suits around a table. While how much of a visible effect the Board may have will always be determined by its available financial resources, it should equally focus its aims on mentoring and education.
As evidenced by the successful music mentoring, education and guidance programmes from LIMF and Sound City, as well as the recently announced Levi's Music Project which, in conjunction with Liverpool Football Club, has helped aspiring creatives kickstart their musical careers, the proof is in the pudding. Mentoring costs very little and the guidance and advice from someone with experience can really help someone struggling to get to grips with the music industry.
Mentoring validates ideas and gives confidence and direction for what people wish to do. The Board should support people who are trying to get into the music business and they can most effectively provide this support by having successful Liverpool music businesses on the Board.
Nurturing the talent available is key as young people are the best marketing brand for a city and aspiring musicians are the biggest transmitter of that brand. Engaging with aspiring musicians in Liverpool to set up mentoring and education services will allow young people to develop a love for the city further strengthening its positive image.
Additionally, as well as supporting emerging talent the board should also work to promote the music industry that already exists in Liverpool. There is an unfortunate picture at times that Liverpool's music industry is relatively small. The reality is somewhat different and the Liverpool Music Board can be the perfect vehicle to drive the collective discussion to how to bolster the local music industry.
If companies engage with the Board it can foster more of a community feel within Liverpool's music industry as well as providing financial support, engagement and enhanced connections and networks both within the city and further afield.
As a port city Liverpool has always relied on the flow of people and the Music Board can use such people, both the city's residents and its visitors, to spread the message of why Liverpool should be the best music city in the world. More so, the board should always put the interest of the people first.
Liverpool is in a unique position to truly create something special if everyone works together. Liverpool has the passion, the history and the drive to become a bona fide successful music city, economy and one with ever expanding international influence.
Comments
comments