Already starting to lose the will to keep up those promises you made to yourself at the start of 2019? Getintothis' Nedim Hassan returns with ten resolutions all headbangers should stick to.
Yes, we know. It's January and you're still suffering the residual effects of your own weak will over the season they call 'festive'.
You convinced yourself that all those choccies that Granny gave you just had to be eaten in one day. Operating under the delusion that you would receive guests, you crammed your cupboards full of mince pies, only to find that you 'had' to eat them all because you don't actually like guests.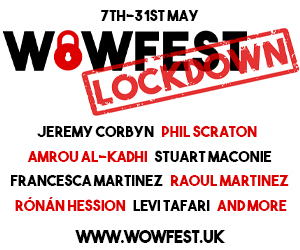 And now you are making all kinds of promises to yourself to get fit, to shed the Christmas pounds. Only already your resolve is beginning to flounder…
Well, salvation is at hand. For this is the time of year when we offer you some resolutions that matter. Resolutions that demand discipline and careful investment but that will re-ignite your metallic mojo. Stick to these brothers and sisters and, to quote the late Sammi Curr, you will be one of 'rock's chosen warriors' during 2019.
1 Support your scene
We say it every month, but if Brexit actually happens our motto becomes even more important, support your scene and especially check out local bands. Exiting the EU may damage the ability of those bands to tour outside of these shores, so go and watch them when they're on your doorstep. We've checked out some of Merseyside metal's finest over the last year, from the likes of Exhumation, Ashen Reach (formerly Equinox), Scare Tactics, Reaper and Video Nasties to name just a few.
This month alone sees Deathwave Entertainment provide us with a killer package of bands at Frontline II: Winter War, which is led by local hopefuls Midnight Prophecy and Forlorn Hope. Venture into Outpost on January 26th to see their brand of classic heavy metal and we guarantee you will leave with your horns raised high.
18 Albums from 2018 that we missed – the records that slipped under the radar
2 Stifle the tears when Slayer make their final ever UK appearance at Download 2019
Don't dwell on the fact that you will never hear the haunting riffs of South of Heaven or Raining Blood played live ever again. When you see Slayer at Download do what they expect you to do – tear the mosh pit a new one. If you feel those tears welling up and you absolutely have to shed them at least have some dignity and indulge in some classic Tom Araya style windmill headbanging so that your hair covers your face.
3 Howl like a wolf when Ozzy Osbourne plays Bark at the Moon during No More Tours 2
Now that Wolfie Martin Adams is not playing darts at the BDO World Championships, the only time it is acceptable for a grown up to howl like a wolf is when the great Ozz tells you to. So, if you find yourself in this situation at one of his impending UK arena dates, please do as you are told.
4 Get an education at Supersonic festival
This year's Supersonic festival is shaping up to be mind-bendingly good now that UK industrial pioneers Godflesh have been announced as support for post-metal legends, Neurosis. However, the fact that the festival coincides with a major Home of Metal exhibition that focuses on the Godfathers of everything heavy, Black Sabbath, provides metalheads with a unique opportunity to gain insights into the birth of metal.
5 Immerse yourself in the spectacle that will be Tool at Download
While maybe, just maybe, this year we will all have the chance to hear new music from these alt metal visionaries, one thing is for certain. Tool will be spectacular at Donington Park. Prepare for your eyes (including your third one) and ears to be taken to places you never dreamt possible.
Cardiff Psych and Noise fest announces dates and first wave of 2019 line up
6 Take pity on the photographers in the pit for Rammstein's Milton Keynes show
Who doesn't like pyro at a metal gig?
The answer is pretty much no one. Except perhaps those brave souls who are trying to capture the onstage action in all its glory in the camera pit.
With frontman Till Lindeman likely to sport his dual arm mounted flame throwers, and given Rammstein's legendary reputation for making Guy Fawkes night seem like a quiet evening with a few candles, we can assume any photographers brave enough to venture near to the stage will have their work cut out. So spare a thought for them when you're screaming your head off to Feuer frei at Stadium MK this July.
7 Wear your corpse paint while watching Lords of Chaos
Inspired by the notorious crimes connected with Norwegian black metal, horror-thriller Lords of Chaos is set for widespread UK distribution via the awesome Arrow Films. Consequently, watch it in style. Wear your best corpse paint to mark the occasion. If nothing else, it will ensure your neighbours never bother you again.
8 Rock like a hurricane when the Scorpions storm Bloodstock
Need we say any more? It's the Scorpions and they're Sunday's headliners at Bloodstock. Why are you still staring at the screen? Get a ticket already.
9 Channel your anger at the world around you by listening to angry music
Regardless of what happens in UK politics and society over the coming months, one thing is for sure, divisions will remain and plenty of people will be pissed off. At times like this we need bands that are socially conscious but can still sonically tear your face off. With new music on the horizon from the likes of Venom Prison and Liverpool's own black metal activists Dawn Ray'd embarking on tours and writing new material, 2019 is a year when heavy music can help us comprehend the chaos.
10 Invest in new music
With forthcoming releases scheduled from heavy hitters like Megadeth, Rammstein, Slipknot and Code Orange, 2019 holds promise for many metalheads. In the more immediate future, imminent releases from Haunt, Carnal Forge, Lord Divine and Mortal Scepter sound massive.
We will have the lowdown on some of those albums for you next month but, in the meantime, stay strong and keep your resolve.
Above all, have a heavy New Year.
Comments
comments