Liverpool's new Music Board held its first public meeting and Getintothis' Will Whitby popped down to see what the new sector-led task-force aims to change in Liverpool's Music Industry.
The new project sees key members of the Liverpool music industry join together to help support and develop Liverpool's Music Industry on both a local and an international stage.
The LCR Music Board has been set up to help promote collaboration, expand the city's music services, protect venues, support musicians, hold policy-makers to account and help the Liverpool City Region grow.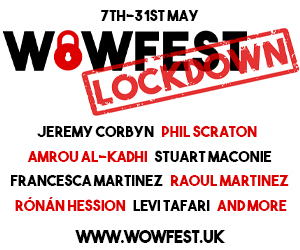 Held at Hinterlands in the Baltic Triangle the day-long consultation was led by the head of the board Michael Eakin, CEO of the Royal Liverpool Philharmonic.
The board invite expanded to the wider Liverpool music community as the creative public and local industry came to discuss their ambitions for the board and the city.
The event saw board members discuss the considerations, aims and long term plans they have been exploring since forming earlier this year. A large section of discussion surrounded Liverpool's live scene as gigs and venues proved a large part of the cities economy as audience numbers topped 937,000 in 2016.
Many loved venues have closed and new ones opened in recent times in Liverpool. Kelly Wood of the Musicians Union led the venue discussion as a key part of the boards' purpose is to protect and promote venues in the city and help them develop their offering.
Importantly, one of the key areas Wood discussed was the need for the Agent of Change Act to be implemented within the council planning framework.
This principle means the onus is on developers to consider the community and area around their development site when building property close to places where music is played and created.
Liverpool City Music Board launch at BME – review and reflection
Wood said the board would aim to increase the number of support funds and grants available for venues to apply to. The Music Venue Trust and Arts Council England recently announced a new £1.5million fund for struggling grassroots venues to help them deal with life in a tough economy.
Music boards and sector-led initiatives are appearing all around the UK. The Liverpool Board may well look to draw inspiration from neighbouring Manchester. There, they have appointed a Night Tsar to help lead the council to develop a safe and thriving night-time economy.
At the meeting, it was shown that the board aims to protect clubbers by aiming for an increase in CCTV, better security and trained staff to make nights out a safer and more enjoyable experience. Suggestions were to work with drug charities like The Loop to help make nightclubs safer with controlled drug testing, a scheme which has worked well to protect clubbers in Bristol from dangerous substances.
Tourism was next on the agenda as Paul Gallagher of Museum Of Liverpool explored how Liverpool could best promote itself to an international market. One of the boards' aims is to help promote Liverpool as an international music city with a welcome strategy similar to that of Nashville or Austin.
Baltic Triangle Masterplan: a reality check from Getintothis
The board, with Peter Hooton of The Farm and Beatles Legacy Group, aim to expand and develop services and attractions on offer for the 100,000s of Beatles fans the city gets every year.
The creation of more efficient and eco-friendly public transport methods to landmarks will, it is hoped, improve landmarks themselves (e.g Penny Lane Bus Station) to create a stronger economy surrounding the Fab Four.
The Education and Talent Development discussion was lead by Catherine Tackley, Head of Music at the University of Liverpool. The consultation highlighted the work that non-formal education strategies like Merseyrail SoundStation, LIMF Academy, and the Levis Music Partnership have done for the city.
These schemes use industry professionals to mentor and educate aspiring creatives and aren't managed in the same way as you might find in a more traditional setting. Tackley noted that a key aim of the board is that every child in Liverpool should have access to the best music education should they want it.
Endorsed by both Mayor Joe Anderson and Metro Mayor Steve Rotherham, Liverpool is lucky in that it is led by two politicians that believe in the power that a thriving music economy can do for the city.
Since 2010, Liverpool City Council's budget has been cut by £420million or 68%, with a further £90 million of cuts coming in the upcoming three years. Liverpool City Council has no statutory obligation to divert funding to cultural events but within its 2017-18 budget, it allocated £9.6 million to culture, 2.2% of its budget, dwarfing Manchester City Council's cultural spend of just 1.2%, or £6.6 million in 2017-18.
The LCR Music Board is made up of 18 members and seven 'observers' and lead by the head of the newly created voluntary collective, Michael Eakin, CEO Royal Liverpool Philharmonic.
The board in full is:
Chris Meehan, CEO Sentric
Michael Eakin, CEO Royal Liverpool Philharmonic
Rebecca Ayres, Managing Director Liverpool Sound City
Ian Thomas, Chair of LCR Music Education Alliance
Steve Levine, music producer
Craig Pennington, editor of Bido Lito!
Matthew Flynn, University of Liverpool Music Industries
Paul Gallagher, Deputy Director at Museum of Liverpool
Ben Williams, Commercial Director, ACC LIverpool
Andy McClusky, OMD vocalist
Cath Hurley, mostedeffo music manager
Hannah McKearnen, Independent Accessibility and Inclusion advocate
Yaw Owusu, Playmaker Group, LIMF
Catherine Tackley, Head of Music, University of Liverpool
Alok Nayak, MILAPFEST
Barbara Phillips, Positive Impact
Anne Thwaite, Arabic Arts Festival
Jennifer John, Sense of Sound
Observers include Michael Dugher and Tom Kiehl (UK Music), Joe Anderson, (Mayor of Liverpool), Kevin McManus (Head of Liverpool UNESCO City of Music), Peter Hooton (The Farm, Beatles legacy group), Sarah Lovell (Culture Liverpool), Kelly Wood (Musician's Union), Lord Dave Watts (Leader of St Helens Council.)
In the lead up to the creation of the board, I spent my Masters academic year studying what the LCR Music Board could do for the city. I believe that the local music industry banding together under a collective voice is the best thing that could happen to the creation, development and legacy of music in Liverpool.

Culture has always played a key part in Liverpool's history and the industry board clearly has strong ambitions to expand Liverpool's identity onto the world stage. Importantly, the board is also looking inwardly at the immediate community issues.

Venues will always come and go but adopting the 'Agent of Change Principle' will allow for venues to run their own course and not shut down before their time is up because of lazy developers.

Supporting and nurturing new Liverpool talent and music education is also imperative as new music and the youth are the biggest amplifiers for the Liverpool exciting scene.

Although of a bit of an elephant in the room to modern Liverpool, although some people are tired of The Beatles label, the fab four brings in £82 million a year to the city and also do a good job of helping drive tourists to grassroots venues.

Effectively and cleverly building on the Beatles Legacy will inevitably drive more money into the local music economy which can only be a good thing. As noted at the event, everyone on the board is doing this for free and understands how much of an issue financing change can be.

However, to sceptics of those who don't think these kinds of initiatives work, I believe the board should maintain a constant drive for change as Steve Rotherham said last year at Sound City + 'we need to stop collecting and actually use them.'

Throughout the afternoon as the members of Liverpool's music industry bounced ideas off each other, it was clear that event and the board were already doing its job.

Creating a space for collective discussion and collaboration across the Liverpool Music Community is something that the LCR Music Board will facilitate with ease. With growth and collaboration encouraged, a lot more is achievable as everyone in the room and many others all operate for the ends: Make Liverpool the best music city in the world.

Will Whitby, Getintothis
Comments
comments