With the news that Canadian producer Caribou is set to release a new LP in February, Getintothis' Max Richardson brings the latest.
The Ontario-born Dan Snaith is a man of many names, having performed underneath the aliases of Manitoba, Daphni, and Caribou – the latter of which is set to release a fifth studio album in 2020.
Following on from 2014's utterly superb Our Love, Suddenly is set to span 12 tracks – of which single You and I is available to listen to now, in addition to new track Home.
With a date set for Invisible Wind Factory in April 2020, fans have a great opportunity to catch tracks from Suddenly in a live setting following its release on February 28.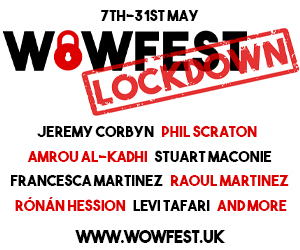 Of course, Snaith is no stranger to the city of Liverpool, having previously played the city as part of 2014's Sound City, and previously debuted in The Kazimier way back at the start of the decade in 2010.
Getintothis' best 100 albums of the decade – a reflection on the 2010's
Caribou's previous studio effort You and I was critically lauded on its release, receiving acclaim for its unique sound and gorgeous musical identity.
If the quality of Caribou's new LP can be judged from debut single You and I, we're in for another treat – with the effortlessly cool song creating a relaxed soundscape with ease.
Home, meanwhile, takes a different slant to the experimental electronica aspects of the former single, creating a more upbeat track fusing retro brass samples with gorgeously crisp drums.
The quality and thought behind the album is immediately apparent even in these two tracks – it comes as no surprise to learn that Caribou whittled the album down from over 900 draft ideas into a final 12.
Deep Cuts #34 Hot Dreams, Motel Sundown, Hushtones – best new tracks December 2019
Of course, the eclectic nature of Caribou ensures that a new album is in any way easy to predict, so expect to be kept on your toes through a musical journey of different styles and instrumentation in what's being touted as the most eclectic album yet from Snaith.
Suddenly will release on February 28 via City Slang Records,  and is available to preorder now.
Comments
comments