Tim Burgess will release his fifth solo album this year, Getintothis' Lewis Ridley reports.
Tim Burgess has announced news of his new solo album I Love The New Sky released on May 22 via Bella Union.
To celebrate the announcement, Burgess has shared a fiendishly brilliant video for lead track Empathy For The Devil, and announced an extensive run of UK and US live dates.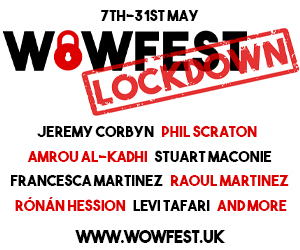 Those who made the trip down to Liverpool's British Music Experience before Christmas may have been privy to a tip off that new music from The Charlatans' frontman was on its way, and fans will be delighted that is it in the form of his fifth studio solo album.
I Love The New Sky differs from its predecessors in that all twelve tracks were self-penned. "In the past, I've written collaboratively," says Burgess.
"Oh No I Love You was written with Lambchop's Kurt Wagner in Nashville, and then Same Language, Different Worlds was a collaboration with Peter Gordon who had worked extensively with Arthur Russell."
Dave Haslam releases new book Searching For Love about Courtney Love's time in Liverpool
The album was penned, he says: "in Norfolk, in the middle of the countryside, with the nearest shop eight miles away. There are no distractions, and I guess that way things happen. I wrote everything on acoustic guitar, and the chords were really considered. The guitar lines would lead the melody, and the melody would inform the lyrics – just dreaming away with music."
I Love The New Sky tracklist:
1. Empathy For The Devil
2. Sweetheart Mercury
3. Comme D'Habitude
4. Sweet Old Sorry Me
5. Warhol Me
6. Lucky Creatures
7. The Mall
8. Timothy
9. Only Took A Year
10. I Got This
11. Undertow
12. Laurie
Burgess will play numerous UK dates across the summer, including playing Liverpool's Sound City festival and Live At Leeds on May Bank Holiday weekend.
Fans will also get to hear the new tracks at Manchester's Night and Day Cafe on May 27, with limited tickets available for those who buy the album at Piccadilly Records on sale now.
Tim Burgess dates 2020:
1 May – Newcastle – Hit The North 'Opening Party' – Think Tank
2 May – Leeds – Live at Leeds
3 May – Liverpool – Sound City
20 May – Nottingham – Rough Trade
22 May – London – Rough Trade East
24 May – Dartington – Sea Change Festival
25 May – Bristol – Rough Trade
27 May – Manchester – Night & Day
6 June – Barcelona – Primavera Sound
9 June – Nottingham – Rescue Rooms
10 June – Kendal – Brewery Arts Centre
12 June – Glasgow – King Tut's
14 June – Bristol – Thekla
16 June – Cardiff – Clwb Ifor Bach
17 June – Portsmouth – Wedgewood Rooms
18 June – London – Oslo
20 June – Manchester – YES
26 July – North Yorkshire – Deer Shed Festival
You can watch the video to Empathy For The Devil below.
Burgess has also released a brand new video for second album single The Mall.
Burgess says: "The mall is like a state of mind – everything and nothing is there. It induces a kind of torpor. Even the process of going between floors is assisted by moving staircases. Shop windows are hypnotic but you don't have to take part in anything. Malls are a great leveller – class and status disappear. They are like a waking dream, an altered state. A kind of limbo. Plus they are handy if you need new shoes or a doughnut."
Comments
comments