Major announcements have been made on the fate of this year's Download, Isle of White, Lovebox and Parklife festivals, Getintothis' Kris Roberts has the latest Live Nation's decisions. 
Live Nation have announced the cancellation of four more festivals due to take place this June, Download, Isle of White, Lovebox and Parklife all cancelled for 2020.
The mammoth events have been cancelled by the major live firm following advice from the government and Public Health England, and become the latest festivals to be cancelled following the unprecedented cancellation of Glastonbury, The Great Escape that was supposed to take place in May, as well as smaller festivals Africa Oyé and Positive Vibration.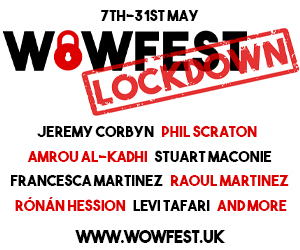 It seems that the scale and logistics of the events coupled with the expected impact of coronavirus have left organisers no other option than to cancel them with more than two months still to go.
2021 dates are already in place for Download (June 4-6), Lovebox (June 11-13), Parklife (June 20-21), with Isle of White diary slots to be announced.
Isle of White Festival, which was supposed to be headlined by Lewis Capaldi, Lionel Richie, and the Black Eyed Peas, released a statement saying: "This decision [to cancel]hasn't been taken lightly and we have tried our hardest to make it work, but it was unavoidable given the current status. The whole team was excited to welcome everyone to the island for another fantastic festival and we extend our sincere apologies to everyone who was looking forward to it as much as we were".
"The safety of our audience, artists, crew and the Isle of Wight community is paramount, and we appreciate your patience whilst we've been working through this unprecedented situation. We'll be back stronger than ever in 2021 and we hope to see you all again next year".
Download Festival, which was supposed to be headlined by Kiss, System of a Down, and Iron Maiden, similarly released a statement saying: "We've been closely monitoring this unprecedented situation and it's become clear that it just isn't possible for the 2020 festival to go ahead. This decision hasn't been taken lightly and we're beyond disappointed. We extend our heartfelt apologies to all of you – we really did try to make this work".
"Please rest assured we will be back next year. Now, more than ever, we need the Download spirit to thrive and offer support to those that need it most. We'll do our best to put together an amazing line up for you in 2021 and can't wait to see you all then".
In a strange turn of events, members of Yourope, the European festival trade body that includes Primavera, Roskilde, Rock In Seine, Exit and Open'er, released a statement in which they said that they are monitoring the situation closely but they expect all of their summer festivals to go ahead.
In this statement, they said of their decision: "We all expect to carry through our festivals this summer", they then stated. "We will stand united to make it a safe and sound experience for our participants and the outside world. It's about taking responsibility for the events – and it's about taking responsibility for the industry we're part of".
They continued: "By carrying through our festivals this summer, we can be a crucial part of the survival of this industry. We owe it to the community, the music, the art and the culture to assume responsibility together".
Of course, this will all depend on how this situation progresses over the coming weeks and months, and we can rest assured that they will be keeping a close eye on the situation and will take the necessary actions to keep the attendees, staff, and performers safe.
Comments
comments