Psycho Comedy continue their upward march with a new single and tour, Getintothis' Banjo looks at what's happening.
There is a buzz about Psycho Comedy.
This kind of thing doesn't happen often, but every now and again, a 'buzz band' comes along.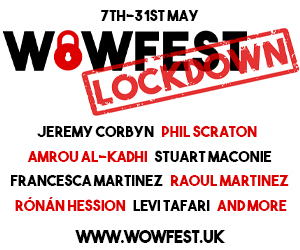 This isn't a question of mere hype, that kind of thing can be bought and sold. But a buzz is something that can't be artificially made.
It grows from the streets, it comes from people who see something extraordinary and it travels by word of mouth.
A buzz happens when a band is good enough to generate it, and not before.
Psycho Comedy are good enough. And then some.
The buzz started for us here at Getintothis way back in 2015 when we ran one of out Introducing columns on the band, where we described them as 'sinister noise makers', as prescient a description as we have ever come up with.
From there, Psycho Comedy have featured extensively in our live reviews, getting where they are now by adding hard work to their knack of writing sleazy epics.
In our first live review of them, in January 2016, we said "Kicking the night off were Psycho Comedy who were by far the most interesting and innovative act of the evening. There is something about them that shows true promise and an edge that was not present with the other bands.
Touches of 60's Nuggets punk, Beefheartian licks and intricate lead guitar work that has echoes of very early Fall or Tom Verlaine demonstrates a very real intelligence and a band that are well worth keeping tabs on. It'll be interesting to see and hear what they come up with next."
When we get it right, we get it right.
After all this hard work and paying their dues, the buzz really kicked in when Psycho Comedy released their debut album in February this year, becoming our album of the month with ease.
Performance Space Number One has seen the band's reputation spread across the country, gathering good reviews far and wide.
And quite rightly – Performance Space Number One is a stunning piece of work. A trip through a city's dimly lit backstreets that could be in New York or could be in Liverpool, all delivered with a confidence and a swagger seldom heard on debut albums.
It is this album that has started to propel Psycho Comedy to the heights that they deserve to occupy. Their upward trajectory has accelerated and 2020 would seem to be theirs for the taking.
Dysgeusia 60: Burning Witches, My Dying Bride and fantasy metal festival bills
To help with this trek towards world domination, Psycho Comedy have announced a new single, I'm Numb, and a brief tour, including a show at Liverpool's Kazimier Stockroom.
The Liverpool show will be the launch party for I'm Numb and will feature support from ROY, a Psycho Comedy digital portrait screening from Sophia Rose Powell and will be compered by writer Jeff Young.
Full dates are;
April 3 The Dam, Glasgow
April 4 Chameleon Arts Café, Nottingham
May 2 Kazimier Stockroom, Liverpool
May 7 The Grain Barge, Bristol
May 16 Big Hands, Manchester
Comments
comments