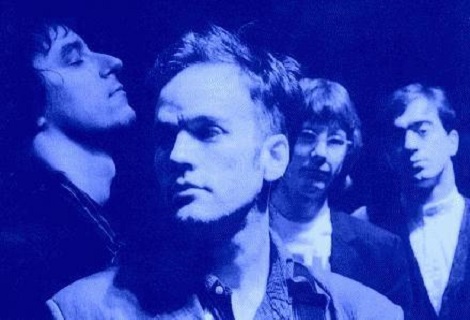 R.E.M. were one of the world's most influential groups, Getintothis' Alan O' Hare examines the money-spinning, travel weary and tune-heavy Warner Bros period of their career.

A friend of mine posted a strange comment online recently.
A few music lovers were involved in a debate about R.E.M. and the group's best record. Now, it's a recognised fact that most fans of R.E.M. agree that its early work is superior to the later stuff. That's just the way of recorded music (in most cases) it would seem.
But, it was the way my friend (a DJ and one of the most knowledgeable fans I know) shaped his reasoning, which struck me kinda funny: "I don't listen to the later stuff much. I don't know why. I'm the same about Up. Of the Warner-era, my fave is either Green or New Adventures…"
"The Warner era"? Time for a bit of back story.
R.E.M. released five fantastic records in the 1980s, all on the small IRS label. Forests have been destroyed contributing to the discussion of those albums, so we'll just add this: they're great and changed the face of American indie music forever. They also contained some of the best music of that (or any other) decade.
In 1988, R.E.M. left IRS and signed with Warner Bros, as they wanted more people to hear their work. Their music remained as focused as ever, its politics didn't change (in fact, R.E.M.'s activism grew as their celebrity did) and they retained creative control of their art.
But they drew a line in the sand. "The Warner era," said my pal and I was astounded. Like the football fan who loves playing with gambling apps and who discusses their club's finances before its performances, he had been drawn into the myth. You know the score: Ringo wasn't the best drummer in The Beatles, football is just big business these days and Take That are 'proper songwriters' since the Ivor Novello and Q awards. All thoughts that have entered popular consciousness – and all unqualified rhetoric, wheeled out time and time again, when there isn't the appetite for debate.
It's a stone cold fact that R.E.M. recorded some of its best music for Warner Bros. 1991's Out Of Time and 1992's Automatic For The People achieved massive commercial and critical acclaim, without the band playing any of the games their loyal fan base feared a move to a major label would precipitate: they didn't tour stadiums, release commercial cash-ins (though IRS did immediately) or make million dollar videos.

They followed up their fortune with a phenomenal record and a tour to match as well: Monster remains one of the best albums of the 90s – the only decade it could have been released into. Its glam guitars, banging drums, distorted major chord melodies and post-modern stadium rock all combine to deliver a visceral experience.
Sure, the tour had its problems (aneurysms, hernias, Beautiful South support slots), but the band played on and consolidated their position as the thinking rocker's favourite group. I mean, who was the competition? U2? Radiohead? Oasis? Please.
The monochrome New Adventures In Hi-Fi came next and R.E.M. took mid-70s Neil Young as its example; releasing a record of new songs recorded on the road. It was a brave idea (digression: why doesn't a major rock 'n' roll band do that now? Tour, play new songs, record, release the album and claim the fans are 'on' it… it could revitalise album sales) and, though ultimately one that saw the massive sales suffer, a success. Musicians Peter Buck, Mike Mills and Bill Berry introduced analogue drum machines and eerie synths into the band's sound for the first time and Michael Stipe reacted with some of his most introspective lyrics since Murmur.
The band's sound was changing and so were they. Drummer Bill Berry decided to get off the bus and onto his tractor, leaving for a life down on his farm. The other three were shook up and should have taken some time to reflect, regroup and refresh. They didn't.

Up emerged in 1998 and updated R.E.M.'s sound. In fact, despite the problem its making wreaked on the band's personal relationships, it's an album that paved the way for the post-Millennial tension rock that followed. A precursor for Radiohead's Kid A (Nigel Godrich was an engineer on the long player), if you like, the record was a revelation: opener Airportman sounded like Brian Eno with his glasses off, Lotus was a Bowie-esque belter and At My Most Beautiful found Mike Mills indulging his Beach Boys obsession to perfection.
The sounds may have been smooth, but R.E.M. was falling apart. "A three legged dog is still a dog," runs the Stipean adage… but interviews in later years reveal the group was barely communicating. You could tell: the promo for Up was a lesson in an experienced band coming to terms with the developments of the machine.
First there would be no tour. Then there was. Then it was off again. Until, finally, R.E.M. played a short stretch around the arenas of the US and Europe and enjoyed some summer promotional activities.
That summer dictated the band's next move too, as they moved away from their perennial US college crowd audience and took up residence around Europe's most beautiful cities. Their 12th album would be recorded in Dalkey, Ireland – with Stipe flitting off around his favourite European spots to find lyrical inspiration. They were finding their way in the new world and decided to revisit comfortable destinations: Buck busted out his 12 strings and Rickenbacker's, Mike Mills found those harmonic vocal sweet spots again and Stipe sang out loud and clear. The result was Reveal and it's a record definitely worth a revisit.
Imitation Of Life put R.E.M. back in the top 10 and the album sold well. All The Way To Reno and I'll Take The Rain followed as singles and the group were suddenly like shit in a field again: everywhere. Another MTV Unplugged was broadcast, live performances filmed in Wiesbaden and Trafalgar Square lit up TV schedules and the grown up music magazines declared them the natural heirs to The Beatles, Bob Dylan, Rolling Stones, Pink Floyd and Bob Marley, as the first 80s band to hit legendary status.

But disaster was around the corner. Something happened that no music fan could have ever predicted: into their third decade as recording artists, R.E.M. made a bad album. And included a title track for the first time
"It just wasn't really listenable," admitted Peter Buck about Around The Sun. "It sounds like a bunch of people that are so bored with the material, they can't stand it anymore." The album's recording did have a long gestation – and the band could blame nobody but themselves. Warner Bros had decided to release a greatest hits and R.E.M. interrupted studio sessions to support the compilation with a world tour.
Sure, the tour was fantastic (long time R.E.M. boss Bertis Downs says it contained some of their best ever shows), but the group lost creative momentum. It was perhaps their first wrong decision since becoming millionaires. Harsh? Maybe. But the truth will out.
Let's separate the facts from the myths though: Around The Sun isn't all bad. Leaving New York is a classic R.E.M. single and the record revealed the group's frustration at America being "Bush-whacked" once again, post-9/11, with I Wanted To Be Wrong, Final Straw and The Boy In The Well all righteous protest songs.
Perhaps the fact that said tunes were delivered in mostly minor keys, with acoustic guitars and strings high in the mix, didn't help them resonate in a world dominated by the White Stripes and the Strokes? Who knows… but mid-paced R.E.M.-by-numbers didn't capture any new imaginations.
In 2007, the group returned to Ireland (now a favourite creative breeding ground) to play a residency at Dublin's Olympia Theatre. Stung by the muted reaction to Around The Sun, but rejuvenated by reissues (In Time: The Best Of and Murmur), R.E.M. rocked. Its touring band found their studio chops and producer-of-the-moment Jacknife Lee was summoned.
Accelerate was greeted by ecstatic reviews when it emerged in mid-2008 and the sigh of relief from critics and fans alike was tangible, when R.E.M. turned their amps back up. Supernatural Superserious was the comeback single – and it's the kind of big, loud and dumb rock song that only Athens, GA's finest can get away with.
Peter Buck reused some of his favourite Byrds' chord sequences, but distorted the hell out of his melodies. In turn, Mills and Stipe responded with their loudest voices in a long time and R.E.M. went back on the road. Confidence was high and – with a back catalogue every touring outfit outside Paul McCartney, Bruce Springsteen and the Stones would kill for – R.E.M. were contenders once again.
The game had changed though. No longer could a very good record and great gigs catapult you into people's lives. Album sales stalled and Warner Bros switched their attention to said catalogue.
Was R.E.M. about to become a heritage act? Thankfully, we'll never know. The band (and Bertis Downs) decided to call it quits and went into Berlin's seminal Hansa Studios (Bowie, Eno, Iggy Pop) to record a swansong. The R.E.M.-esque punch line? Nobody knew.
In a world of tweets and gossip, it says it all about a group who played their first ever gig to a bunch of friends in a church – and whose office is still manned by family and friends – that nothing leaked. Details of final album Collapse Into Now were released to the usual 'so what' from the wider world and a typical tinge of excitement from the music business. But there was no fanfare.

That remains a pity. As Collapse Into Now is a fantastic album. The songs move forward while looking back and bring R.E.M.'s sound full circle. The mandolin on Oh My Heart recalls Losing My Religion, the jerky riff opening Uberlin puts Talk About The Passion front and centre in your mind and the devastating Blue (featuring Patti Smith) updates both Country Feedback and E-Bow The Letter.
But revisiting previous glories was never going to be enough for the original spirits of Buck, Mills and Stipe. And that's why it was the right decision to turn off the engine. Unlike a Beatle, the Stones or their mate Springsteen, R.E.M. was not built to last.
That the group played on for as long as they did – and never, ever lost their way until well into that third decade – represents perhaps the greatest achievement ever from an American group. And that's how R.E.M. deserves to be remembered: America's greatest ever band.
ps: They'll never reform. Ever.
Further reading on Getintothis:
REM Week: Getintothis' Top 10: REM.
REM Week: Murmurs of Greatness – Getintothis on Murmur.
REM Week: The Only Way Is Up – Getintothis on Up.
REM Week: Play the Endgame.
REM Week: Getintothis on Accelerate.
REM Week: Getintothis on growing up with Lifes Rich Pageant.
REM Week: Liverpool Remembered: REM live, Liverpool Royal Court, May 1989.
Getintothis on REM's break up.
[paypal-donation]
Comments
comments