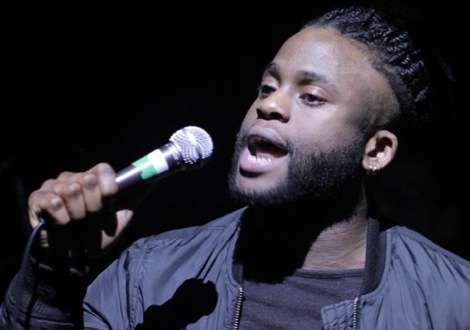 Fusing hip hop, soul and lyrical verve Young Fathers dropped debut album Dead on an unsuspecting UK public this month, Getintothis' Aaron Farrell discovers a band very much alive and kicking.

The last twelve months have been strong for alternative hip hop in Great Britain. Or should we say, what with the Scottish referendum for independence looking more likely, Scottish hip hop will soon take more prominence.
UK hip hop has taken a unique twist in the past year and the triumvirate of Alloysious Massaquoi, Kayus Bankole and G Hastings who make up Young Fathers reflect this with their mix of dark industrious synths and pulsating tribal percussion which recalls the mechanics of Kanye's brash and distinctly abrasive triumph, Yeezus, which credits several UK-based producers.
Having showcased their force at last summer's FestEVOL at the Kazimier, Young Fathers returned during February's drizzly deluge and Getintothis' mood on a wet Wednesday was suitably incensed after the drenching between Central Station and Seel Street, aligning ourselves aptly with the lyrical themes and ill-tempered approach of their debut album Dead, released earlier this month via Big Dada.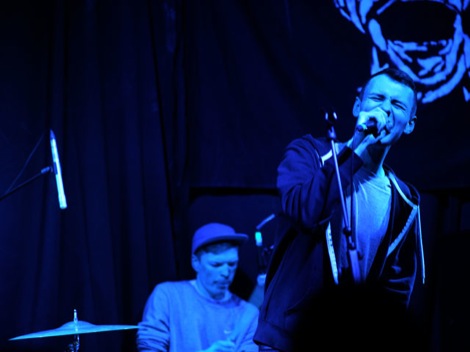 Coffee And Cakes For Funerals live at East Village
We arrive in time to see the returning Coffee and Cakes For Funerals. And we're immediately impressed. While not a world away from tonight's headliners, this is not a band in keeping with what we were expecting; musically compact, their songs incorporate layers of clean guitar riffs with lead singer, Joe Hazlett's powerful vocals absorbing in the subject matter – particularly in the love-struck emotional wreckage of I'm Fine.
Their rendition of Charlie Wilson's bridge line from Kanye's Bound 2 – 'I know you're tired of lovin…' had the audience up in arms howling the high notes, as Hazlett nailed his falsetto in style.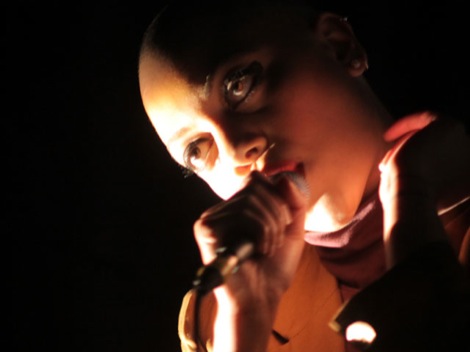 LAW live at East Village
Tour support, and fellow Edinburgh counterpart LAW (aka Law Holt) challenged the EVAC audience to come forward to lap up her fruitfully dark, wide-ranging recital. Her voice had a sinister tone which isolated the audience at first because of her unearthly presence while Haters resembled the wobbly vocals of Anthony Hegarty. Further dystopian sounds were ushered out through the use of a xylophone spiralling sounds in Number One proved impossible to ignore providing a nightmarish lullaby you wouldn't want to hear before bedtime.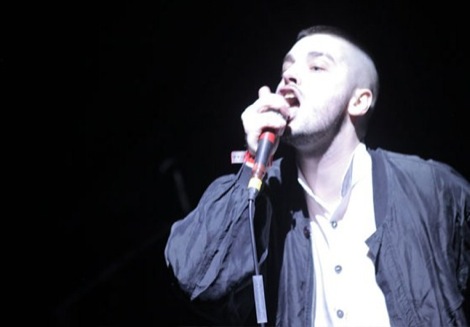 Young Fathers live at East Village
Young Fathers finally entered stage and the crowd were ready. Their energy is frightening and their wide-eyed anger worked in engaging the crowd as one. They raced through the majority of Dead including Just Another Bullet which utilised hazy rhythms that resembled a distorted wood wind instrument.
War had the same effect; minimal and simple with marching claps. The murky, distorted introduction of Get Up sounded like a revolution; grabbing you by the throat and sucking you in. Our personal favourite, Low, complete with its nonsensical lyrics reminded us of the fantastical lyricism that only MF DOOM would comprehend.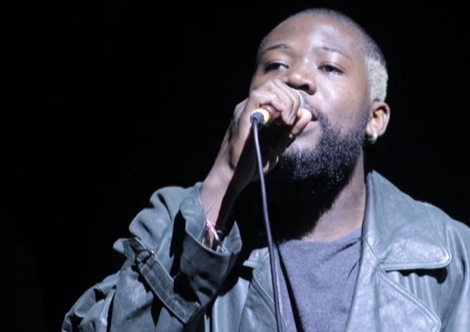 Young Fathers live at East Village
Recently, Young Father's Kayus Bankole told The Scotsman that their Tape One and Tape Two EPs on Anticon helped them realise their demons. In Dead, they are, he said, killing them. During this electrifying performance in Liverpool, Getintothis believes they're not just destroying those demons but demolishing them; literally tearing them apart. G Hasting especially, looks like a man possessed, with the whites of his eyes being the only prominent feature on his face.
There's little doubting that Dead could, and should, be Young Fathers' breakthrough record and this tour should cement them as future favourites at this summer's festival circuit. We'd argue they should also be in contention for this year's Mercury. Whatever the future holds, tonight in Liverpool, Young Fathers were bristling with life.

Further reading on Getintothis
Getintothis on Young Fathers' Effigy.
Young Fathers' Queen Is Dead named Getintothis Single of the Week.
Getintothis review Young Fathers live at FestEVOL at the Kazimier.
GIT Award 2014 launches One To Watch prize.
Liverpool music's ones to watch in 2014 – the new breed to listen out for on Merseyside.
Liverpool's gig calendar 2014: Guide to essential gigs not to miss in the first third.
Comments
comments