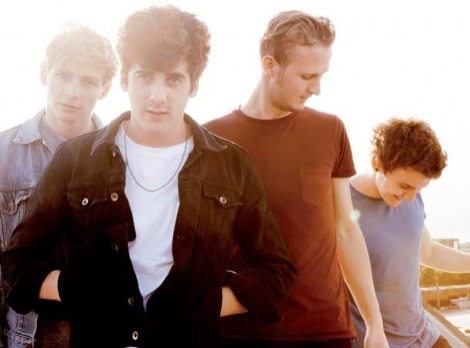 Hype can do funny things to people, but Circa Waves just take it as it comes. Getintothis' Joseph Viney basks in the warm glow of "the world's hottest band".

Work, life, love, whatever; some people are just destined to be fast-tracked.
Cue Circa Waves, the Liverpool quartet who haven't so much climbed aboard the conveyor belt as jammed a screwdriver into the gearbox and upped the track tempo. Perma-upbeat Radio 1 personality Zane Lowe described them as "the hottest band in the world right now" while an upcoming spot on the NME Tour with Interpol, Temples and Royal Blood beckons later this year.
In short, it's all gone a bit mad for this thankfully down-to-earth group. How does it feel to be taking the ride? They must occasionally succumb to the 'pinch me I'm dreaming' thought pattern?
"I wake up most days and wonder what the hell is going on," states Keiran Shuddall (vocals/guitar). "To be on Radio 1 and get to go on the NME Tour feels like we're watching friends do it all and not us. It really doesn't feel real at the moment, and I don't know if it ever will; more crazy things keep happening. My dream job was to be in a band touring the world and we're actually doing it. It feels absolutely bonkers."
But don't let the seemingly naïve innocence of the occasion fool you. Circa Waves have not got to where they are today without a good, solid application of hard work.
You may remember Shuddall from his time with the energetic Fly With Vampires, not as fly-by-night as their name suggests, who looked set for bigger and better things before getting the final nail in the coffin.
Joe Falconer (guitar) will be fondly recalled by many of Liverpool's denizens as an integral part of the recently departed and strongly missed Vasco da Gama, while bassist Sam Rourke has pulled shifts with James Canty. There's more pedigree to be found here than the dog food aisle at Tesco, so their rapid ascent has not been a surprise to those who keep their ears to the ground.
2013's catnip-for-radio-cats single Get Away was the first sign that Liverpool was ready to gratefully export her next big thing. This year's release, the single Stuck In My Teeth, sounding like a home-spun Vampire Weekend sans all the class-ridden pretension the latter's tunes exude, is an indication that last year's success was not a flash in the pan deal.
But if it's hype and self-inflated dross you're after, this isn't the group for you. Thank fuck for that. As more and more people queue outside the Circa Waves dressing room door to lay flowers and plaudits, the group express their desire to be judged on merit, not what the usual suspects have to say.
"I don't mind things like that, it's nice," says Shuddall. "It's the same with anything though. If someone tells you a film is the best fucking film they've ever seen, by the time you go and see it, it can't possibly live up to that. I really would prefer people to see us live or hear a record without any preconceptions, preferably without knowing who we are. That way we can convince someone from the get go."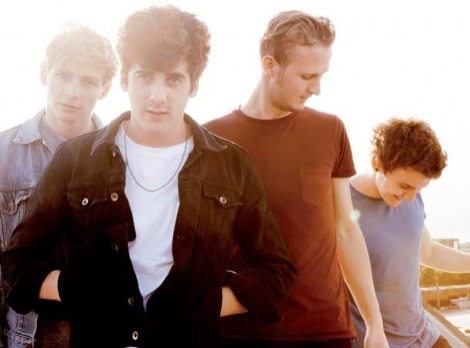 Circa Waves as laid back as ever
Shepherded by Transgressive Records ("We love those guys. They've been like really wise older brothers to us."), it seems they've found a fitting spiritual home from which to continue their artistic evolution. After all, being label-mates with the likes of Foals and Two Door Cinema Club means there's a lot of expectation on their shoulders before a note is played. Foals' constant state of musical flux sets a sizeable precedent on Circa Waves' horizon, but their immediate influences show a gang willing to take on any challenges that come their way.
As well as cherry picking the best of the likes of Arcade Fire, Bloc Party and The Walkmen, Circa Waves cite an array of influences that create the image of an enticing future; shoegaze, rap, pop and, as Shuddall almost sheepishly admits, "sometimes, only sometimes, heavy metal."
They've taken their nomination for the GIT Award 2014 in their stride, quite literally. They received the news in the midst of a tour and, in the absence of something a bit more glamorama, decamped to the nearest service station to celebrate. With that, back onto the road to dazzle scores more of the great British public.
The nomination is the culmination of their hard work and success thus far and Shuddall, in typically understated fashion, cites it all as "pretty cool. We are among some really talented people, so it's pretty awesome.
"To win the GIT Award would be a nice bit of recognition from the people of Liverpool and, of course, a really cool panel."
Ah yes, and what of the city that birthed Circa Waves?
"Liverpool makes it easy to be an artist. Its close knit community means you're only ever one person away from a spare bass or guitar rack that you may need to borrow for a gig. All the best venues are within 10 minutes of each other which makes things pretty simple and easy. Which, for lazy musicians like myself, is ideal."
Lazy? Look, self-deprecation is a great defence mechanism and all, but if the last year, hell, the last six months has proved anything at all, it's that Shuddall and the rest of his bandmates are anything but "lazy". Talk turns, as it inevitably does, to the future. What's next for a band not just cruising at high-altitude, but looking to ascend further?
Shuddall is all-business now. He welcomes the hype, the love, the handshakes and the heat, but he and his pals are musicians riding a crest of their own making. They just want to do what they do best; make music. Shuddall quickly reels off a list of plans that shows experience far beyond their years, and you feel this is the realm he and the rest of Circa Waves are most comfortable in.
"We are recording loads more stuff in May and June for the album. In terms of a release date we have no idea yet, but we just want to play to as many people as we can and build a strong fanbase.
"There's no point in releasing the record if no one is gonna buy it, right?"
Right.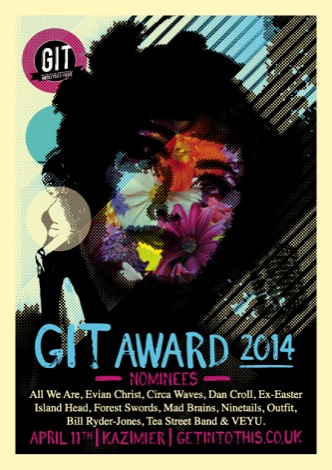 Further reading on Getintothis:
Circa Waves: Get Away video
Circa Waves: Young Chasers
GIT Award 2014 launches One To Watch prize.
GIT Award 2014 judging panel announced.
Review and pictures from GIT Award 2014 launch at Leaf.
GIT Award 2014 returns with Leaf launch ahead of Kazimier spectacular in April.
GIT Award 2013: Baltic Fleet: To be involved and win will always stay with me
The GIT Award 2013 report, reaction and review from Leaf Tea Shop, Liverpool.
GIT Award 2013 winner announced as Justice Collective win Inspiration Award
GIT Award 2013: picture gallery featuring Baltic Fleet, Nadine Carina, Conan, John Heckle, Tyler Mensah and more.
Comments
comments