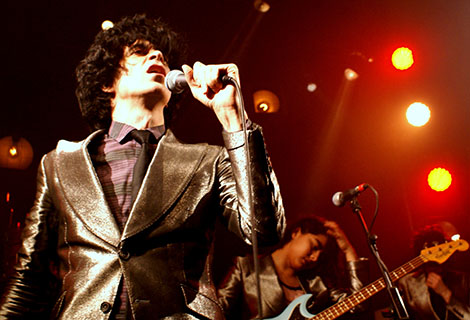 Ian Svenonius and his jailhouse rockers infuse Liverpool with another night of louche R&R, Getintothis' Jamie Bowman salutes a musical radical truly unlike any other.

A frission of excitement creeps around the bohemian surroundings of Mello Mello as Chain and the Gang frontman Ian Svenonius strides in in search of his pre-gig fill of vegetarian goodness.
Even those unaware that this is the man behind Nation of Ulysses' totemic 1991 album 13-Point Program to Destroy America must suspect they are in the company of greatness given the fact Svenonius is accompanied by three strikingly hot girls, is wearing strikingly hot leather and positively exudes super-hot cool.
Sadly for Svenonius the Mello Mello kitchen is closed but whatever he and his band mates used for sustenance it certainly worked as tonight Chain and the Gang produce a show so hot their status as the only Marxist agit-prop gospel rock n roll band worth bothering about is assured forever.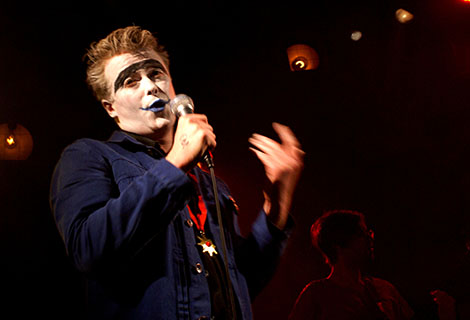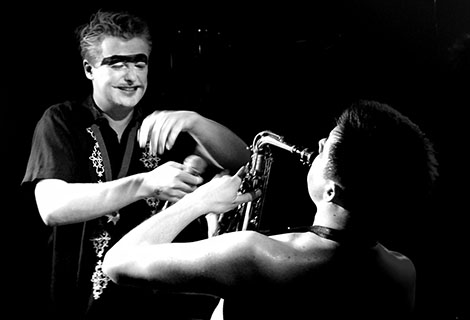 White Blacula live at the Kazimier, Liverpool
First up tonight though is White Blacula. A supergroup of sorts, they're the new band from Zombina and the Skeletones members Zombina, Doc Horror, and Ben Digo but also feature a bunch of stray cats from a.P.A.t.T, The Laze, El Toro and Long Finger Bandits.
They're clearly having fun in a Damned meets The Cramps kinda way and in Pyramid Twist they have a dance song to rival the Human Fly. Frontman Gym Pest (ho ho) is genuinely unnerving and someone is dressed as a mummy making any more of my insight irrelevant we suspect.
Fifteen albums into a career that has seen Svenonius front The Make-Up, Weird War and now Chain and the Gang, as well as becoming an author and TV presenter, the 46-year-old could be forgiven for settling down a bit, but while his current band don't have quite the same ire or thrill as his earlier work, tonight's gig shows he is still capable of oodles of righteous rebellion.
Backed by his all female gang, Svenonius brings elements of post punk, garage and blues into a sound the band term as "crime wave" and as the title of new album Minimum Rock n Roll suggests, there's plenty of space for the frontman to launch into a rant or two.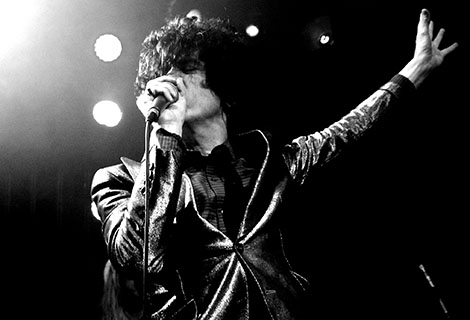 Chain and The Gang live at the Kazimier
Devitalize (The Fall fronted by James Brown) features Svenonius yelping "we got to devitalize the city!" over a vicious squall of guitars and a primitive bass and drums backbeat while Never Been Properly Loved sees him trade lines with the delicious Katie Greer's bored drawl on the kind of killer rock n roll tune last seen being sneered by the New York Dolls.
I'm A Choice, meanwhile has our hero pleading for the kind of love he perversely seems to find on a daily basis according to Got To Have It Everyday ("I can get it from a tree/I can get it from a stone/It doesn't matter to me").
But don't let the many mentions of the 'L' word deceive you: Svenonius is still one angry dude as tonight's rallying cry against Jorge Pardo's Penelope, the huge octopus-like sculpture that sits outside the Kazimier in Wolstenholme Square, proves. The work of art's crime? It's association with dance behemoth Cream apparently – "you can thank the ravers for that" he spits before launching into another garage rock stomp in his cosmic-glam silver suit.
By the end he's off the stage and in the crowd, carrying the (sadly) sparse crowd along with him and rightly so. If anyone was born on the floor it's Svenonius.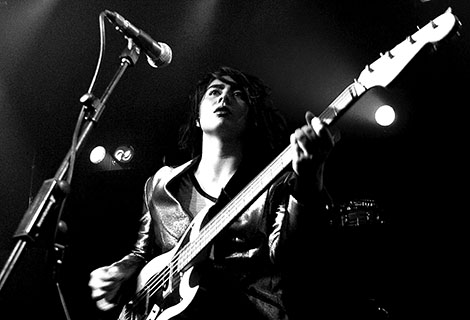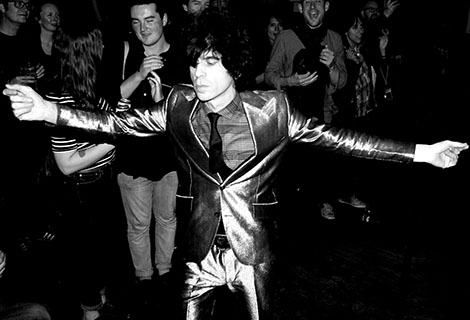 Pictures by Getintothis' Darren Aston.
Further reading on Getintothis
Chain and the Gang, Lovecraft: The Shipping Forecast, Liverpool.
Real Estate head for Liverpool this Autumn.
SOHN readies UK tour including Kazimier date in September.
Getintothis on new electronic Mersey duo Adronite's debut EP.
By The Sea return with I See A Crystal Sky ahead of summer second album release.
Comments
comments