Another jam-packed day at Sefton Park, LIMF reaches all new highs despite the rain, Getintothis' Emma Walsh and our photographers were there, if, at times, under a picnic blanket.  
We arrived at the It's Liverpool stage just in time to catch the last soulful sounds of Sophia Ben-Yousef and the warm reception of the still rather sparse crowd – the guys at the fully boss food van with no discernible name told us later that she was the best they'd seen all day.
Sub Blue opened with a Kendrick Lamar cover but only fell into stride with his own song Your Call looking more comfortable as he faced up to the crowd with sunglasses and the flash of a smile. He finished with an awesome cover of Drake's Hold On mashed with Mario's Let Me Love You – always a winner in this reviewer's books (Drake made our top 3 tracks of 2013) but it was a shame to hear so little of the 17-year-old's original material.
By the time Soho Riots took to the stage the audience had filled out a bit, and even as people milled into the field all heads were turned to take them in. Managing to break two strings during one song Andy Woodhouse was sorry to see the set cut short but finished on a high.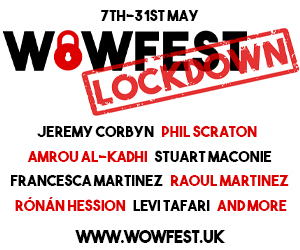 Up next Mind Mountain brought a touch of metal to the afternoon, out of place as it seemed, but rather than enlightening the crowd they were no more than background noise to the LIMF audience's chatter, just not playing up enough to grab attention.
For the second time that day we arrived back at the stage in time to catch just the remaining moments of an artist, knowing from just that last snippet of Taylor Fowlis, that we'd missed a treat.
VEYU delivered a solid, gold star set, keeping the crowd hooked despite the onset of rain that saw most us retreat under trees and picnic blankets for shelter. Despite best efforts, 2013 GIT Award winners, Baltic Fleet couldn't bring the sunshine back, but still kept spirits up with a stellar kraut-infused slice of magic.
With By The Sea due on stage it was a struggle to tear ourselves away to Central Stage and the reliving of our youth with the one and only Shaggy. Turns out we could have caught the first 20 minutes of By The Sea's set it took so long for the headliner to actually appear on stage. And when he did we barely got the feel of a track before he stopped dead and asked repeatedly Is Liverpool where the party's at? Yes Shaggy, it is, now please tell us if it was you or not!
Regardless of the short set, short lived songs and blatant ego rubbing of disappearing until the crowd hollered him back, Shaggy was adored, not only for his tunes but for sheer realness: You shouldn't go to Jamaica for the weather, even though your weather here is shit, you shouldn't go to Jamaica for the food, I've had good Jamaican food here in Liverpool (he's obviously been to Ragga's), you shouldn't go to Jamaica for the weed, I know you get good Jamaican weed right here, if you go to Jamaica, you should go for the women! …
Oh Shaggy, you almost had us.
Pictures by Getintothis' Marty Saleh, Simon Lewis and Tomas Adam
CLICK FOR FULL IMAGE AND SLIDE SHOW
Comments
comments