As Stealing Sheep prepare to usher in 2015 with a fresh incarnation of their Mythopoeia night, Getintothis' Paul Higham looks ahead to another Kazimier gathering. 
Whatever plans you thought you had for New Year's Eve, feel free to revise them now.
Following on from the success of last year's festive ice dragon-themed Mythopoeia night at The Kazimier, Stealing Sheep will bring Mythopoeia II to the same location for a New Year's Eve bash that promises to be quite unlike any other in the city.
After the Chinese Dragon decor that festooned the walls of The Kazimier last Christmas, we're pretty sure that Stealing Sheep will have something special up their sleeves to bring this year's 'Galaxies and Tapestries' theme to life. Just what is planned is a carefully guarded secret.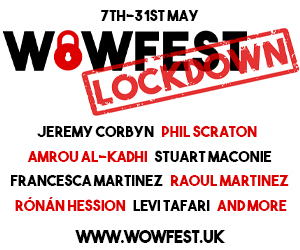 What we do know is the line-up and there are some real treats in store.
New label mates of Stealing Sheep on Heavenly Records, Hooton Tennis Club will bring their slacker sensibilities and quirky pop tunes to the party. They were one of our favourite acts at 2014's Sound City and this will round off what has been a fantastic year for the band.
On the bill is Howard Be Thy Name and, as we know from the 2014 GIT Award, he is infamous for his high octane live performances, kaleidoscopic light shows and high-art theatrics. We won't tell you what to expect – mainly because we don't know ourselves!
Those at the farewell party for the much-missed Mello Mello will know what to expect from the Harlequin Dynamite Marching Band. For those that weren't, think big band, tribal rhythms, duelling brass and a fair few party grooves. Expect fun, frolics and heavy improvisation as the band both respond to and set the party mood.
With influences ranging from Afro-beat, post-punk and New York No Wave, Leeds based Azores promise to bring plenty of twists and turns to their eclectic live performance. Playful, ryhthmic and with a strong slab of funk, Azores operate in a similar space to Bristol's Zun Zun Egui and we can expect an entertainingly fun-filled set.
Also on the bill are Liverpool's poly-rhythmicists, Barberos. Customarily clad head-to-toe in lycra, the duo fuse syncopated polyrhythms, abrasive and discordant noise rock, abstract time signatures and doom-laden intent. There is just enough of a nod to melody and form coupled with an element of theatre that prevents them from being a truly terrifying proposition. A genuine treasure of the Liverpool live scene, they have to be seen to be believed.
Of course the night is the brainchild of Stealing Sheep, a band who almost need no introduction. Marrying the best pagan traditions of off-kilter English folk with a sense of eastern mysticism, coupled with electronica, psychedelic pop nods, and haunting ethereal harmonies, the trio will no doubt spring a few surprises on the night.
Mythopoeia is the art of creating your own myths and, with a second album due shortly, the quirky and eccentric Stealing Sheep are quietly going about doing just that. Come along at New Year and see for yourselves.
Comments
comments