As yet another week draws to a close, Getintothis' Max Richardson rounds up the top stories of the week.
Well, that's another week in the books. The boredom is perhaps beginning to sink in for some, and supplies of teabags up and down the nation are no doubt running dangerously low.
As have many others, this writer has been hooked on Netflix's Tiger King this week – it's a frankly unbelievable documentary series telling a gripping true story.
The series focuses mainly on Joe Exotic, an eccentric zookeeper from Oklahoma – yet the series is so diverse and broad that it's difficult to discuss without spoiling some of the best elements.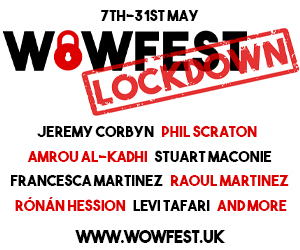 If you've not caught it yet – it's essential viewing, be sure to give it a try.
Japanese music buyer's guide – an introduction to sounds from the far east
This writer has also spent much of the week soundtracked by Dua Lipa's new LP Future Nostalgia, released on March 27.
Future Nostalgia is contemporary mainstream pop at its finest, with infectiously catchy lead single Don't Start Now having paved the way for a top quality record brimming with radio-worthy material from start to finish.
Standout tracks include Levitating and Break My Heart for this writer, with the stylistically diverse record managing to weave through many different styles effortlessly.
The record is drenched in a gorgeous retro charm, with many tracks carrying strong 70s or 80s vibes – presumably, hence the title Future Nostalgia.
Have you been watching anything interesting this week? Got a new favourite album as a result of all this time at home?
We'd love to hear your thoughts – so please feel free to let us know in the comments below.
Anyway, without any further ado – let's crack on with the Getintothis Top Five:
Getintothis' top five most-read stories of the week:
Getintothis' top five most-read gig news pieces of the week:
FOCUS Wales 2020 reschedules for October – Richard Hawley, Gruff Rhys and more set for Wrexham festival
Comments
comments