With May in full-swing and a glimmer of nice weather, so are the new releases and Getintothis' Simon Kirk shares this week's top picks.
We hope you've been enjoying the sunny climes across the country. Yup, it's to that point where all we have to talk about is the bloody weather!
Sadly, there's nothing much else to report on at this point, other than last week's releases which saw a swathe of quality leak from the virtual vaults.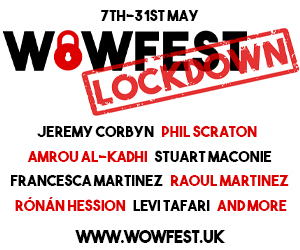 For those who haven't checked it yet, the collaboration between Jim White and Marisa Anderson is a definite go-to. Also, Einstürzende Neubauten's new one certainly doesn't disappoint,either.
Onto this week and there's plenty more, as outlined below, of course.
On that note, there's little point outstaying the welcome. Enjoy the new releases and we'll see you again next week.
This week's top picks.
By The Sea: The Let Downs – exclusive listen to first new track from Wirral band's third album
1. The 1975: Notes on a Conditional Form
Polydor Records
Today starts off with The 1975 mania.
Yes, Matt Healy and Co. return with their fourth album, Notes on a Conditional Form, which follows 2018's A Brief Inquiry Into Online Relationships.
The band played the M&S Bank Arena earlier this year. You can read our live review of the show here.
2. Woods: Strange to Explain
Woodist
Just in time for summer, Getintothis' faves, Woods, return with their latest album, Strange to Explain.
The new album is the band's follow-up to 2017's Love Is Love. The band were also involved with the late David Berman's brilliant Purple Mountains album last year.
3. Tim Burgess: I Love the New Sky
Bella Union
Charlatan's mastermind, Tim Burgess, returns with his latest solo album, I Love the New Sky.
The album was written in full by Burgess in his countryside home in Norfolk. He's a busy man, is our Tim and if the term "no rest for the wicked" ever epitomised one artist, it's him!
4. Badly Drawn Boy: Banana Skin Shoes
One Last Fruit Records
After an absence for the best part of a decade, everyone's favourite be-hatted Mancunian, Badly Drawn Boy (Damon Gough), returns with his ninth album, Banana Skin Shoes.
It's said that Gough has gone down the pop rabbit hole here, which could either be exhilarating or much-maligned. Take a listen and judge for yourself.
5. Jason Simon: A Venerable Wreck
BYM Records
Jason Simon of Dead Meadow returns with his latest solo LP, the brilliantly titled, A Venerable Wreck.
The album is said to strike a balance between cosmic psychedelia and Americana and features members of The Warlocks, Heroic Doses and The Brian Jonestown Massacre.
6. Kidbug: Kidbug
Joyful Noise Recordings
Supergroup Friday!
Kidbug is Marina Tadic (Eerie Wanda), Adam Harding (Dumb Numbers), Thor Harris (Swans) and Bobb Bruno (Best Coast).
Their new self-titled debut is described as "cuddlebug sludge", which – we admit – is most certainly a new one on us. In easy-speak terms, there's plenty of fuzzy guitars and gazing here with a bit of dream-pop thrown in. Enjoy!
7. RG Lowe: Life of the Body
Western Vinyl
RG Lowe (Balmorhea), returns in a solo capacity and follows up his 2017 oeuvre, Slow Time, with Life of the Body.
There's plenty of space, plenty of acoustic and plenty of melody right here. Talk Talk fans. We're calling your name…
Other notable releases this week.
Old Man Gloom: Seminar VIII: Light of Meaning (Profound Lore)
Rafael Anton Irisarri: Peripeteia (Dias Records)
A.O. Gerber: Another Place to Need (Hand In Hive)
Aārp: Propaganda (InFiné)
Nation of Language: Introduction, Presence (self-released)
Anchor & Braille: Tension (Tooth & Nail Records)
Archie Shepp, Raw Poetic, and Damu The Fudgemunk: Ocean Bridges (Redefinition Records)
Barren Womb: Lizard Lounge (Loyal Blood Records)
Bill Nace: Both (Drag City)
Caligula's Horse: Rise Radiant (Insideout Records)
Cauldron Black Ram: Slaver (20 Buck Spin)
Roadside Graves: That's Why We're Running Away (Don Giovanni Records)
Christian Sands: Be Water (Mack Avenue Music Group)
Dagny: Side A (Little Daggers)
Darren Hayman: Home Time (Fika Recordings)
Emile (of The Sonic Dawn): The Black Spider/Det Kollektive Selvmord (Heavy Psych Sounds)
Fretland: Fretland (Have Another Beer, Heaven)
Grocer: Little Splash ( IndieCorp LLC)
H. Moon: Trustblood (Welfare Records)
Indigo Girls: Look Long (Rounder Records)
Katie Von Schleicher: Consummation (Full Time Hobby)
KSI: Dissimulation (BMG Rights Management)
L'Eclair: Noshtta (Les Disques Bongo Joe)
Marsicans: Ursa Major (Killing Moon)
Sister Species: Light Exchanges (Aura Vortex)
The Sonic Dawn: Enter the Mirage (Heavy Psych Sounds)
Steve Earle & The Dukes: Ghosts of West Virginia (New West Records)
Suburban Living: How To Be Human (EggHunt Records)
TALsounds: Acquiesce (NNA Tapes)
TrenchMobb: Mobb Ties (Trap Door Entertainment)
Comments
comments