Psych-rock luminary Jason Simon of Dead Meadow is back with his latest solo record, Getintothis' Matthew Eland investigates.
Jason Simon of Dead Meadow has announced the release of his latest solo LP.
A Venerable Wreck is due out on May 22, 2020, courtesy of Chilean label BYM Records, also home to Föllakzoid, Chicos de Nazca and The Ganjas.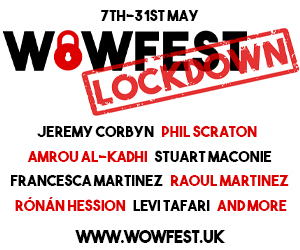 The album promises to strike a balance between cosmic psychedelia, backwoods Americana, and intimate folk.
New track Red Dust, with its jaunty, spit-and-sawdust skiffle, gives us a good indication of what to expect on the album.
It also showcases the caliber of talent Moore has recruited for it, with Nate Ryan of The Warlocks on bass, Ryan Rapsys of Heroic Doses on drums and occasional Brian Jonestown Massacre man Jeff Davies on additional guitar.
The Teardrop Explodes' Wilder: an album designed to alienate pop fans
"Red Dust definitely owes a nod to the late great JJ Cale in its attempt to create a trance-like atmosphere starting out as a simple bar room boogie and becoming increasingly psychedelic as the song progresses" says Simon.
"Chinese hermits, in their high mountain-top retreats, would refer to the land below, with all its needless hustle, worries big and small as The Land of the Red Dust. It seemed an apt description of most of the cities I've inhabited…. well at least it used to… now we're all in self- imposed hermitages of sorts and the streets are for the most part silent."
Liverpool Arts Diary: Bluecoat, FACT, World Museum – April-May 2020
A Venerable Wreck Tracklisting:
The Same Dream
See What It Takes
Snowflakes are Dancing
The Red Dust
Moments of Peace
Jupiter
A Venerable Wreck
The Old Ones
No Entrance No Exit
Door Won't Shut Blues
Hollow Lands
Without Reason or Right
Comments
comments