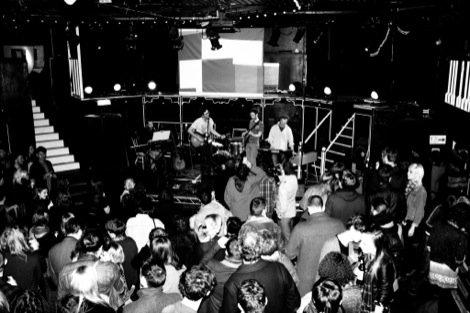 Big line-up, bigger disappointment. Liverpool's first big gig of the new year can't help but underwhelm.

The January blues seems to have hit Liverpool hard.
Getintothis closed 2011 on a hugely positive note, yet this was tempered with the news of multiple venue closures and on the eve of the first gig of the new year, we were left with another downer – Liverpool Music Week's home, Mojo, was slashing it's live music programme.
Coupled with the forbidding chill whipping round the city, it was enough to make you want to curl up at home with a hot water bottle and sleep til Spring.
Thankfully, new kids on the block, Everisland, had other ideas, cooking up a winter warmer, which on the face of it should have provided a hearty brew for even the most frosty of Friday evenings.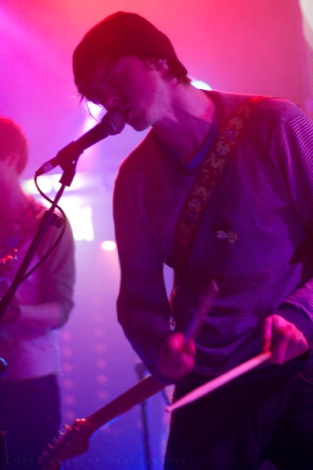 Supercell
Arriving just as Tea and Two Slice's collection of twisted avant-garde short films are finishing we gauge opinion from our mate, Bob, who's verdict of 'GCSE art school tat,' is tempered by the knowledge that he swerved the chance to see Gaudí's Catalonian architectural masterpiece, the Sagrada Familia, on the basis that he couldn't be arsed traipsing round 'some cathedral'.
Swigging from a freshly brewed cuppa (a marvellously novel idea courtesy of the aforementioned T&TS crew), we slurp our way through Jonny Davis' new collective Supercell.
While it'd be unfair to write-off a band making their first outing, early signs are there's little here to distinguish themselves from a Radiohead covers band – National Anthem basslines, Everything In It's Right Place skittering beats and vocals lifted straight from a Thom Yorke Stars in the Eyes contest, it's harmless and pretty formless, but worth seeing how these early ideas develop.
One half of Magic Youth Club is otherwise engaged, leaving John McGrath to fill the void with his fragmented finger-tapping which is at first arresting before being swallowed up into a repetitive cycle of looped nothingness.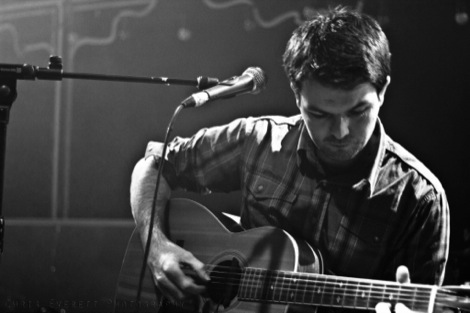 John McGrath
While there's no questioning McGrath's obvious talent (he performed in Getintothis' gig of 2011 with Rhys Chatham's guitar orchestra, as well as Dustin Wong's spectacular showcase at Liverpool Music Week's closing party) his fretboard dexterity is outweighed by the continual drone of what sounds like a hoover back-firing while recalling the likes of John Gomm, who combines tapping and tunes to greater effect.
Getintothis has long been a fan of HIVE Collective and their unique approach to combining unusual settings to often unsettling sonic textures.
Yet tonight it takes the appearance of a grinning figure dressed head to toe like a zombie from a Laura Ashley sale to make us realise their 'set' is under way.
The undead male, cloaked in white lace and crushed velvet, glides our way before fanning a selection of cards which when taken reveal a hex. The card can be exchanged at the cloakroom for a shot of liquid which is so unpalatable it presumably doubles as pest control.
Musically, it's 45 minutes of electro fuzz which recalls Chris Morris' Jam interludes. Morris was taking the piss, I'm left wondering if HIVE are too.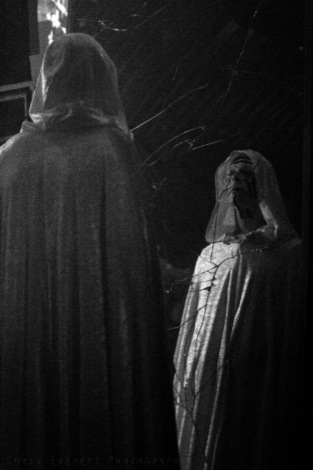 HIVE Collective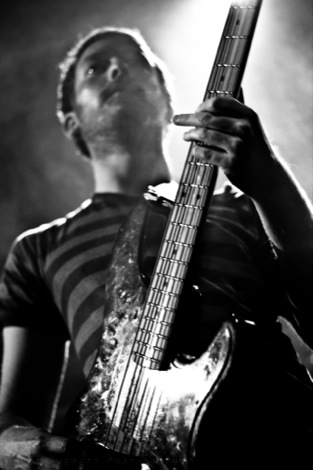 Loved Ones' Jay Freeman
Whatever, the case, when Loved Ones finally arrive on stage, we're itching for some aural enlightenment. Sadly, almost characteristic of what's gone before, we're in for a let down.
A visibly uncomfortable band grapple and struggle to control a sound which veers from that of a muddied sock to a discordant groan.
They battle manfully but the subtleties of their hook-laden folk-imbued pop are lost amid a swell of muggy fug as four-string popper Jay Freeman's expression slips from vexed frustration to controlled anger and back to resigned indifference.
It's a great shame as their forthcoming debut album, The Merry Monarch, shows a band brimming with potential and an armoury packed with winners.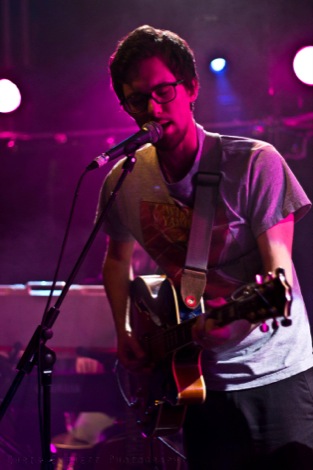 Loved Ones' Nik Glover
It takes the appearance of Noel Edmunds' face – swirling round like a freshly shorn squirrel's arsehole on the visual backdrop – to lighten the mood but not even recent single Are You Hiding Out In Hell? can stem the negativity exuded from the stage as the tribal drumbeat cuts out and the band are forced to play a restrained second attempt.
It's been three hours since we entered the Kaz, and despite the appeal of Sun Drums and Capac still to play, our friends vote with their feet and we call it a night. Oh, January, you unforgiving little bastard.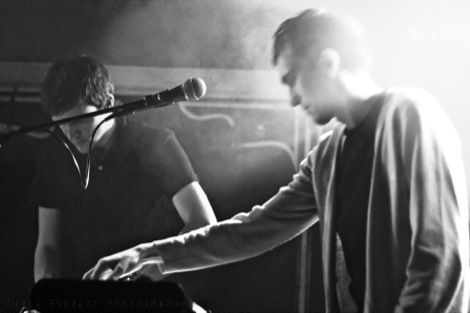 Capac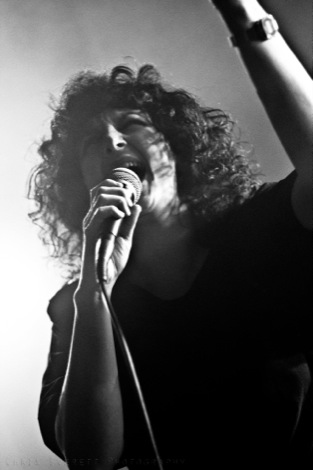 Capac's Kate Smith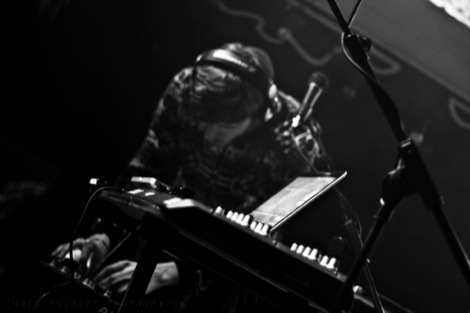 Sun Drums
Photography by Chris Everett
Comments
comments