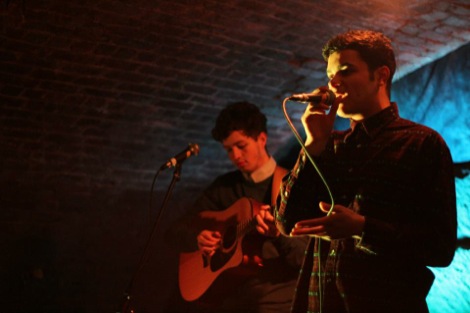 LIPA. Four letters that provoke reaction and Liverpool music debate like few others in the city. Getintothis' Emma Walsh ponders the future of LIPAs music graduates Highfields, Ninetails Ady Suleiman and more at their end of year showcase, and asks has the tide changed about the arts school preconceptions.

The purists of the Liverpool music scene have always had a great deal to say about the bands and artists that LIPA has thrown onto the Merseyside stage over the years.
The most referenced, and verbose, example being Riuven's LIPA Pricks – but recently it seems the tide has been changing.
These days there doesn't seem to be a band or line-up in Liverpool which hasn't been through Paul McCartney's performing arts institute.
LIPA's musical representatives are ubiquitous: The Staves, All We Are, Coffee and Cakes for Funerals, Stealing Sheep, Joe Wills, Nadine Carina, Dire Wolfe, Mikhael Paskalev, Tarek Musa, Jazzhands, Wet Mouth, Jethro Fox and LIPA's golden boy, Dan Croll.
Graduates and students alike are littered among the annual lineups for Liverpool Sound City, Threshold and Groove on the Green, as well as regular club nights such as Fiesta Bombarda and New Blood Club.
Almost unnoticed, LIPA has woven itself into the fabric of the Liverpool music scene, bringing a fresh often more international taste to the Merseyside scene, resulting in one of the richest and Cosmopolitan musical landscapes in the UK.
But while the diversity offered by music students can be something exciting, more often than not, the experience is fleeting as graduates fly the nest and venture into the big bad music industry elsewhere. A case in point, Jonas Alaska, the Norwegian musician, singer-songwriter who has achieved much commercial success in his homeland and Europe.
Another trend is the many great LIPA bands which have seen a change of personnel or disappeared off the circuit altogether as their students days come to an end.
Most recently, the seemingly unstoppable Manukah have been gathering dust of late as the dispersal of their nine-strong band forced them into a sabbatical. Tragic when you consider the spectacular performance with which the band closed last year's 2ube Extra Festival, the annual showcase of LIPA's third year musicians.
Formerly know as The 3rd Degree Festival, this year's 2ube Extra Festival was the usual mixed bag of musical genre, style and talent, but as ever, there were some exceptional performances from some familiar, and some not so well known faces.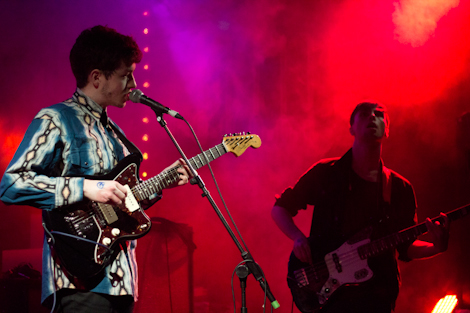 Ninetails defied words with their performance at LIPA's 2ube Extra Festival
There just aren't enough good words in the English language to do Ninetails justice.
The four-piece showcased the intelligent song-writing and experiment style that has made them a live favourite in Liverpool.
Despite a fractured, chaotic style that often seems at war with itself, the fully-formed prog rock band gave one of the most polished performances of the festival. With ear-tickling melodies that weave in and out of an incredible car crash of heavy bass and guitar, Ninetails had the Paul McCartney Auditorium spellbound throughout with another flawless set.
The Wretched Pearls have been making serious waves around Liverpool recently, with a mix of rock out riffs and pop friendly singalongs.
The group have been difficult to pigeonhole with flurries of Spanish guitar, world music chorals and downright scowl-worthy riffs.
Playfully theatrical in their all white costumes and atmospheric introduction, the band bring a real sense of fun to proceedings, they obviously enjoy themselves on stage and the audience reflected it back.
The vocal combination of Helen Morrison and Katrine Stenbekk is beautiful but without the stereotypically airy or celestial tones of female harmonies, they stay just the right side of ballsy.
With the festival kicking off at 4pm, the opening act of the day always has to make do with a fairly light crowd, but not Ady Suleiman.
Perhaps the only artist to pack out a 4pm performance in 2ube Extra/3rd Degree history, Suleiman stormed the stage with humble charm and raw songwriting talent. Pop friendly lyrics with an r'n'b edge all wrapped up with an acoustic bow, this guy is bound for great things.
Another name perhaps not as widely heard around town is the wonderful Daniel Ross.
Pure unadulterated singer-songwriting gold, with rich acoustic sounds and a bluesy tone to his voice, Ross is easy listening at its finest.
A fine songwriter who knows his way around a good Simon and Garfunkel cover, he fits perfectly into a genre we like to call 'my mum would bloody love this'. More accustomed to dingy pubs than theatres such as the PMA, Ross is the quintessential diamond in the rough, definitely one worth looking out for.
The toast of the festival was undoubtedly the folk/pop new sensations Highfields.
The six-piece, hailing from every corner of the globe, pulled off a high energy performance to a packed out crowd, showcasing a mix of playfully cute songwriting and a quirky kind of groove reminiscent of Ben Folds Five.
Style wise they may be at the other end of the spectrum from Ninetails, yet they offer a tight fusion few can match and in the swooning The Chase (Oh Lord!) a ready-made radio-friendly belter.
LIPA's new breed of students are coming to a stage near you soon – whether you like it or not.
Further reading on Getintothis
All We Are
Nadine Carina
Coffee and Cakes for Funerals
Dan Croll
Highfields
Ninetails
Stealing Sheep
Wet Mouth
Photograph by Reven Design.
Comments
comments