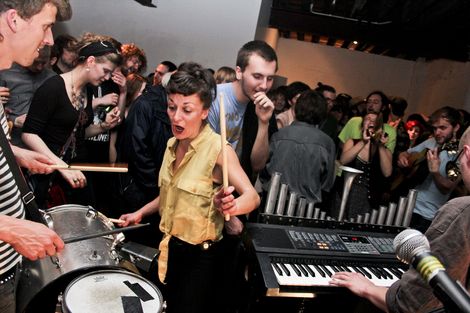 The new year brings with it the prospect of renewal and a chance for some of Liverpool's less-played places to make themselves known. Getintothis' Joseph Viney explores the new contenders and wonders if the trend can continue.

We here at Getintothis are hardly what you would call architectural experts, but we do know one thing: space isn't limitless. Nor is money for that matter, and that plays a key part.
So, you gotta make do with what'cha got. Short of building everything upwards, like some Arthur C. Clarke skyscraper wet dream, we need to look at maximising the potential of what already exists.
Liverpool is already gratefully festooned with a roll-call of great venues that house countless acts of national and international quality, but also willing to act as conduits for the city's artistic community as a whole; encompassing exhibitions, practices and general social beacons for those that love to create.
So it stands to reason that more of our well-known and equally well-worn buildings are looking to widen their scope and welcome inside newer ventures that they, and their typical clientele, may not be wholly accustomed to.
The news that Liverpool's recently refurbished Central Library was to host Wolf Alice for the building's first-ever gig was met with approval all around.
The library's new-found sense of space and its achingly ultra-modern style is almost the perfect setting for a gig in the 2010s; unexpected, enigmatic and with the odd promise of something brand new.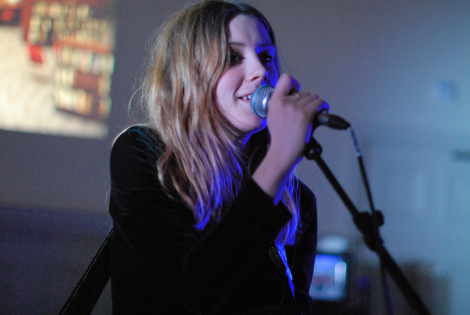 Wolf Alice didn't disappoint at Central Library's first ever gig
Not ones to let the side down, Wolf Alice doled out a typically well-received show and with that a new course has been set. Central Library has announced that BBC Sound of 2014 nominee Nick Mulvey will be wowing the bookworms in March.
Logic dictates if that is a success then Central Library may well join the game permanently in hosting special showcases for acts for which the pull of a brand spanking new space is too difficult to resist.
Similarly, iconic Dale Street boozer the Ship & Mitre has thrown their PA into the ring as they are set to host Kusanagi's EP launch on Saturday January 25.
Having never really been on the radar for gigs of any kind, it's faintly surprising but no less welcome to see this rickety drinking den make some initial forays into a prosperous, albeit crowded, market.
Already the host of the British Science Association's monthly SciBar events and a general hub for the meeting of other groups and societies, the Ship & Mitre may suffer from being ever-so-slightly away from the city's immediate central glare, but if it books the right acts and word of mouth spreads we may just start seeing some serious pedestrian footfall darting dangerously across the flyover's exit slope.
It all bodes well for Liverpool. More space equals more creation and it's a cycle that can continue for a long while yet.
New businesses such as Maguire's Pizza Bar are very busy making in-roads in gig hosting, while the imminent return of the famous Jacaranda pub might well offer us more in the way of space to make merry and be part of fantastic events. It's a mouth-watering prospect that has every chance of reaching a very satisfying conclusion. The Fallout Factory, an independent art gallery on Dale Street, another wafting whispers of upcoming artistic endeavours not simply of the brush and palette variety.
But it's not just small DIY enterprises capitalising on such innovation; Liverpool Sound City revitalised the empty garages in Wolstenholme Square for two successive years creating a hub and focal point for the festival while Liverpool Biennial – back this year on July 5 – utilised a number of spaces curating live music, installations and it's very own vinyl store – Never Records. Expect similar propositions once again this year.
The effect has also rubbed off on the musicians too, with city staples like the Kazimier Krunk Band, Fire Beneath the Sea and Harlequin Dynamite Band exploiting every nook and cranny to spread their delirious maniacal music.
The question remains: where else in the city would benefit from such diversification? Can any building become a living, breathing artistic venue or does it need to be in possession of a certain je ne sais quoi?
And with that we may come to ask ourselves in the very near future, just WHAT are the elements that align in making a venue a viable proposition? Is it luck, slick marketing or the will of the consumer?
While you mull that over, let's just be thankful that we have such organic processes currently in operation that ensure this chameleonic sprawl can adapt and move forward at will.
Pictures by Getintothis' Gaz Jones.
Further reading on Getintothis:
Comments
comments