As Strange Collective throw a party in honour of their debut EP, Getintothis' Vicky Pea makes a debut of her own at the Invisible Wind Factory. 
Having been the talk of the town for a few weeks now the day had arrived that many of Liverpool's music heads were calling "the place to be". Why? It probably had something to do with a line up so ridiculous you couldn't help but laugh at your own fortune.
Twelves of the city's stand out garage and psych acts were about to be brought together to celebrate in the release of one of their peer's debut EP in the only way Strange Collective knew how. By throwing a massive all day party.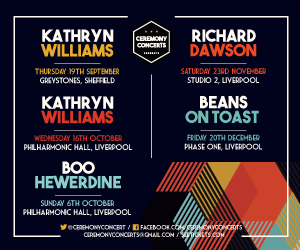 Shortly after 3pm eager bodies began to trickle into the Invisible Wind Factory hoping to be part of something special, not just only for the band, but for everyone there and with a marathon day ahead of us, we best be getting on with it.
With the gauntlet thrown down it's up to The Probes to take the first grab at it with a plethora of guitars lines that twist and turn into one another, stretching free from the restraints of time and refusing to abide by traditional song structures. We fail to distinguish how many tracks have been laid out before us in this psych-rock opera, a failure we're happy to have made as we have a feeling that may well be the intention.
First to perform beneath the element dials of the Invisible Wind Factory's 'main stage' are three piece Cavalier Song, supported by the powerful spoken word of Mark Greenwood. The trio of musicians are smart and restrained with their instruments, the backing of Mark's hymn like material is minimalistic in parts as they wait for their moment to break free and deliver explanations of sonic sounds. It's music demanding your full attention, which it is duly given as the brain tries to keep up with metaphorical meanings and familiar cultural references.
You're never sure if you're going to get six people or one person when Queen Zee and the Sasstones are spotted on a gig poster, but today we got two. The ever adapting nature of their outfit epitomises their DIY attitude and approach to music. With an addictively sassy (why use a different word when they've given you the perfect one) EP doing the rounds the duo bring much appreciated energy and anger to the party with personally motivated and frantic songs, a shot in the arm of everyone in earshot.
This writer has seen Bathymetry on a number of occasions over the last year or so and as of yet the band have yet to leave any discernible impression. Their bi-polar quirk rock is clearly pleasing to the majority of those in attendance but to us the band have still yet to find a sound of theirs that they feel represents themselves enough to deliver for more than one song.
As the venue benefits from a steady stream of arrivals the bar area is in healthy attendance as RongoRongo begin their hypnotic set much to the credit of frontman Mick's enigmatic character. In an alternative situation his weaving limbs and unconventional moves could find themselves open to mockery but it lends itself perfectly to a freaky, dark and anxious affair. Listening to the six piece is an open and sinister invitation to disappear into a world of their own creation, an impressive feat considering the brightly lit, early hour and short running of their set which screams out for the darkness of a twilight setting.
Describing FUSS is like describing a new Instagram filter. Soft around the edges, kind of hazy with saturated sounds rather than colours melting into each other. The band bring a touch more electronica to the day than the rest of their peers and take advantage of their mid afternoon slot, with the crowd a couple of beers in and beams of sunshine penetrating the Wind Factory's towering windows.
Have you ever listened to a band who just sounded exactly what you'd imagine their name to sound like. Enter Beach Skulls. The trio bring the psych from the docks straight to the shore with their sun-kissed surf vibes. In places you can almost feel the temperature rise and the invisible wind turn into a summer breeze, acting as a calm before the storm to follow.
Speaking of the storm, oh how we love the Ohmns. Like in a pinch their cheeks and give them a bag of sweets kind of way. You're always in for a good time when these guys and their whirlwind of unpredictable chaos turn up. This outing sees partial nudity, some rather crass penmanship and a surreal yet quite brutal murder by pineapple. At this point we were going to say "if you look past the stage antics" but it's not "stage antics" it's just who Ohmns are and their dark garage raucous sound goes hand in hand with it. It's never going to everyone's cup of tea but tonight they prove that they have something worth listening to, as well as something worth watching.
Lying B*st*rds arrived straight out the the studio to put on their catchy set of radio-ready tunes. Each song has the potential to be a hit when combined with their almost trademark stage style and energy, the challenge for the B*st*rds is to get that raw contagious feeling onto their records, if they can, they'll be onto a winner.
As thoroughly as we were enjoying ourselves and the acts on show the arrival of Psycho Comedy signalled a change in the air, or the invisible wind as it were, as the band got down to serious business. Their gritty and unapologetic presentation feels as relevant as ever and sparks a fire in darker corners of the mind. Lyrically the band possess both depth and an artistic intelligence, the music, unlike other acts on show who aim to get every last decibel out of every last note, is used almost sparingly, another smart move from this seriously special outfit.
Such was today's event that we were repeatedly treated to support slots from bands we'd happily pay to see themselves. Fitting into that category were Sankofa who made sure the blues held their own on a psych-happy day. There was little not to love about their set, which grew in heaviness and freakiness. Stephen's vocals sound as good as they ever have and with the most polished set of the day makes us wonder how long we have to wait until Sankofa's slow-burning progression turns into a irrepressible rise to the top.
Although not the last slot of the day the time had come for the band of the hour (or make that 7) to take to the stage greeted by cheers and adoration. You'd only need see the band once or twice for their songs to become irrepressible little ear worms, the mere whisper of the words Super Touchy and they'll be running circles in your head all day (sorry).
Here we're treated to the familiar sounds of Sun, Frog Eye, universally praised stand out track of the EP Heavy and of course title track, Super Touchy. Ironically and rather inevitably it's Strange Collective that lay claim to the only stutters of the day as they restart a song, but we can hardly blame them in such circumstances and it's all taken in good spirit. Seeing the band on stage in front of a good sized audience who can claim to be genuine fans of the band puts a smile on the face, because this is how it should be, and hopefully with their first EP done and dusted, it won't be the last time the band play on such as stage.
As Super Touchy reaches it's climax friends, fans and probably family invade the stage leaving no doubt that today was in fact a party, and one that wasn't over as across the room The Floormen didn't hang about in bringing the night to a close as the crowd swarmed into the bar area where havoc was well and truly wreaked by these mind bending, rule breaking, set destroying teenagers.
This writer's first impression of the Invisible Wind Factory was an overwhelmingly positive one. The two stage set up worked perfectly well with quick change overs, something we hope other organisers may take advantage of in the future, the sound was without issue and on more than one or two occasions the vibe inside the wasn't too far removed from that of its predecessor.
To that result we have to take our hats off to the lads in Strange Collective. When most bands would have been purely concentrating on the release of their all important debut EP, they decided to channel their energy into putting on one of the greatest showcases of new Liverpool music we've seen in quite a while. They took an event which should have been solely about them, and gave it back to scene they love so much. With 13 bands, 2 stages and not a promoter in sight, and knowing them as we do, we can't help but wonder. How the fuck did they manage that?
Update: Check out Strange Collective's new video for Super Touchy below. 
Pictures by Getintothis' Mark Holmes and Vicky Pea.
Comments
comments