It's still busy here at Getintothis with gig season in full swing as well as a host of other events to cover, our photographers have been out and about catching the action.
British summertime officially came to an end last week and the cold dark nights may be well and truly on their way, but the Getintothis team have shown no signs of slowing things down this month.
From twitter feuds, to an iconically early Glastonbury announcement October hasn't all been about the live music, but what we did get down to see hasn't disappointed.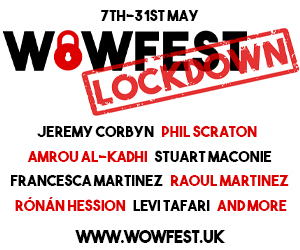 And much like all of our other monthly photograph round ups this month has produced an exciting array of high-quality images from our photographic team.
The Tattoo Convention was back for its 12th year in Liverpool, providing a great gallery of images from what looked like an exciting few days, spot the image of Harry Potter's Dobby riding a taxidermy fox for an insight into the weird and wonderful goings-on.
Gary Numan kicked off the month with an impressive gig at the O2 Academy, with the high energy being captured in the photographs from the night.
Lubomyr Melnyk switched things up mid-October with a performance at the Philharmonic music room, providing another great gallery of images.
Our best-loved bohemian bar, Hobo Kiosk has an excellent exhibition of street art from SSOSVA, the perfect excuse to pop in for a beer or three.
And The Invisible Wind Factory closed off the month with The House of Suarez Ball of Atlantis, a high energy celebration of inclusivity resulting in an expressive and exciting photographic review of the night.
With all of these things and many more gigs in between this month's selection of photographs is shaping up to be a good one.
If this sounds like something you'd be interested in doing, then give us a shout on our Facebook page or drop a line to Peter, our Live Editor at gigs@getintothis.co.uk
In the meantime enjoy the photos.
Abi Moss-Coomes
Comments
comments