At the climax of yet another week of lockdown, here's Getintothis' Max Richardson with the top stories of the week.
Well, the novelty's starting to wear off – that's for sure.
We're all cooped up indoors as the weather annoyingly flickers between gorgeous sun and dull, overcast skies – at least it's the perfect excuse to binge some TV series and new albums.
Of course, with these turbulent times brings a small change with this feature, in that we've not got any gigs to write about, in case you hadn't noticed.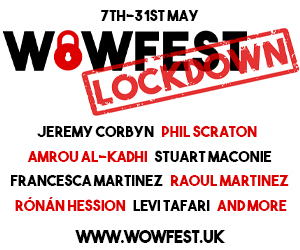 Because of this, we've had to make a temporary change regarding the top five gig reviews, which we've decided to replace with the top five articles about new music. It'll give us all a great chance to keep up with what's coming out that we've got to look forward to!
Getintothis LIVE: watch Liverpool music and culture debate chat show three times a week – full schedule, listings and guests
This week, this writer's been loving a bit of the boss himself; Bruce Springsteen.
Somehow, he's never quite gelled with me before, but listening to Born To Run this week I've been able to see the error of my ways, and can hear what a good record that is.
Tracks such as Thunder Road have aged amazingly, and are as relevant today as when they were released in 1975.
Elsewhere this week, this writer's been watching Mad Men, the gripping TV series focusing on an ad agency in 1960s New York City.
It's a subtly gripping watch, with well thought out characters and a perfectly executed setting. Somehow, it's passed me by – it's a great one to watch.
Have you been listening to anything new this week? Rediscovered some old favourites perhaps? If so, we'd love to hear; feel free to let us know in the comments below.
Anyway, let's crack on with the Getintothis Top Five:
Tim Burgess
Getintothis' top five most-read stories of the week:
Getintothis' top five most-read new music stories of the week:
Comments
comments