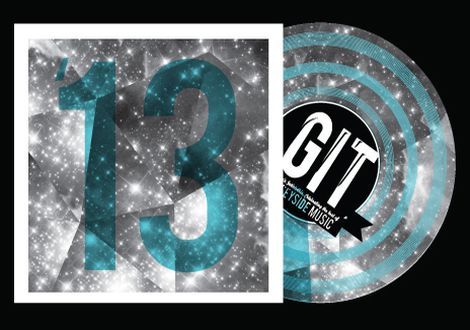 GIT AWARD 2013 shortlist is discussed in detail by figureheads of the Liverpool music scene.

Here at Getintothis HQ we like a good discussion – and we're certainly open to a bit of constructive criticism too.
So after last year's gentle podcast introducing the 2012 GIT Award shortlist, we thought it better to open up the debate to some of Liverpool music's most vocal – and influential spirits.
The Double Negative are fast carving a reputation for no-nonsense critique to all things culture – from there we brought in editor Mike Pinnington.
The Zanzibar has been the home to grassroots music since the year dot in Liverpool – and who better to bring in than the man behind the club, Tony Butler.
Finally, we brought in Liverpool-based designer Gary 'Horse' McGarvey – a man who has carved his own niche for music-related artwork, while being a discerning voice on what is regarded good music – so much so he stages music around the world alongside his own art exhibitions.
Get ready for a no-holds barred discussion on this year's 12 shortlisted artists, the nature of grassroots music in Liverpool, why the metal scene in Merseyside is in crisis and why the GIT Award 2012-2013 shortlist is reflecting 'only three fifths of an apple'.

The GIT Award 2013 podcast by Getintothis on Mixcloud
Further GIT Award 2013 reading
Yoko Ono invites GIT Award 2013 winner to play Meltdown Festival 2013.
GIT Award 2013 at Leaf on Bold Street Friday April 19 with £1000 to winners.
For a full list of the GIT Award 2013 judges and their profiles read here.
The GIT Award 2013 returns championing the best of Merseyside music.
Reaction, report and pictures from The GIT Award 2012
Getintothis speak to Loved Ones after they scoop inaugural GIT Award.
Getintothis on The Kazimier and their GIT 2012 Inspiration Award.
Getintothis picture gallery part one of the GIT Award 2011
Getintothis picture gallery part two of the GIT Award 2011.
Getintothis' NME scene report and focus on the GIT Award and new Liverpool music.
Getintothis profiles the 12 shortlisted artists for the GIT Award 2011.
Getintothis' GIT Award 2011 podcast with Jamie Bowman and The Double Negative.
Getintothis on Royal Standard director Sam Venables creating the first GIT Award trophy
Getintothis teams up with Liverpool and UK's creative business sector.
Liverpool Daily Post on The GIT Award: A forward thinking music award for Liverpool
Getintothis on why there's never been a better time to champion new music in Liverpool.
Getintothis launches the GIT Award – celebrating the best of Merseyside music.
Comments
comments