With such a wealth of talent coming regularly to our city, Getintothis' Craig MacDonald is here with a reminder of what we already have.
It seems like each we we are welcoming the world into our city with open arms. From PZYK Fest to Africa Oye through to Liverpool Music Week, we embrace acts from every part of the globe, all for our love of music.
But sometimes, we forget what a wealth of talent we already have here in our own back yard. We're all guilty of it. So this week, let us remind you to keep an eye out for some of the exceptional acts Liverpool has to offer, covering every inch of the musical landscape.
Don't forget to have a blast through our playlist and to tell us which gigs your going to on our Facebook and Twitter.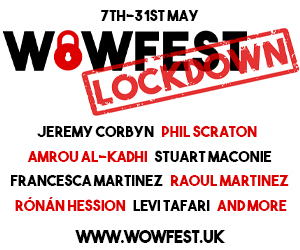 The Magic Gang: Arts Club, September 26
With their stock continuing to rise, Brighton four piece The Magic Gang make a much anticipated return to town this week when they play head to the Arts Club.
With their debut EP setting tongues wagging, the group are on an upward trajectory that shows no sign of slowing anytime soon. Support at this one comes from local rockers Leap of Faith. Well worth getting down early for!
The Hunna: Arts Club, September 28
Making a stop at the Arts Club on their biggest tour to date, edgy quartet The Hunna return to our fair shores this week having caused waves with their debut album 100.
Having swelled the crowds at X&Y Festival earlier this year, the group are looking like something big in the making and this one has sell out wrote all over it. If that wasnt enough, then the enigmatic charms of Blaenavon and The Night Cafe are sure to make this a night not to miss.
Steve Reich & Bill Morrison: Metal Liverpool, September 29
Where can you combine one of the most respected, and influential composers of the 20th century, together with one of the most adventurous film makers in America?
The answer is Metal Liverpool, as the Edge Hill Train Station welcomes Steve Reich and Bill Morrison this week for a world exclusive performance of the songsmiths Different Trains. One of those " I was there " nights we think.
INHEAVEN: Studio 2, September 30
In what is quickly becoming their second home, London four piece INHEAVEN return to Liverpool this week to play Studio 2 as part of their extensive UK tour.
Having blasted Sound City this summer, the group are becoming a firm favourite round these parts and we expect a full house for this one, with Pale Waves and The Protaganists also on the bill.
The Zutons: Mountford Hall, September 30
Following the tragic loss of Tramp Attack founder Kris Ealey, this Friday will see modern day local legends The Zutons reform for a one off show to celebrate their friend's life.
Support on the night will come from Tramp Attack man Matt Barton as well as a surprise guest. The fundraiser takes place at Mountford Hall and is bound to be a sell out, so if you want to get the Zuton Fever don't wait around.
BBC Introducing presents 1Xtra Live: Constellations, September 30
If you want to see some of the best acts from the urban music scene in Liverpool today, then you better haul your ass to Constellations this Friday as BBC Introducing and 1Xtra team up to showcase the best of what our city has to offer.
From GIT One to Watch Award winner Taya to the neo soul rocket of XamVolo through to the enchanting urban jazz of Gazelle, there is an abundance of talent on offer. With Spokazi and Suedebrown also on the bill, you really should not miss this one.
Lying Bastards: Northshore Troubadour, September 30
We love a new venue here at GIT, but we love it even more when boss bands play there too. Having destroyed Festival 6 a few weeks back, Lying Bastards return with a bang as they unleash long awaited new single Youth and Old Age at new joint Northshore Troubadour this Friday.
Joining the party will be the funkiest crew this side of the water, Galactic Funk Militia and if that wasnt enough, then throw in Elevant, FUSS, Lasso Moon, Danye and Tosin for one hell of a night.
Natalie McCool: The Buyers Club, October 1
Having played in living rooms up and down the country of late, Liverpool lass Natalie McCool heads back home to Liverpool this Saturday as she makes a much welcomed appearance at The Buyers Club.
The show will come at the end of a huge UK tour for the songstress in support of her latest album The Great Unknown and will see the songstress being joined by the enchanting Halem and Black Mountain Lights. Trust us when we say get in early for this one.
Elvana: Arts Club, October 1
Ever wondered what the grunge gods Nirvana would sound like if they were fronted by the King of Rock and Roll, that is Elvis Presley?
Well my friend, wonder no more, as Elvana are here to tear up the Arts Club this week, when they come to town on Saturday. Expect the unexpected at this one.
Still hungry for more? Well our GIT gigbites will help you there:
Blood Youth play Studio 2 on Thursday 29 September with support from Zoax and Antihero.
Space Dimension Controller plays 24 Kitchen Street on Thursday 29 September with support from ES.Q and Christopher Barker.
The Membranes play The Magnet with Super Fast Girlie show on Friday September 30.
Jake D plays Constellations on Friday September 30 with support from Dr Cryptic.
The Jackobins play The Zanzibar on Friday September 30 with support from Spares, Seprona and Broken With Rebels.
Veyu play Leaf on Friday September 30 with support from Seawitches and Chemistry Lane.
His Clancyness: The Shipping Forecast, October 7
From Canada via Italy, Johnny Clancy brings his solo project His Clancyness to The Shipping Forecast later this year, as they crank up support for their debut long player Vicious.
Filled with dreamy, glam rock, the group deliver a fuzzy lo-fi punch that shudders your core. With the sublime talents of Emilio Pinchi also on offer together with his new band, as well as the funk pop goodness of LA Walkway, this should be in many music lovers.
Comments
comments