After the hectic week of gigs, normal business has resumed and Getintothis' Simon Kirk has you covered with all the details.
With the BBC 6 Music and Threshold festivals sweeping across Merseyside last week, we are all taking a collective breather from the brilliant weekend which included a vast array of artists, both locally and from afar.
They say there is no rest for the wicked, and on the subject of our fine city that is certainly the case.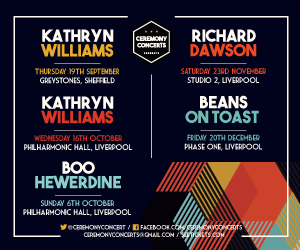 There is quite a bit of in-store action this week – particularly at Jacaranda Phase One.
Don't forget our Deep Cuts night, either, and there's Capeesh's Kick.Out at the Jacaranda Club on Friday. Both nights include the city's brightest up and coming acts also drawing from talent across the north of the country.
Without further ado, all the details you need are below. Enjoy your week in Gigland.
Good Cop Bad Cop: Jacaranda Phase One, Monday April 1
New project between Arctic Monkeys drummer, Matt Helders, and Milburn frontman, Joe Carnall, Good Cop Bad Cop are playing 'Phase One in support of their debut self-titled album, which was released on Friday.
This will be a stripped back affair with the band conducting an in-store signing afterwards.
Deep Cuts #25: Jacaranda Phase One, Thursday April 4
Our Deep Cuts event is back at GIT headquarters, Jacaranda Phase One.
There's a big night planned, with Mosely Bar and Cowgirl having you covered for the riffs, Douglas Savage nailing it down for your psych, and those wanting some orchestral electronica, then Darling will provide.
Rounding out the line-up is Scouse poet, ROY, and Kingsp1n. We'll see you all there.
Freedom!' – How Scottish music discovered its independence and struck gold
Pinegrove: Arts Club Friday April 5
Montclair indie rockers, Pinegrove, return to Liverpool after almost three years, this time on the back of last year's Skylight.
The band has recently announced minor details of a new album entitled, Marigold, which is set for a release later this year. Look out for a few new tracks along with gold dust from their brilliant debut album, Cardinal.
Support comes from London's Tom The Lion.
The Zutons  Eventim Olympia: Friday April 5 
Nostalgia arrives in what is arguably our gig of the week. Yes, folks, The Zutons are back, playing their breakthrough album, Who Killed….. The Zutons? on its 15th anniversary.
Local 'Floyd lovers, The Fernweh and Skeleton Key darlings, The Peach Fuzz will provide support on the night.
Kick.Out #13: The Jacaranda Club, Friday April 5
Kick.Out returns to the Jacaranda for another Friday night filled with a plateful riffs to go nicely with your can of Red Stripe.
The excellent COW will be tearing up the stage, and will fit nicely on the bill alongside FUSS who headline the night, Fruit Tones, and a DJ set from The Lotts. We urge you to give this one a bash!
Circa Waves: Jacaranda Phase One, Saturday April 6
Circa Waves will play 'Phase One in support of their third album, What's It Like Over There?, which is released this Friday.
There will be an in store signing afterwards, and while many in stores taking place are of the intimate variety, Circa Waves will be performing with their full electric line-up.
The best of the rest:
Parrjazz presents The Dave Storey Trio:  Jacaranda Phase One, Tuesday April 2
Dennis Bovell: Brick Street, Tuesday April 2
Soul Train #3: Jacaranda Phase One, Wednesday, April 3
Tugboat Captain plus Special Guests: Jacaranda Club, Wednesday April 3
Liverpool Uni Big Band presents Brick House, Ostrich: Handyman Thursday, April 4
Kris Roe: Grand Central Hall, Thursday, April 4
Magnus Chapple: Bar Racine, Friday April 5
Yeah Buddy! presents The Entire City single launch: EBGBs, Friday April 5
Mason Collective: 24 Kitchen Street Friday April 5
The Vile Assembly: District: Friday, Friday April 5
Luna Rosa: The Jacaranda, Saturday April 6
Swimming Tapes, Breathe Panel: Sound Food and Drink, Saturday April 6
White Room [LIVE] + support: The Zanzibar, Saturday April 6
Parrjazz presents the Sputniks: Ma Boyle's, Saturday April 6
Swimming Tapes, Breathe Panel: Sound Food and Drink, Saturday April 6
X-RAY Cat Trio, plus special guests: Sound Food and Drink, Sunday April 7
Comments
comments