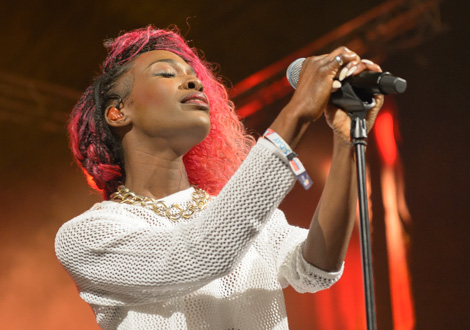 An unholy racket in the Cathedral is offset by the joyous charm of a Northern Israel star in waiting, Getintothis' Alan O'Hare enjoys the rollercoaster thrills and spills of day one at Liverpool Sound City.

Picture this, sat on the back of a bus. Knackered. But, before the iPod earphones go in, it's time for one last look behind us: Liverpool looks great. It's Sound City and we're all out in force.
True, we could talk about the late starts, the couple of empty gigs early on and how bad Cathedral headliners Clean Bandit were (we'll get to them shortly), but to do so would be churlish. We've seen great things tonight and heard a few too. Mostly from Getintothis writers with the best schedules, but we digress.
It's early doors and Studio 2 is running late… so far, so Sound City. But, when the delightful Maya Avgar takes to the stage, things change. She's captivating and her voice possesses everything you want from your favourite new indie queen. It's folk, but not as we know it, as latest single Fine Line comes on all Charlotte Gainsbourg. A great start.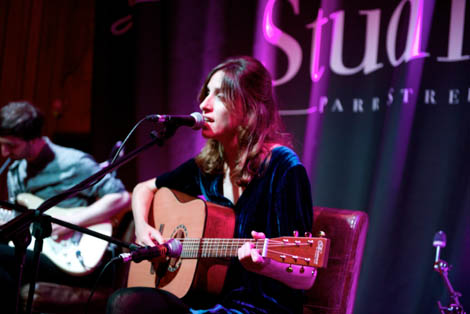 Maya Avgar performing live at Studio2
We struggle to tear ourselves away from Avgar, so only catch the end of Kagoule at The Zanzibar. To be honest, it's a bit of luck, as the Nottingham rockers set about redefining meat and potatoes. It's Pixies, without the charm.
Speaking of charm, it's a quick run up the road for this evening's big hitters – well, they had a number one the other week – Clean Bandit. Thank goodness the charm on offer comes from this intoxicating venue, as the music is anything but holy. Sure, the place is rammed and the band look every inch the superstar attraction in black and white mini skirts and tight suits respectively… but something is missing. Sincerity, perhaps? Heart, soul, desire; you name it, Clean Bandit lack it. Still, that Mozart's House tune is a laugh, hey?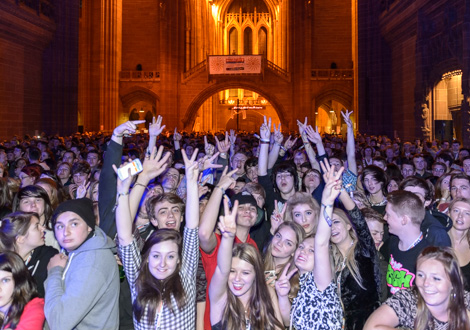 Down the front at Liverpool's Anglican Cathedral for Clean Bandit
Back down the hill to the good stuff and anticipation is high for Sub Pop's Lyla Foy. Leaf is busy, Bold Street is buzzing and the transcendent noise we're hearing is a winner. Not sure if the tunes are there yet, but the voice is a thing of mystery and knowing.
Things are running late, copy has to be filed and we've still got two more exhausting and exhilarating days ahead of us. So, safe in the knowledge Jon Hopkins is apparently tearing apart Nation brick by brick, we leave Leaf to the falsetto strains of the vanilla Sivu.
A distinctly average end to an extraordinary night. Bus stop approaching, catch you tomorrow.
Pictures by Getintotthis' Simon Lewis and Gaz Jones

Further reading on Getintothis
Liverpool Sound City 2014 Review: Day One Round Up.
* Liverpool Sound City 2014: Top 10 Merseyside bands to watch
* Liverpool Sound City 2014: Top 10 international bands to watch.
* Liverpool Sound City 2014: Top 10 UK bands to watch.
* Liverpool Sound City 2014: Getintothis' guide to the venues.
* Liverpool Sound City 2014: Things to do off the beaten track.
* John Cale – the grit in the oyster that shaped the sound we worship today.
* Liverpool Sound City 2014: Revo's routeplanner – the insider's guide.
*Liverpool Sound City 2014: Getintothis presents Jon Hopkins and stellar Merseyside show at Nation.
* Liverpool Sound City 2014: Fringe events and John Peel World Cup revealed.
* Liverpool Sound City 2014: The Hold Steady ready to bear their teeth.
* Liverpool Sound City 2014 – a Getintothis festival playlist.
* Liverpool Sound City 2014 add The Kooks to festival bill.
* Liverpool Sound City 2014: He used to come round wearing make up and strange Japanese Kimono clothing – David Pichilingi.
* Liverpool Sound City 2014: Jon Hopkins, Albert Hammond Jnr, Drenge and more for May festival.
* Liverpool Sound City 2014 announce headliners Kodaline plus Gruff Rhys and Fuck Buttons for May festival
* Liverpool Sound City 2014: John Cale and Thurston Moore head up Conference speakers
* Liverpool Sound City 2014 reveal football, music and style themes
* Liverpool Sound City 2013: Top 10 bands and review round up of the festival

Comments
comments