Liverpool Sound City 2014 delivers a day of musical discovery for the discerning new music enthusiast, Getintothis' Peter Guy wraps up the big hits, misses and madness from day one.

Liverpool Sound City reverted to its modus operandi for day one of its seventh edition as city music lovers indulged in a feast of musical discovery.
What makes for the ideal music festival has been up for discussion aplenty in recent times. An intelligently curated line up. Intriguing settings married to innovative music. Leftfield unexpected off-shoots outside of the music billings. And the most important factor of all: fun.
In a city which prides itself on questioning, and indeed challenging, the infrastructure of weighty cultural beasts ala Sound City, it was a refreshing and indeed, brave move that this year's festival by in large avoided the pitfalls of 'name' bookings and adopted more of its original model – allowing a whole raft of new, emerging artists to take the spotlight.
As these very pages have asserted, Liverpool Sound City is, and always should be, #ScouseByScouseWest.
And so it was. Day one unravelled into a slog-jogging, Challenge Anneka-akin affair, as we skirted around 18 venues in the hunt for the new – and for the most part we were rewarded handsomely.


Sonic Youth's Thurston Moore in post Sound City conference mood taking in the sights at Worth The Waxx Record stall in Wolstenholme Square
Typifying day one where London quartet and openers, Sun Machine; a baggy pantalooned freakbeat collective, propulsive of beat, vocal yelps, bewildering time signatures and a cosmic late 60s vibe which implored you into their hallucinatory world. All they needed was Syd Barrett licking a tambourine and Wayne Coyne would be phoning up for a go on production duties.
At the other end of the hallucinatory spectrum in Duke Street Garage were Vladivostok bad trip odballs Mumiy Troll who blended Euro metal-pop with leather skirts ideally suited to horrific soft pornography trailers which no one would ever watch, ever.
Wild Cub, meanwhile, we'd happily watch time and again. Despite referencing almost every band to have been on Factory Records roster, and injecting it with a slight over-zealous US charm, this lot are the real deal. Musicians who play the fuck out of their armoury adding drums on top of drums, riffs on top of riffs and mountains of tunes which are instantly lodged deep in the back of your being. They've just finished touring with Vampire Weekend – and it showed; crafted beat-led pop which is as timeless as it is now. How very fitting for Sound City.


Say Lou Lou live at the Anglican Cathedral at Liverpool Sound City 2014
Sadly the same couldn't be said for Say Lou Lou – quite possibly the most beautifully crafted yet soulless pop entity we've seen in a good while. On the face of it, *everything* is spot in – exquisitely turned out Australian-cum-Swdeish sisters Elektra and Miranda Kilbey who peddle (on record) remarkably polished electro-pop. But in the magnificence of Liverpool's Anglican Cathedral it all falls to bits. There's simply no escaping the fact these two simply can't sing – at times it's knuckle-bitingly bad, and you expect a Pete Waterman type in double denim to emerge from the crypt blaspheming while swigging from a chalice – it's that transparent and clearly a cynical exercise in relatively well executed pop.
Sadly, due to an emotive and unexpected contemporary dance routine by Alpha in the Anglican's vast, and beautifully lit nave, we miss Gengahr who finish 15 minutes early in the Kazimier, and we're left ruing our decision to soak in more than five minutes of Say Lou Lou's aural toss.
Toss is what The Bohicas do very well. They lash songs into the air and then smash them for the proverbial six. Another London quartet who's dashing leather-clad look is married to their clashing racket of bracing riff-laden leathering. It's the perfect introduction to the new Factory venue on Seal Street, hitherto a derelict space not used properly since Liverpool Biennial in 2008.
Another new addition is the relative expense of the Moon Museum – a kind of hippie car park/sit-off zone with Hob Goblin ales and an open air stage which VEYU are rocking comprehensively when we arrive; Running and Battle Cry are sublime as Chris Beesley's vocal twist around Adam Bresnan's guitar lines. But it's Tom McCabe's rhythmic clout (particularly on astonishing closer Blue Voices) that ensures they steal all the glory as Merseyside's one to beat for Sound City 2014. Essential.
We step into the thriving masses for Gruff Rhys before deciding to continue on our journey of discovery which leads to the new setting of Screenadelica at the Black-E. We'll admit to being hugely reticent about this one. Hugely hit-and-miss, the Black-E wasn't a natural fit to the compact, dirty snarl of Screenadelica's previous home at Duke Street's Arts Academy. However, Screenadelica chief Gary McGarney has ensured it has the desired mood as posters line the downstairs and second tier, lending a fine feel particularly when watching from above the stage. It's an ideal setting for watching the characteristic mania that you associate Screenadelica unfold, and we lap up Dale Barclay's snarling Glaswegian rasp as new Domino Record's boys Amazing Snakeheads rip into position. What they lack in sonic individuality they make up for in showmanship and we're ready for more of the same when Fat White Family follow.


Fat White Family Band live at Screenadelica at the Black-E
Sadly two things conspire against us. Firstly an obnoxious security guard who insists myself and Getintothis' photographer cannot enter the venue as 'people are going to get crushed due to being over capacity' – we enter shortly after to find the Black-E is two thirds full at best – and secondly, Fat White Family for all their pantomime stage heroics are simply lightweight in the tunes department. Their ferocious attack is admirable, and much of the crowd is clearly loving it, but we're not won over by a band who seemingly lack substance beneath their substantial surface.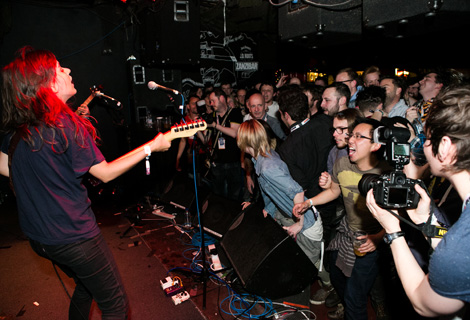 Courtney Barnett live at Liverpool Sound City 2014 at the Zanzibar
The same can't be levelled at Jon Hopkins. After taking in one and half tracks of Courtney Barnett's best Cheryl Crow slackin' in Brooklyn impression, we're among a wave of bodies and arms aloft delighted Sound City punters. After a warming opening salvo, Open Eye Signal and Collider boot in and Nation is transformed into a sea of primal swaying. It's the moment of the evening.
We close in the Kazimier, where else, for some theatrics as Nozinja leads his orange-boiler-suited dancing chief through an hour of delirious rhythmic fandango-ing. It's daft and just what the witchdoctor ordered to see us home after a long, winding voyage of musical discovery. What more do you want on your doorstep?

Follow us on Twitter for all the breaking news here.
Pictures by Getintothis' Sakura, Simon Lewis, Gaz Jones and Tom Adam.
Further reading on Getintothis
* Liverpool Sound City 2014: Top 10 Merseyside bands to watch
* Liverpool Sound City 2014: Top 10 international bands to watch.
* Liverpool Sound City 2014: Top 10 UK bands to watch.
* Liverpool Sound City 2014: Getintothis' guide to the venues.
* Liverpool Sound City 2014: Things to do off the beaten track.
* John Cale – the grit in the oyster that shaped the sound we worship today.
* Liverpool Sound City 2014: Revo's routeplanner – the insider's guide.
*Liverpool Sound City 2014: Getintothis presents Jon Hopkins and stellar Merseyside show at Nation.
* Liverpool Sound City 2014: Fringe events and John Peel World Cup revealed.
* Liverpool Sound City 2014: The Hold Steady ready to bear their teeth.
* Liverpool Sound City 2014 – a Getintothis festival playlist.
* Liverpool Sound City 2014 add The Kooks to festival bill.
* Liverpool Sound City 2014: He used to come round wearing make up and strange Japanese Kimono clothing – David Pichilingi.
* Liverpool Sound City 2014: Jon Hopkins, Albert Hammond Jnr, Drenge and more for May festival.
* Liverpool Sound City 2014 announce headliners Kodaline plus Gruff Rhys and Fuck Buttons for May festival
* Liverpool Sound City 2014: John Cale and Thurston Moore head up Conference speakers
* Liverpool Sound City 2014 reveal football, music and style themes
* Liverpool Sound City 2013: Top 10 bands and review round up of the festival

Comments
comments