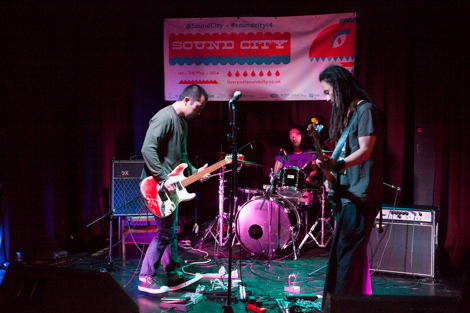 From the head-demolishing sounds of Screenadelica to Leaf's sedate aural chillout setting, Sound City offers both ides of the musical spectrum, it's clear which Getintothis' Joel Richards prefers.

We go again. After last night's trials and tribulations, we soldiered on into Friday eager to tackle venues we couldn't reach, and hopeful of unearthing a gem or two along the way.
First up on the agenda was The Zanzibar and Folly & The Hunter who had came all the way from Montreal to play Sound City.
Their trip was worth it as they opened with a set that offered plenty throughout the half an hour or so they were on stage. That said it was a shame that there wasn't many more in attendance but with an early slot the lack of a crowd is surely always to be expected.
After a mad dash up Duke Street, we soon found ourselves at the Black-E and confronted with a wonderful array of posters as part of the Screenadelica exhibition. Not only that but there was also live music in the form of Vault of Eagles with the two females on guitar giving their all despite the paucity of the audience.
From there another trek awaited… This time Korova was the venue and Campfires in Winter were the band in question. To be honest we wish we hadn't bothered as we struggled to get into the music they were playing. It just seemed a wall of noise and whether that was us being naive or not we couldn't tell.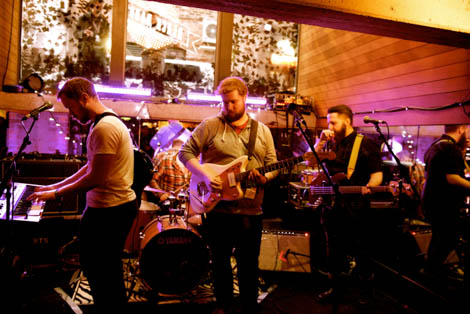 Campfires In Winter performing live at The Korova
However we were soon in a better place as next on the list was Silent Sleep in the homely surroundings of Leaf. A glorious sit off by day, the upstairs part of the Bold Street venue was an ideal place for Chris McIntosh, John Gibbons and co, whose melodic sounds were a lot smoother on the ear than what we'd previously heard elsewhere.
What happened at the end was quite special. In scenes reminiscent of last year's performance at the Black-E, McIntosh and co took audience participation to a new level by playing in the middle of the crowd which will live long in the memory of this year's edition.
From Leaf it was back to a much busier Black-E this time around and Sunwolf which had to be one of the most bizarre performances we'd seen so far. For what seemed like an eternity, there was nothing but psychedelic riffs from the guitar/drum combo with the two building up to a climax that seemingly never came. Add to the fact there was strange moving graphics on the wall behind them and it was time to leave sooner rather than later.
In contrast, Delca Kara were a better proposition in the basement of Heebie Jeebies and our only regret was that we didn't reach their set sooner. But we managed to settle for a couple of tracks that gave an indicator to their undoubted talent.
From one underground venue to the next, we were taken from guitar music to heavy beats and lyrical words supplied by Lizzo. It's safe to say she didn't lack in stage presence and the Shipping Forecast resembled a scene from 8 mile with people bopping their heads at every word spoken.
As the night drew to a close, the tempo shifted drastically as we chanced upon Demi Louise at Brink. Having came all the way from Australia, she seemed right at home with the sitting audience sipping on tea/coffee and chilling out to her soothing melodies which was a world away from the head banging bands on offer in other places.
And so it came to the final act of the night and the confines of Mello Mello who hosted the aptly named Hellvision. With tiredness setting in it was going to take something special to keep us going and they certainly delivered.
A combination of crazy riffs and rhythmic drumming kept the vibrant, yet strange mix of clientele in this unorthodox bar going from the main room to the cafe setting at the far back.
So with two nights down and just one remaining, Sound City has hurtled away before our very eyes. With the end in sight, there's still a mammoth Saturday to endure but one that offers plenty of promise.
Pictures by Getintothis' Jack Thompson and Gaz Jones
Further reading on Getintothis
Liverpool Sound City 2014 Review: Day One Round Up.
* Liverpool Sound City 2014: Top 10 Merseyside bands to watch
* Liverpool Sound City 2014: Top 10 international bands to watch.
* Liverpool Sound City 2014: Top 10 UK bands to watch.
* Liverpool Sound City 2014: Getintothis' guide to the venues.
* Liverpool Sound City 2014: Things to do off the beaten track.
* John Cale – the grit in the oyster that shaped the sound we worship today.
* Liverpool Sound City 2014: Revo's routeplanner – the insider's guide.
*Liverpool Sound City 2014: Getintothis presents Jon Hopkins and stellar Merseyside show at Nation.
* Liverpool Sound City 2014: Fringe events and John Peel World Cup revealed.
* Liverpool Sound City 2014: The Hold Steady ready to bear their teeth.
* Liverpool Sound City 2014 – a Getintothis festival playlist.
* Liverpool Sound City 2014 add The Kooks to festival bill.
* Liverpool Sound City 2014: He used to come round wearing make up and strange Japanese Kimono clothing – David Pichilingi.
* Liverpool Sound City 2014: Jon Hopkins, Albert Hammond Jnr, Drenge and more for May festival.
* Liverpool Sound City 2014 announce headliners Kodaline plus Gruff Rhys and Fuck Buttons for May festival
* Liverpool Sound City 2014: John Cale and Thurston Moore head up Conference speakers
* Liverpool Sound City 2014 reveal football, music and style themes
* Liverpool Sound City 2013: Top 10 bands and review round up of the festival

Comments
comments