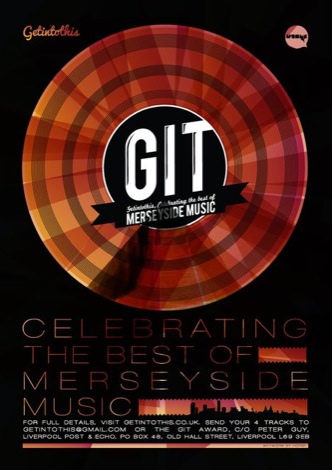 Getintothis exclusively reveals the 12 nominees for the GIT Award 2014.

Liverpool's premier music prize, The GIT Award can today reveal the 12 shortlisted artists for the 2014 edition.
The GIT Award 2014 shortlist is:
All We Are
Circa Waves
Dan Croll
Evian Christ
Ex-Easter Island Head
Forest Swords
Mad Brains
Ninetails
Outfit
Bill Ryder-Jones
Tea Street Band
VEYU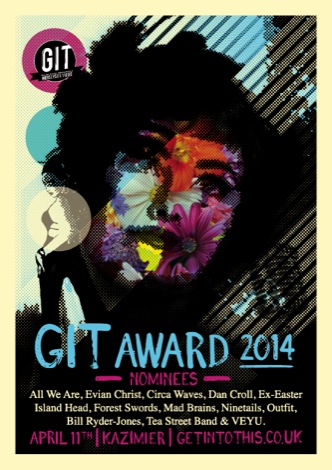 Now in its third consecutive year, The GIT (Getintothis) Award, champions the best of Merseyside music providing a snapshot of the year in music, recognising significant artistic achievement across a range of musical styles.
This year's shortlist was selected by national industry figureheads consisting of The Quietus editor John Doran, Music Week editor Tim Ingham, former Creation Records' boss Alan McGee, BBC Radio 6 Music's Camilla Pia, author and journalist Simon Price, Popjustice editor Peter Robinson, Guardian journalist Jude Rogers, XFM deputy programme manager and Head of Music Mike Walsh and NME radar editor Matt Wilkinson.
The judging panel was completed by respected Merseyside music players including Liverpool Music Week director Mike Deane, Sound City and Club EVOL promoter Steve Miller, Liverpool International Music Festival curator Yaw Owusu, Bido Lito! editor Craig Pennington – and GIT Award founder and Liverpool Echo journalist, Peter Guy.
Dubbed 'the Scouse Mercury Prize,' backed by Yoko Ono and the cornerstones of Merseyside's flourishing cultural community, the winner of the GIT Award 2014 is revealed on Friday April 11 at The Kazimier in Wolstenholme Square – picking up a cheque for £1,000.
Mike Walsh, XFM Head Of Music, said: "The GIT Award shortlist proves yet again that Liverpool continues to be one of the most consistently creative and musically rich cities in the world. The strength and diversity of artists on this list reminds us why Liverpool is still the benchmark for other cities to envy."
Since its re-launch in November 2013 up until the closing date at the end of January 2014, the GIT Award received more than 500 entries with the judges carefully whittling them down to just 12.
The industry showcase on Friday April 11 is strictly invite only and will include performances from the shortlisted artists plus an aftershow and specially produced set piece spectacles by the Kazimier team.
This year, the Kazimier team will transform their unique setting into a decadent night of lavish 70s pomp and glitz complete with sequins, navel grazing necklines, ultrasuede leisure suits and all manner of shimmer and sparkle as guests are invited into a gold lame world of an era trying desperately to cling onto its fading grandeur.
Fifty lucky souls will also have the chance to log on to the Kazimier website and obtain a pass to this once-in-a-lifetime occasion.
On the night, the overall GIT Award winner will receive a cash prize of £1,000 and a special Inspiration Award, recognising services to Liverpool's music industry (won by The Hillsborough Justice Collective in 2013 and the team behind The Kazimier in 2012), will also be presented.
NME's Matt Wilkinson, said: "The GIT Award 2014 shortlist is seriously impressive. What I like most about it is the sheer variety of the nominated acts. None of them fit together on paper as they're all so different musically, yet each act is pushing the boundaries in their own special way. Liverpool is thriving in its own diversity – and I can't remember the scene being this eclectic for decades."
New for the GIT Award 2014 edition, an under-18 artist will receive the One To Watch Prize receiving studio time at Liverpool's legendary Parr Street Studios, mentoring from sponsors Merseyside Arts Foundation and a slot at the Liverpool International Music Festival.
Live visuals, the One To Watch Award and mementoes for each nominee will be created by Liverpool architectural design agency ArchiPhonic who have overseen projects in the Baltic Triangle. Meanwhile Liverpool's Royal Standard Art Gallery director, Mike Aitken will create two specially designed awards for the winners of the GIT Award 2014 and The Inspiration Award.
GIT Award founder and chair of judges, Peter Guy, said: "The 2014 GIT Award reaffirms my belief that there's no region in the UK that can match the artistic ambition, technical craft and musical innovation that's currently unfolding across Merseyside.
"Each of the artists on this year's shortlist have garnered international press and radio while entertaining sell out audiences in Tokyo, South Africa, Sydney, New York and almost the entirety of Europe – and yet, most exciting of all, the majority are in their infancy. April 11 at a transformed Kazimier is set to be an exhilarating evening."
Liverpool music lovers know their city is home to some of the finest creative talent in the world. However, eyes and ears elsewhere may need convincing. The inaugural 2012 GIT Award readdressed all that and its 2014 edition is set to spread the message even further.
Limited tickets & event link, Monday March 3.

Further reading on Getintothis:
GIT Award 2014 launches One To Watch prize.
GIT Award 2014 judging panel announced.
Review and pictures from GIT Award 2014 launch at Leaf.
GIT Award 2014 returns with Leaf launch ahead of Kazimier spectacular in April.
GIT Award 2013: Baltic Fleet: To be involved and win will always stay with me
The GIT Award 2013 report, reaction and review from Leaf Tea Shop, Liverpool.
GIT Award 2013 winner announced as Justice Collective win Inspiration Award
GIT Award 2013: picture gallery featuring Baltic Fleet, Nadine Carina, Conan, John Heckle, Tyler Mensah and more.
About the GIT Award.
From over 480 entries, the 12 shortlisted GIT Award 2013 artists were Baltic Fleet, Barberos, By The Sea, Nadine Carina, Clinic, Conan, Dan Croll, John Heckle, Jetta, Tyler Mensah, Stealing Sheep and Wave Machines.
The nominees performed at a special showcase night at Leaf on Bold Street in April 2013 before Baltic Fleet was unveiled as the eventual winner. A special Inspiration Award, recognising services to Liverpool's music industry was won by The Justice Collective and Tyler Mensah claimed the People's Choice Award.
The GIT Award 2012 shortlisted artists were Bang On, Ex-Easter Island-Head, Forest Swords, Miss Stylie, Mugstar, Ninetails, Outfit, Bill Ryder-Jones, Stealing Sheep, Tea Street Band, Esco Williams with Loved Ones unveiled as winner. The team behind the Kazimier won the inaugural Inspiration Award.
Artwork by Gary McGarvey.
Comments
comments