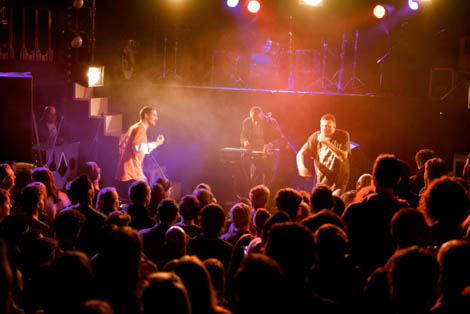 A night of queuing frustration and beautiful songbirds, Getintothis' Michael Fowler signs off in memorable fashion.

If getting out of bed yesterday was tough then today was our Everest. Takes it out of you these festival larks.
Bird play first in the Anglican Cathedral, Adele Emmas howls with measures of delicacy and sheer power. Cool Stooges style bass and heavy built up guitars. Where Albert Hammond Jr. suffered with the cathedrals reverb, Bird thrived on it, their sound surrounding the old church hall rather than floating away from it.
Hail male dance crews full of grace, the crowd is with you. Between bands at the cathedral we're treated to Edge Hill University's All Male Dace troupe, Lovely Ugly. Their piece was genuinely funny and at other times tender and touching, a talented gang of lads that promote young men in the dancing profession, not afraid to take a tumble and man, they can fly.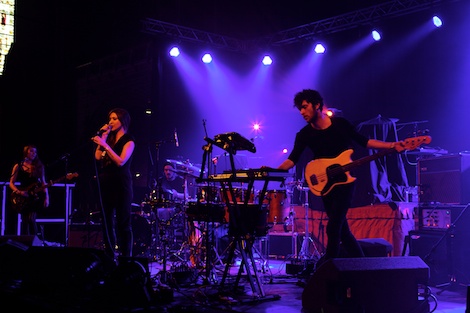 Bird live in the Cathedral
A stripped back and sparse set from Rachael Wright, her soul filled voice resonated through a candle lit Leaf. Everyone remained silent as she told melodic stories of war torn countries and people off in the fringes of a life we'll never truly know. Aside from that, Rachael Wright's the coolest looking cat at Sound City.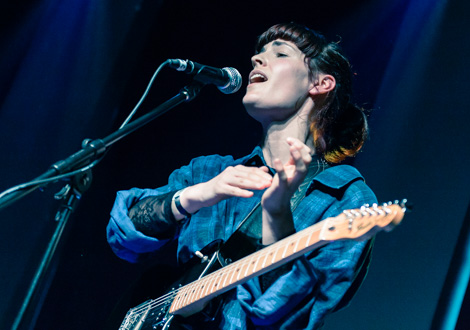 Rachel Wright performing live at Leaf Cafe
Beaches are proper rock and/or roll, loud, fast and fuming, they fly through their set without so much as pausing for breath. By the time their previous song was finito the next one kicked in. Breakneck speeds and breakneck tunes.
With Jagwar Ma on queue lock down we headed to RATKING at the Kaz, a New York Grime trio with awesome live beats and samples. The crowd don't go wild, but perhaps they needed more of a pick me up after a long old festival weekend.
Problems with insanely long queues for every venue near ruined the final night for some Sound City goers. A queue with well over 200 people was waiting to just get into Wolstenholme square – not a venue – just the area that had the venues in, and then you have to queue again after that. Farcical.
Ah well, Sound City 2014 has been a memorable one. An unforgettable Thursday, a danced out Friday and a queue heavy Saturday. GIT still reckons it was the best yet.
Further reading on Getintothis
Liverpool Sound City 2014 Review: Day One Round Up.
* Liverpool Sound City 2014: Top 10 Merseyside bands to watch
* Liverpool Sound City 2014: Top 10 international bands to watch.
* Liverpool Sound City 2014: Top 10 UK bands to watch.
* Liverpool Sound City 2014: Getintothis' guide to the venues.
* Liverpool Sound City 2014: Things to do off the beaten track.
* John Cale – the grit in the oyster that shaped the sound we worship today.
* Liverpool Sound City 2014: Revo's routeplanner – the insider's guide.
*Liverpool Sound City 2014: Getintothis presents Jon Hopkins and stellar Merseyside show at Nation.
* Liverpool Sound City 2014: Fringe events and John Peel World Cup revealed.
* Liverpool Sound City 2014: The Hold Steady ready to bear their teeth.
* Liverpool Sound City 2014 – a Getintothis festival playlist.
* Liverpool Sound City 2014 add The Kooks to festival bill.
* Liverpool Sound City 2014: He used to come round wearing make up and strange Japanese Kimono clothing – David Pichilingi.
* Liverpool Sound City 2014: Jon Hopkins, Albert Hammond Jnr, Drenge and more for May festival.
* Liverpool Sound City 2014 announce headliners Kodaline plus Gruff Rhys and Fuck Buttons for May festival
* Liverpool Sound City 2014: John Cale and Thurston Moore head up Conference speakers
* Liverpool Sound City 2014 reveal football, music and style themes
* Liverpool Sound City 2013: Top 10 bands and review round up of the festival

Comments
comments