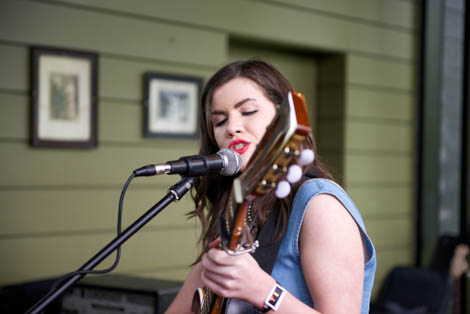 Emerging Liverpool talent was given a chance to shine early doors on Day Three of Liverpool Sound City, Getintothis' Joel Richards nips up to Tavern on the Green for a slice of the action.

An early start to day three of Liverpool Sound City saw Getintothis take in The Writer's Club stage at Tavern on the Green.
The afternoon got off to a fine start with Jennifer Vaudrey who appeared unfazed by the fact that she was the opening act. A young artist, she was composed and sang beautifully throughout.
Tenements then followed, a band that were chosen in these very pages as ones to watch at Sound City. The local act lived up to their billing with a style that tipped its hat to the archetypal Liverpool Sound that has served a plethora of bands from this city.
We were soon treated to the bluesy sounds of Benn Helm, with his strong vocals proving to be a delight on a promising Saturday afternoon. Evoking a style that wouldn't sound out of place on a classic American soul album.
Things gotten even better as Sophie Anderson took to the stage. Her performance belied the fact that she's only 19 and her distinctive voice was a pleasure to behold. Accompanied by some wonderful guitar work, Sophie's the complete package and one worth watching in the future.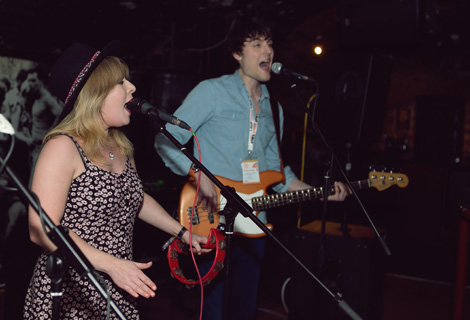 Jennifer Vaudrey performing live at Tavern on the Green
However Villy Raze, who replaced David Keenan would have been better off not playing at all. Flat vocals and extravagant guitar work never mix and it was no surprise that a lot of the audience were stood around barely paying attention.
The only blemish on the afternoon was soon put right by She Drew The Gun. Another female artist with a guitar, her set was a lot lower in tempo but was easy on the ears.
All of this was happening among a sea of people who looked to be enjoying themselves.
But the highlight of the afternoon had to be Dominic Dunn. The 17-year-old, who recently caught the eye with The Angel (a tribute to Hillsborough campaigner Anne Williams) displayed confidence beyond his years showcasing his own material. One song – I'm on my way – felt like a prophecy that he seems destined to fulfil.
Accompanied by a band of backing singers, guitarists and a drummer, everyone was in full harmony as Dunn weaved his way through.
The final act of a mammoth afternoon were Jimmy and the Revolvers who strangely decided to wear sunglasses indoors for their performance. The four piece harked back to the traditional Mersey Beat sound, with the vast majority tapping their feet along in approval.
Overall the Writer's Club left me with the impression that fresh Mersey talent is most definitely flourishing and was the perfect warm up to the night's main events elsewhere.
Pictures by Getintothis' Tomas Adam and Gaz Jones
Further reading on Getintothis
Liverpool Sound City 2014 Review: Day One Round Up.
* Liverpool Sound City 2014: Top 10 Merseyside bands to watch
* Liverpool Sound City 2014: Top 10 international bands to watch.
* Liverpool Sound City 2014: Top 10 UK bands to watch.
* Liverpool Sound City 2014: Getintothis' guide to the venues.
* Liverpool Sound City 2014: Things to do off the beaten track.
* John Cale – the grit in the oyster that shaped the sound we worship today.
* Liverpool Sound City 2014: Revo's routeplanner – the insider's guide.
* Liverpool Sound City 2014: Getintothis presents Jon Hopkins and stellar Merseyside show at Nation.
* Liverpool Sound City 2014: Fringe events and John Peel World Cup revealed.
* Liverpool Sound City 2014: The Hold Steady ready to bear their teeth.
* Liverpool Sound City 2014 – a Getintothis festival playlist.
* Liverpool Sound City 2014 add The Kooks to festival bill.
* Liverpool Sound City 2014: He used to come round wearing make up and strange Japanese Kimono clothing – David Pichilingi.
* Liverpool Sound City 2014: Jon Hopkins, Albert Hammond Jnr, Drenge and more for May festival.
* Liverpool Sound City 2014 announce headliners Kodaline plus Gruff Rhys and Fuck Buttons for May festival
* Liverpool Sound City 2014: John Cale and Thurston Moore head up Conference speakers
* Liverpool Sound City 2014 reveal football, music and style themes
* Liverpool Sound City 2013: Top 10 bands and review round up of the festival

Comments
comments