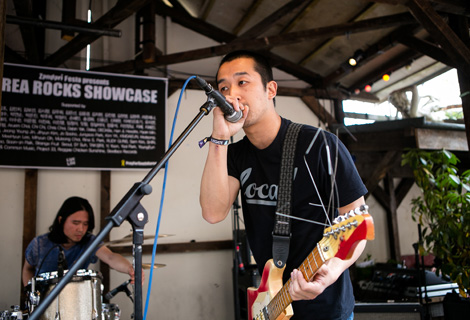 The Korean Rocks showcase at Kazimier Gardens returns, Getintothis' Adam Lowerson is given a sparkling K-Pop introduction.

If you've ever been to Liverpool Sound City in the past, you will surely be aware that a highlight of the weekend is always the Korea Rocks Showcase, held at the secret hideaway of the Kazimier Gardens.
And despite the lack of free food usually on offer (the free beer on arrival did however help to soften this blow), this year's garden party didn't disappoint, featuring four exciting new acts from the Korean music scene.
First up were Patients, a power punk trio with big tunes. Despite the lack of a guitar, their sound was full and meaty, with the piano proving to be a more than adequate, rocking and rolling replacement for the usually essential electric guitar.
The three piece were brilliant fun, and showed their ability to write killer hooks and melodies, although every track featured the lyric 'Let's go!' several times throughout. With all the punch and impact of 1970s punk and the catchy songs to accompany, these boys could be Korea's answer to the Clash.
Hellivision were next with their instrumental prog metal, featuring chest pounding drums and face melting guitar solos. Their sound is a musical voyage through several different genres, with some of the extended jams veering off in unusual directions. In places it could only be described as jazz-metal. That probably isn't even a thing. But for Hellivision, it works.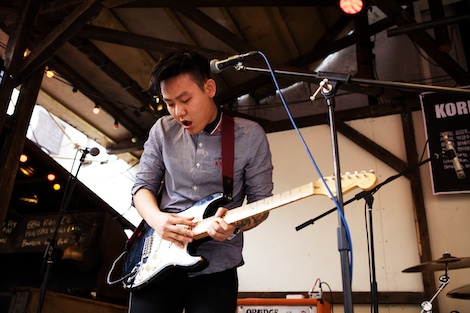 Dead Buttons performing live at The Kazimier Gardens
Dead Buttons brought a party atmosphere to the Kazimier Gardens, which at this point was packed from wall to half built wall.
The indie two-piece were a bundle of raw energy and charm, and tracks such as I Want It All were instantly memorable. With guitar/drum duos, comparisons to the White Stripes are more often than not pretty lazy, but in this case could definitely be forgiven.
Top of the bill, and top of the list of bands named after wrestling moves, were Asian Chairshot. Their brand of hard, fuzzy psychedelic rock was a great end to the showcase with hook laden bass lines and menacing vocals a plenty.


Pictures by Getintothis' Matt Thomas and Tom Adam
Further reading on Getintothis
Liverpool Sound City 2014 Review: Day One Round Up.
* Liverpool Sound City 2014: Top 10 Merseyside bands to watch
* Liverpool Sound City 2014: Top 10 international bands to watch.
* Liverpool Sound City 2014: Top 10 UK bands to watch.
* Liverpool Sound City 2014: Getintothis' guide to the venues.
* Liverpool Sound City 2014: Things to do off the beaten track.
* John Cale – the grit in the oyster that shaped the sound we worship today.
* Liverpool Sound City 2014: Revo's routeplanner – the insider's guide.
*Liverpool Sound City 2014: Getintothis presents Jon Hopkins and stellar Merseyside show at Nation.
* Liverpool Sound City 2014: Fringe events and John Peel World Cup revealed.
* Liverpool Sound City 2014: The Hold Steady ready to bear their teeth.
* Liverpool Sound City 2014 – a Getintothis festival playlist.
* Liverpool Sound City 2014 add The Kooks to festival bill.
* Liverpool Sound City 2014: He used to come round wearing make up and strange Japanese Kimono clothing – David Pichilingi.
* Liverpool Sound City 2014: Jon Hopkins, Albert Hammond Jnr, Drenge and more for May festival.
* Liverpool Sound City 2014 announce headliners Kodaline plus Gruff Rhys and Fuck Buttons for May festival
* Liverpool Sound City 2014: John Cale and Thurston Moore head up Conference speakers
* Liverpool Sound City 2014 reveal football, music and style themes
* Liverpool Sound City 2013: Top 10 bands and review round up of the festival

Comments
comments