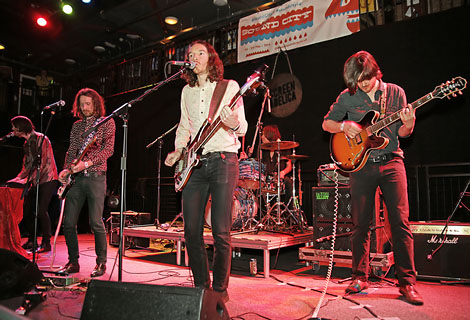 Day two of Liverpool Sound City 2014 explodes into life as Theo Verney brings the fireworks, but as Getintothis' Jamie Bowman reflects things soon fizzle out.

So, could this second night live up to Liverpool Sound City's opening thrills? Travelling to tonight's sophomore set on the train listening to the brilliant TV EP from Brighton slacker Theo Verney we had high hopes.
Thankfully the fuzzy garage promise of this platter is met by Theo and his band of cheerful southerners as they launch into a fantastic set in front of a pleasingly busy Kazimier.
A riot of dirty riffing and brutal licks follow with Theo's three piece band gleefully enjoying a sound their leader describes as the best they've ever had. Think early Kings of Leon crossed with the repetition of LIverpool heroes Clinic and you're getting somewhere close to Theo's low fi scuzzy appeal. A great start to the night and judging by the amount of record company types taking notes perhaps a star is born.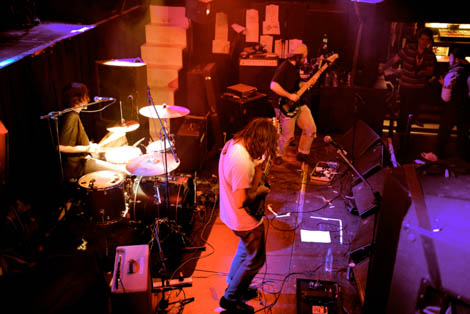 Theo Verney performing live at The Kazimier
The fun can't last and over at the EVAC we can't work out what London four piece LSA (it stands for Love Stays Alive apparently) are aiming for. It's indie by numbers and at times their bad clothes and worse haircuts recall early 90s memories of the likes of Neds Atomic Dustbin and the Senseless Things. But not in a good way. Their set closer thankfully points the way towards a better future with a jagged, shoegazy sound pointing the way forward.
To the Shipping Forecast and Seattle youngsters Hibou drag things back with a cracking and exuberant set of 80s indie. Think New Order at their most guitary or the pop kissed Cure of Inbetween Days and your're getting close to their gleeful and tuneful take on a classic template. Looking incredibly young and with their singer sporting a t-shirt so baggy it covers his knees it's impossible not to fall in love with their sun-kissed indie pop.
Rah Rah at the Korova are a different proposition altogether.
Where Hibou are all fresh faced enthusiasm this band of Canadians are already on their fourth album and seem rather bitter that it was compatriots Arcade Fire who made it and not them. Although there's something inherently fun about watching the band stage running around madly swapping of instruments and vocal duties.
It all seems rather desperate and I suspect Rah Rah know it. There are some decent tunes here but there's a try hard atmosphere that grates and the audience remain resistant to their rather dull American alt rock template which suggests the likes of Buffalo Tom and Throwing Muses at the dullard worst.
A brisk stroll over to the Screenadelica Black E betrays a problem about this great building which seems something of a curate egg in the Sound City profile.
A wait of over 30 mins while London five piece Gentlemen tune up isn't really on and sadly detracts from this decent band's combination of hazy shoegaze and late 60s psych. A sparse and frustrated crowd already seems listless and it's a shame as there is some fine music coming from the stage.
Pictures by Getintothis' Gaz Jones and Sakura.
Further reading on Getintothis
Liverpool Sound City 2014 Review: Day Two Round Up.
Liverpool Sound City 2014 Review: Day One Round Up.
* Liverpool Sound City 2014: Top 10 Merseyside bands to watch
* Liverpool Sound City 2014: Top 10 international bands to watch.
* Liverpool Sound City 2014: Top 10 UK bands to watch.
* Liverpool Sound City 2014: Getintothis' guide to the venues.
* Liverpool Sound City 2014: Things to do off the beaten track.
* John Cale – the grit in the oyster that shaped the sound we worship today.
* Liverpool Sound City 2014: Revo's routeplanner – the insider's guide.
*Liverpool Sound City 2014: Getintothis presents Jon Hopkins and stellar Merseyside show at Nation.
* Liverpool Sound City 2014: Fringe events and John Peel World Cup revealed.
* Liverpool Sound City 2014: The Hold Steady ready to bear their teeth.
* Liverpool Sound City 2014 – a Getintothis festival playlist.
* Liverpool Sound City 2014 add The Kooks to festival bill.
* Liverpool Sound City 2014: He used to come round wearing make up and strange Japanese Kimono clothing – David Pichilingi.
* Liverpool Sound City 2014: Jon Hopkins, Albert Hammond Jnr, Drenge and more for May festival.
* Liverpool Sound City 2014 announce headliners Kodaline plus Gruff Rhys and Fuck Buttons for May festival
* Liverpool Sound City 2014: John Cale and Thurston Moore head up Conference speakers
* Liverpool Sound City 2014 reveal football, music and style themes
* Liverpool Sound City 2013: Top 10 bands and review round up of the festival

Comments
comments