With seemingly the whole musical world calling Liverpool home over the next seven days, Getintothis' Craig MacDonald is here to guide us on our way.
Liverpool and music, go together like moon and the stars. When you think about our city, its probably one of the first things that you think of. From the heady days of The Beatles to the modern day, music is part of our soul.
Clearly this love for all things audio is shown by the abundance of artists that grace our shores week in week out, with this week no exception. Our musical magnetic pull will see a swathe of artists hit our venues over the next seven days, all before the gargantuan PZYK Fest unleashes its magic upon us and the debauched shenanigans of Smithdown Road Festivals Student Party begins at the weekend.
So hold tight and get ready for a sonic adventure like no other.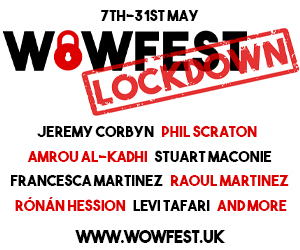 Deap Vally: Invisible Wind Factory, September 20
California rockers Deap Vally make their much anticipated return to our shores this week, when they head up North to play the Invisible Wind Factory.
Having released their superb sophomore album Femejism only a couple of days before this show, the duo will be primed to take this by the horns. With support rockers The Velveteers and fuzz lovers Indigo Moon, this is the perfect way to start your week.
XamVolo: The Magnet, September 20
The continuing rise of XamVolo is a wonder to behold. Having played fantastic sets at Sound City and LIMF earlier in the year, his intriguing jazztronic grooves will be casting spells in The Magnet this week as he continues his meteoric rise.
With his recent EP Chirality continuing to show his talents, expect to be blown away by his charms if you head down to this one. Support on the night comes from Sub Blue, Neil NOA and Suedebrown.
The Beat: The Magnet, September 21
Legendary ska collective The Beat make a much welcomed return to our fair city this week, as they head up to play the confined innards of The Magnet.
With their first album in over thirty years also set for release, this is going to be one hell of a party, as local favourites Broken 3 Ways join them for the knees up.
KRS-One: Arts Club, September 22
His last visit to town is now the stuff of legend, so if you know whats good for you, we suggest that you make a date in your diary for the return of hip hop king KRS-One.
Hitting the Arts Club this week, there is nothing quite like the show the rap maestro puts on.
The Lunatic Fringe: The Buyers Club, September 22
This Thursday, a whole host of some of the best the finest local talent will head to The Buyers Club to take part in High Soul' The Lunatic Fringe, which aims to raise funds and awareness for food banks.
With Ohmns, The Strange Collective, The Floormen, God On My Right, Wild Fruit Art Collective, Fuss, Bathymetry, The Probes, Rongorongo and Samurai Kip all on offer, this is going to be a special night.
Only Shadows: The Shipping Forecast, September 23
Making the quick trip up the M6, indie rockers Only Shadows are being tipped by many in the know to take this year by storm.
The four piece head to The Shipping Forecast this week as part of their debut headline tour, having only released their latest single We Go Further a matter of weeks ago. Support on this one comes from Sahara and The 21st State.
MiC Lowry: O2 Academy, September 23
Having been nominated for this years GIT Award, MiC Lowry take to the O2 Academy this week, as part of their biggest UK tour to date.
With the five piece vocal harmony group continuing to work their magic on the nations airwaves, this will be a triumphant homecoming for the quintet before the head out on the road with Justin Bieber.
Sam Forrest: The Buyers Club, September 23
The frontman of rockers Nine Black Alps takes a break way from his bandmates this week, as Sam Forrest showcases his solo work at The Buyers Club as part of his UK tour.
The prolific songwriter has gained many plaudits for his off kilter indie unique cuts and this should be a top night with Takotsubo Men, Big Safari and SPQR also on the bill.
Oscar: Studio 2, September 24
Fresh from releasing his debut album Cut and Paste earlier this year, one of our pics for 2016 heads to Studio 2 later this week as Oscar roles into the intimate Parr Street venue.
With a dash of Brit-pop fusing into his lo-fi goodness, the songsmith has melancholy in abundance. Don't say we didn't warn you if you miss this one.
Yousef: Arts Club, September 24
Celebrating their fourteenth birthday in style, the legend that is Circus will be blowing the roof off the Arts Club this weekend as Yousef heads up a whopper of a lineup.
With Loco Dice, Patrick Topping and plenty more on offer, this is going to be one birthday they wont forget.
Henry Saiz – 303, Williamson Tunnels, September 24
303 return this weekend, with the latest instalment of their All Night Long series with Spanish producer Henry Saiz at the helm.
Saiz is an exciting producer to see in the booth at 303. He often introduces a live element into his set, so who knows what surprises he'll have up his sleeves for his 7-hour marathon in the venerable techno tunnels.
Don't be thinking that's your fill, as there's still all this in this week's GIT gigbites:
Sundara Karma play the Arts Club on Wednesday September 21 with support from Freak and The Night Cafe.
Helen Hauff plays 24 Kitchen Street on Thursday September 22 with support from Or:la and Jacques Malchance
Paul Dunbar & The Black Winter Band play Leaf on Friday September 23 with support from Me & Deboe and Astles.
Westerman plays the Arts Club on Friday September 23 with support from Override and Below The Depths.
Trash Boat play Studio 2 on Friday September 23 with support from Pine.
Fiesta Bombarda Autumn Carnival takes place at Constellations on Friday September 23 with Prince Fatty, Horsemen, Wild Rossa & The 88, Buddha, Resonators, Dr Hyde, Euphony, Smiling Ivy, Tom Lye and more.
Peter Bentham & The Dinnerladies play Drop The Dumbells on Saturday September 24 with support from Cut,  Litterbug and Queen Zee & The Sasstones.
King No One play the Arts Club on Sunday September 25 with support from Daez, Scarlet and Bad Habits.
Upcoming events to keep an eye on. 
Veyu: Leaf, September 30
Back with a new line up, Veyu return to the fold later this month,  when they bring their latest project I/O to Leaf in a night both audio and visual delights for all to experience. With support from Seawitches, Chemistry Lane and DJ sets from Pure Joy and Mark Lawless, the group are making sure this night goes down a storm.
Comments
comments