At the climax of yet another week, Getintothis' Will Whitby brings you the roundup of the top stories and gigs.
First things first, Happy New Year from all of us here at Getintothis. We hope you have a brilliant 2020 filled with lots of boss music and good times. We hope you can stick around for the ride with us here as well. 
What did everyone get up to this New Year? Did you manage to get down to Jimmys on NYE to see Red Rum Club bring the noise into 2020? We did and it was spectacular! 
We've been enjoying ourselves over the festive period.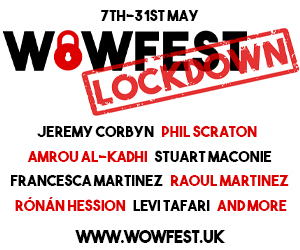 Plenty of mince pies have been eaten, beers have been drank and plenty of boss music has been consumed as well.
But what happens when the latter two meet? Bands love putting out their own beer and it pains us to say that we had the very hard job (trust me) of tasting them all.
Our go-to beer baron Will Neville has done all the hard work so you don't have to here. 
Dr Who was back on our screens as the Time Lord is back to mystify our weekends. Did you see it?
We'll save you the spoilers for now but check out our review and see what you think. Elsewhere on the big screen, we dove into our collection of film reviews over the last 12 months to find out our film of 2019.
New Year can be considered a time for reflection and I'm sure we've all been debating our best albums and moments of 2019 before the new decade. We compiled a number of lists asking the highlights of the year from people across Liverpool music and beyond. Check them out here:
Getintothis' 2019 Year In Review: best gigs, event, albums, venues, festival, label, hero and more
Getintothis' Top 100 Albums of 2019 – A Year In Review
Getintothis guestlist selections Part One: staff writers and photographers on 2019
Getintothis guestlist selections Part Two: Liverpool venues, labels and promoters
Getintothis guestlist selections Part Three: Liverpool Bands and Artists on 2019
In the Pit Festive Special: 2019's best music and culture photographs of the year
Getintothis' top metal albums of 2019 – a Dysgeusia Festive Special
Before we return to the weekend and trying to convince ourselves that it's still Christmas, we have just announced our third birthday party for Deep Cuts. Our third birthday festivities features a five-band bill – including a guitar orchestra, cinematic industrial techno and good ole' fashioned rock and roll.
Get your early bird tickets here: https://bit.ly/37v8iqH
As ever, we're always looking for new writers and photographers to join our team, do feel free to drop us a message if you fancy joining the team. Be sure to follow our Facebook, Twitter and Instagram feeds for all the latest in news, reviews, hot topics and competitions.
Anyway – let's crack on with the Getintothis' Top Five stories and gigs of the week.
Getintothis' top five most-read stories of the week:
Getintothis' top five most-read gigs of the week:
Comments
comments